The Saigon Cup returns to RMIT tomorrow from 10am. The second edition promises to be filled with drama – rivalries, top draft prospects, potential monsoonal rain and plenty of good times!
If you haven't registered then let us know via Facebook Message to The Vietnam Swans – it's not too late!
Be at RMIT in District 7 by 9:45am tomorrow. Games through until 3pm, food and drinks available during and after play. The cost is 300k per player: this includes playing singlet and water (BYO bottle for refills).
The Defending Champs
The mainly Khmer Cambodian Cobras have built a strong internal bond, playing with pace and skill that will stretch any of the local teams. This year they bring equally strong male and female touring numbers, meaning they will have enviable depth in the mixed format. Once again the Cobras are basing themselves at Swannies Signature sponsor and Saigon's flashiest backpackers Vietnam Backpacker Hostels – sure to mean they're well rested after the bus trip and ready to go from the first bounce.
After the long day of qualifying games, it's likely that whoever meets the Cobra's in the final is going to struggle to match the Cobra's fitness.
The Weather
June in Saigon means one thing… rain! It's not an if, but a when. Some days it's early, some days late in the afternoon. If and when the weather turns from super hot and humid to super hot and humid and WET, the team who transitions to wet weather footy best may just taste success.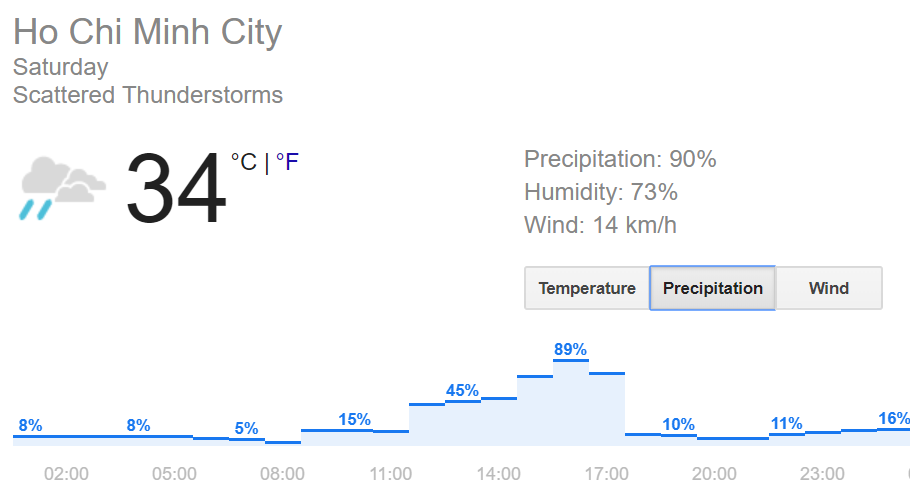 The Rules
With the AFL refusing to let the AFLX brand become a simplified, accessible, exciting smaller-field version of our great game, the Saigon Cup will steer clear of the super goals, backward/forward kick differentiation, launch zones, soft drink sponsored game changes, and stick to the basics.
The basics are:
Centre bounce to start a half then kick ins from all scores.

3-3-3 (9 on the field) at that centre bounce, minimum 3 of each gender at ALL times (more is ok).

Last touch out of bounds.

20m penalties.

1 step ball ups.
More rules below, along with the game schedule: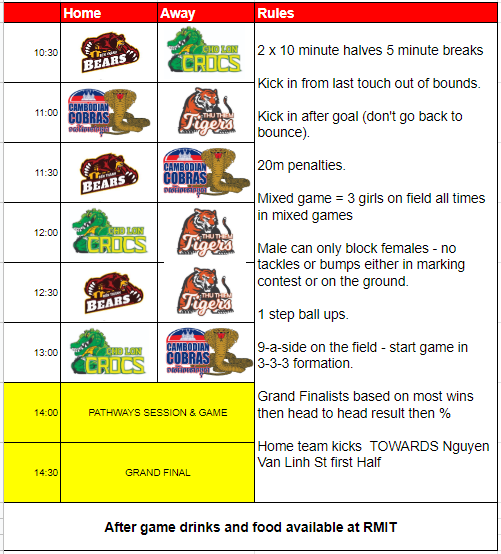 The Withdrawals
The Swans have had a big first half of the year. Plenty of players have stood up enabling us to defend our home fortress at RMIT against the Division 1 Malaysian Warriors, go on the road and hold sway in the Cannonball Run and force a tie with current Asian Champs the Indonesia Volcanoes.
This has all taken a toll on some of the Swans biggest stars, including:
Full forward Tommy Niit, laid up with a back injury
Micka Matthews, still at home in Southern Victoria while trying to mend his snapped wing
Tal 'Libba' Sardone seems to have embarked on a bender not dissimilar to that of his namesake after the Bulldogs breakthrough AFL Premiership (this means he may still show up and dominate tomorrow at RMIT)
Crocs skipper Gus McEwin has pulled out citing personal grooming reasons
And Jimmy Bairstow has been laid up in hospital with a mystery virus!
With so many of the Southern Vietnam Swan's Ferrari's off the road, the opportunity is there for some of the dependable yet not so hi-fi Camry's to take centre stage!
The Draft!
Drafting these teams is always a laugh, and this year's happy hour-fuelled draft was no exception.
In 2018 the Crocs went through the round robin stage undefeated, but were pipped in the final as the Cobras legs proved a lot fresher in the heavy wet weather conditions. Accusations flew from near and far (just Hanoi actually) that the Crocs had been unfairly stacked to succeed. With 40+ registered players for the 3 domestic teams in 2019 it was crucial to make sure this year's edition was beyond reproach. 3 of the Swannies elder statesmen were given the responsibility of drafting squads over a ceremonial Happy Hour. They may not have remembered their strategies by the end, but the squads look great and it's anyone's guess which strategy will deliver success.
This year's first draft pick went to one of the young guns, Will Sullivan.
Full teams below:
The draft strategies were interesting, to say the least:
Andy G's Bears have gone for wiley experience to score (represented by Andy himself, Rocket, Kyle Hackenberg) and raw youth to cover for the lack of defensive pressure coming from the goal kickers! Andy settled on Will Sullivan at number 1 in the draft and 15 year old Cooper Rowe to get them through the long day.
Damo Judd's Tigers secured likely clubhouse B&F leader Oscar Silk with pick 2, but really are an unknown entity making 4 'mystery' selections. They include James Bairstow who has already withdrawn, Trent Davies and Tristan Robinson who haven't ever been seen before midday on a footy field and Richie Kelly who will play his first ever game of footy in Vietnam on Saturday but has played plenty back home.
Billy Crang was called to the table last minute and strangely took a completely un-controversial approach to the draft. After selecting local star Dinh Anh with pick 3, he put together a balanced and solid squad.
Ladies numbers have been limited with plenty of unfortunate mid year break schedule clashes, but the 3 squads have talent to drive strong contributions across each line. It's expected that local teams will look to the Cobras squad depth, inviting some ring ins to support them through the day.
See you at RMIT at 9:45am!