Background on the ANZAC Friendship Match
Vung Tau served as the Australians logistics base during the Vietnam/American War and, more specifically, the match will be played at the Greyhound Racing Track. The Greyhound track was formerly known as the Lord Mayor's Oval – and the venue for footy tournaments back in 1966-71
Against this backdrop of sensitivities, the Vietnam Swans feel extremely privileged to be able to host our ANZAC Friendship Match. We wear two black armbands to respect all who have fallen and to share the vision of one bright future.
The Friendship Match, first played in 2010 as an internal game between Hanoi and Saigon, went international with the China Reds attending in 2011 and 2012, Jakarta Bintangs in 2013 and the Malaysian Warriors in 2014.
Our Friendship Match brings together two worlds from two different eras: Vietnam 1970 and present day Vietnam.  For all of us who have chosen to live and work here Vietnam is such an exciting, vibrant, generous and welcoming country.
We also use the occasion to raise money for local orphanages and Swim Vietnam's swimming education initiatives that will save young lives. In Vietnam, more children currently die from drowning than road accidents.
We warmly invite people to attend the ANZAC Friendship Match each year in the spirit of friendship and respect – and to have an amazing day at the footy.
Further Reading
ANZAC Friendship Match History
2016
Vietnam Swans def by
Jakarta Bintags
2015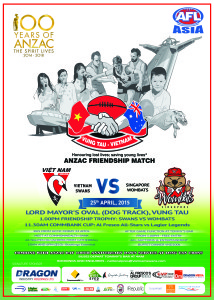 Vietnam Swans 2.2 8.5 8.6 (13.12.90) def
Singapore Wombats 2.3 2.4 5.7 (7.7.49)
Goals Swans: Doer 3, Keys 3, Skowronski 2, Vile 2, Glendinning, Hyde, Clements.
Best Swans: Mitch Hyde, Tom Doer, David Skowronski, Grant Keys, Tim Pickert
2014
Vietnam Swans  def
Malaysia Warriors
2013
Vietnam Swans 8.11.59 def by
Jakarta Bintags 10.9.69
2012
Vietnam Swans  12. 7. 79 def
China Reds 7. 14. 56
2011
Vietnam Swans  12. 17. 89 def
Hong Kong Dragons 7. 5. 47
Best (Dragons); Bowski, Dave Kerr, Dunn, Ian Mac.
Best (Swans); Hadley, Hornblower, Shiels, Ellis, Meres.
2010
Hanoi Hawks 10.3.63 def
Saigon Saints 9.8.62