AFL ('Footy') and Australian Culture
The game of AFL is a really important part of Australian culture. Australians love sport and 'footy' is one of the most important sports. If you're from Victoria, especially Melbourne, footy is almost unavoidable. Kids and adults play on suburban fields, the news is full of footy talk and the streets are full of people wearing the jumpers of their favourite teams and players.
The Role of Footy in Australia-Vietnam Relationships
The Vietnam Swans see football as a tool to open doors and build bridges between cultures. Footy provides an opportunity to get together over a shared interest. It's a spectacular event that brings together many members of the community, from businessmen to diplomats, and from families to travellers.
Involvement in footy has huge benefits for local players. Local players get the chance to tour across Asia and seen the sights of big cities like Shanghai, Kuala Lumpur, Hong Kong, Manila, Jakarta, Bangkok and many others. Through footy, Vietnamese players improve their English and form lasting friendships with the many expats living in Asia. They build friendships with other local players from Cambodia, Myanmar, Thailand and even China. They also gain confidence from succeeding in a new and unusual sport, and get the opportunity to lead and represent their country.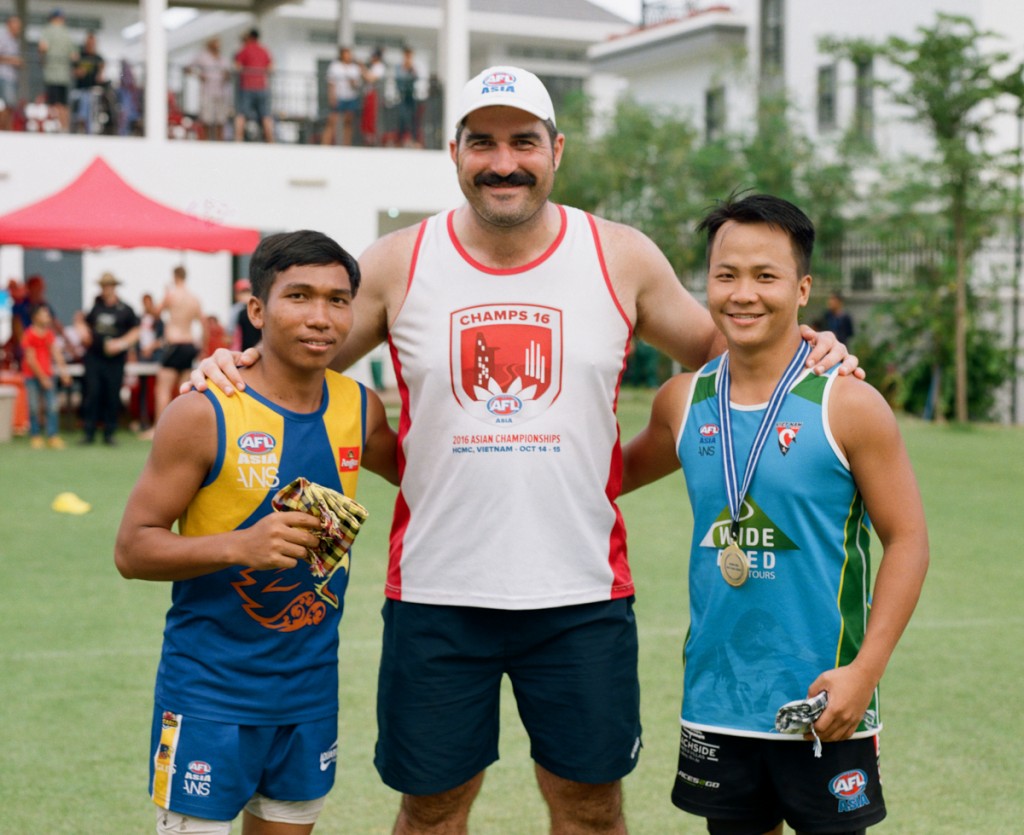 The kinds of opportunities created by footy in Vietnam shows Australia, Australians and Australian culture in a positive light.
Growing the Game in Vietnam
Local development has been high on the agenda for the Vietnam Swans for several seasons. National President Eric "Kerro" Kerrison explains:
Our Vietnamese players have taken well to the game over the years. It gives them an avenue for developing a new set of skills, whilst also providing opportunities for them to travel, experience a different side of life, whilst representing their country and playing a great game. Our vision here at the Vietnam Swans is to send a full local team to Australia to compete in the International Cup, which gives our players, men and women, something to aim for. 
We're passionate about getting Vietnamese to play Australian Rules Football and developing those players. It's been a task we've been working on for years.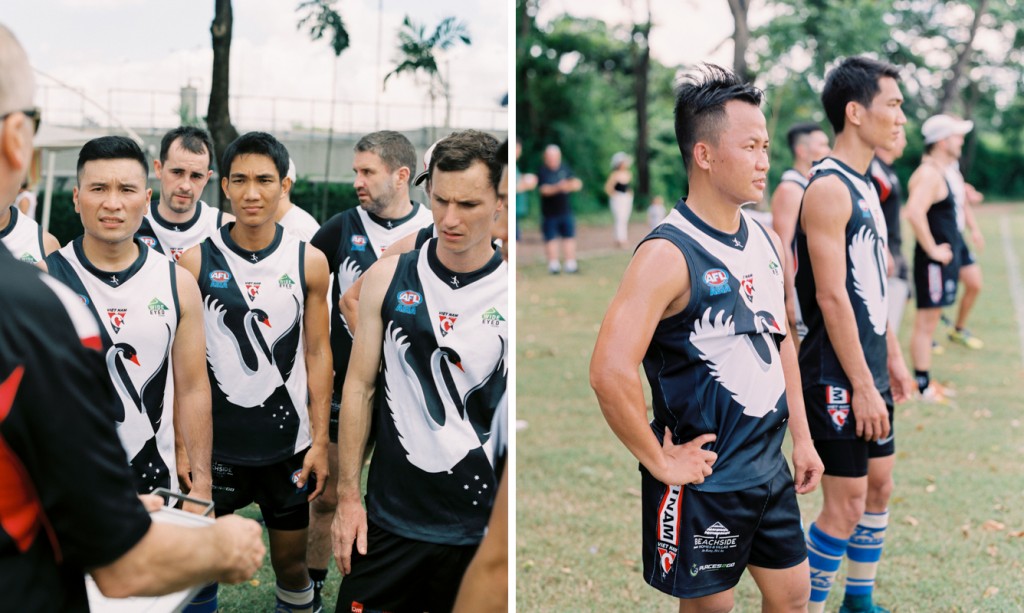 Dang (left) and Dinh Anh (right)
Our local players tour to all of our international games. In 2018 for the men, this included Phnom Penh (Cambodia), Kanchanaburi (Thailand), Penang and Kuala Lumpur (Malaysia). Also, two of our local players (Dang and Dinh Anh) were also selected to tour with the Asia Lions to Shanghai (China) in May.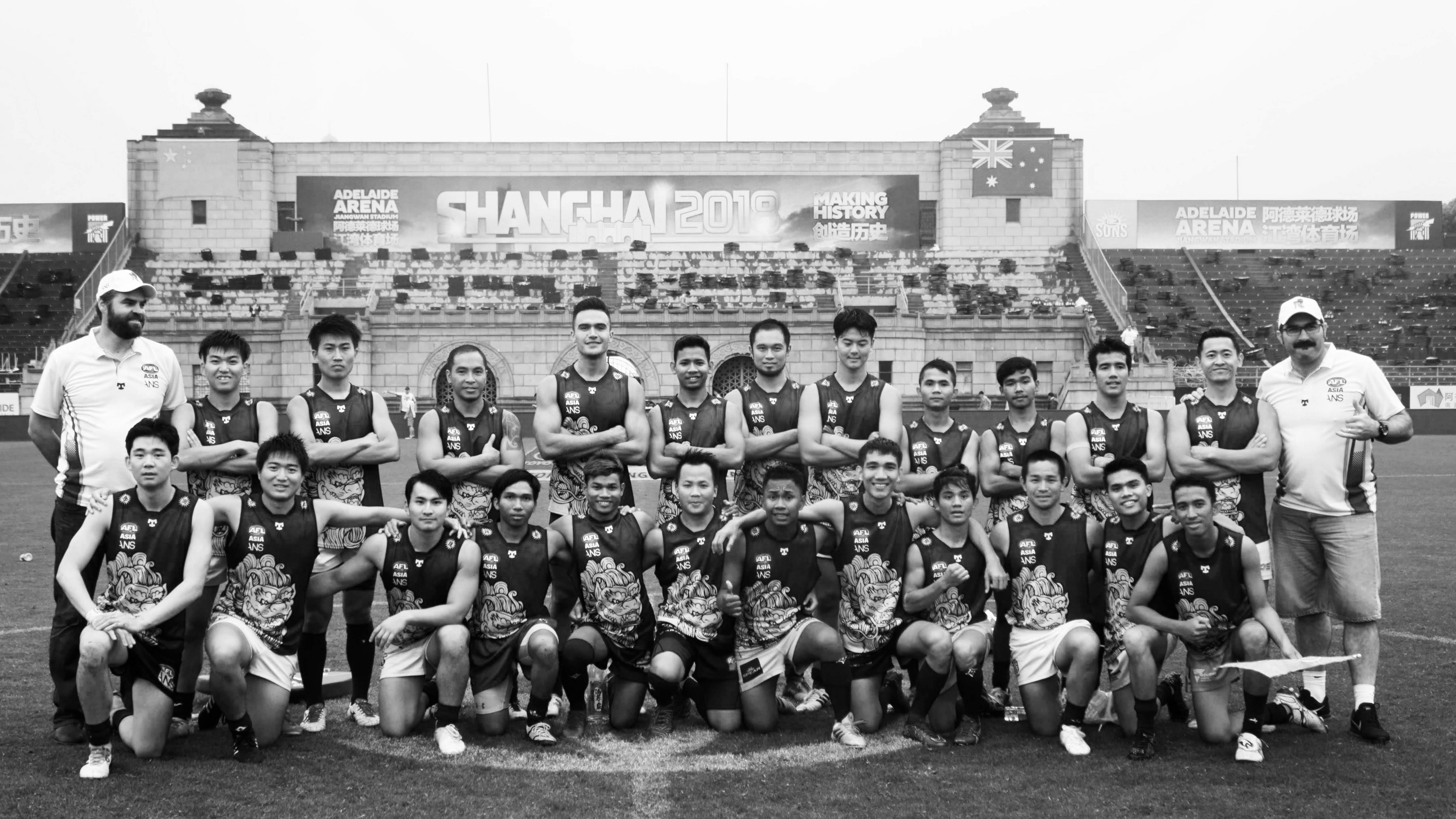 Of course, local women were a vitally important part of the Lady Swans too!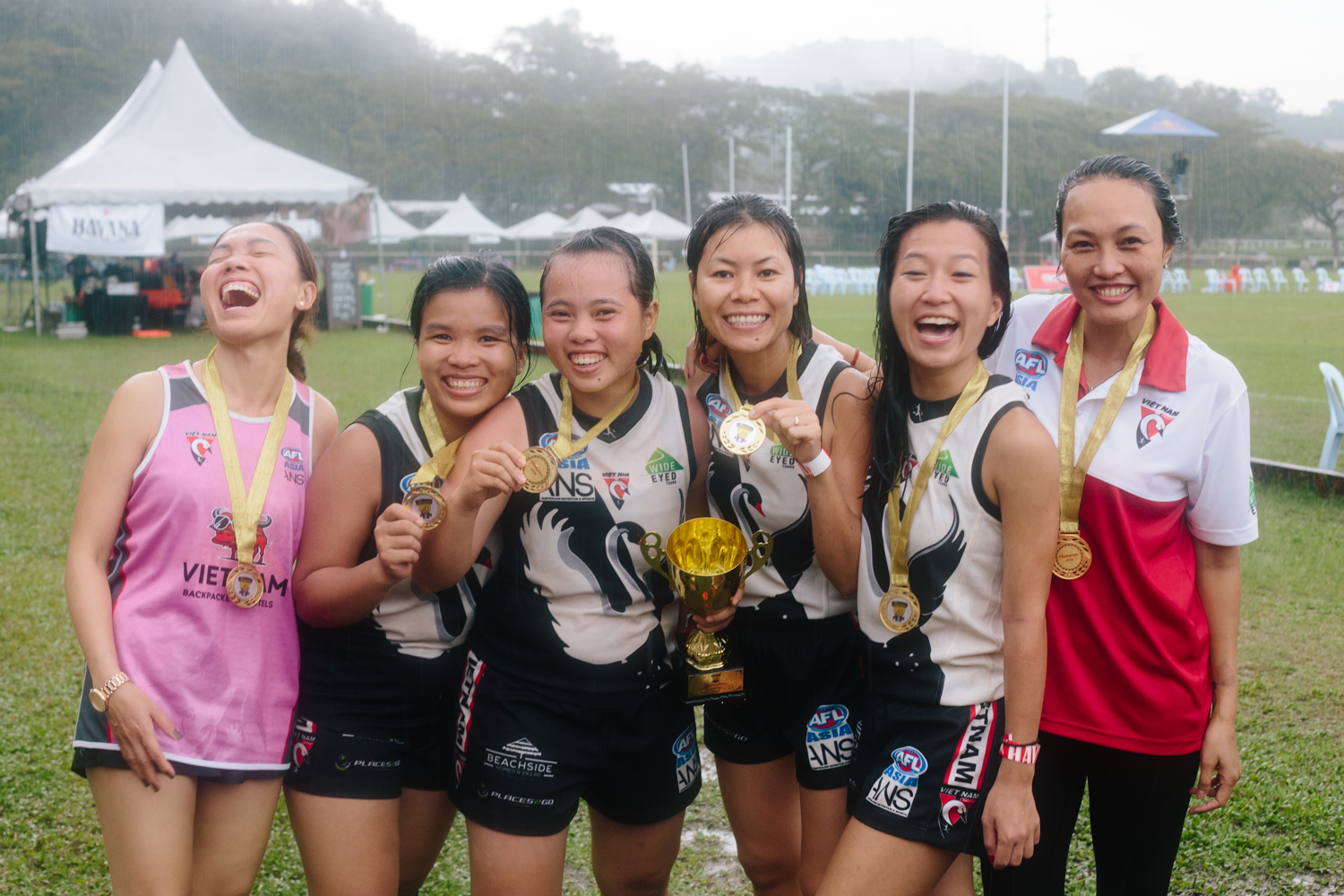 The level of local participation in the Lady Swans is a huge result for a team in only its first year. We spoke to a few of the Ladies about what the win meant to them: you can read more at the Champs Wrap Up.
Our Approach to Local Development
The Vietnam Swans are 100% committed to the growth of the game in Vietnam and the region. We're an open club that warmly welcomes new players. Our local players enjoy support to attend Club events and tour with the team.
The interview with Chia Sabbatucci and Rosie Hoang explains more about the approach to local inclusion in the Lady Swans. Aired on VTC10 in March 2018, the approach has certainly paid dividends for the Lady Swans.
Of course, we still have much to do in relation to local development and will be significantly expanding our program in 2019. We've appointed a committee member to lead these efforts and we'll be releasing news via our website and social media as it comes to hand.
Generous Support from Sponsors
We're very luck to have support from a range of sponsors. In particular, the aptly named Local Sports Bar – the Swans watering hole in Hanoi – are a committed sponsor of local development. Their support ensures we can get our local players to games around Asia, including the Shanghai Cup.