Xin Chào! The Vietnam Swans welcome you to Vietnam!
We've tried to outline some basic information you will need for your stay. Some of you will arrive early to take in the sights of Vietnam, so we've added a bit of extra information beyond the match weekend.
THE MATCH!
Lets start with the all important information about the match.
GETTING TO AND FROM VUNG TAU
The Swans have arranged two buses on Friday afternoon.
Alternatively, you can arrange your own way to Vung Tau. There are a range of cheap public buses or you can book a private driver.
FRIDAY NIGHT AND MATCH DAY
For those in Vung Tau early, football will be on the big screen at Tommy's Bar 3 from 4:20pm on Friday.
Match day will be held at the Lord Mayor's Oval in Vung Tau. Games will get started on the oval from 11am and will run through to about 4pm.
The curtain-raiser will be played between the Al Fresco's All Stars and the Lagler Legends at 11am. This is an opportunity for absolutely anyone to get involved in a game of football. It's a fun game that will be played in light-hearted spirit.
This year, we've also added an AFLW game. This will commence at 12:30pm.
The match between Indonesia and the Vietnam Swans will commence at 2:15pm.
A special dinner, the McMillan Dinner, will be held at the Lord Mayor's Oval at 7pm. All players and supporters from Indonesia are encouraged to attend. Further information is available here.
SUNDAY RECOVERY AND RETURN
There will be a recovery breakfast at Tommy's Bar 3. A bus will be arranged to return to Saigon about midday.
TOURING TO VIETNAM
There are a few things worth knowing about Vietnam and Vung Tau.
VISA
Visas are essential for entry to Vietnam. Before you get on the plane, you will need to show either a) your e-visa or b) your invitation letter. The list of countries eligible for e-visas continues to evolve, so you must check the requirements for your nationality!
Option 1: Australia has recently been added to the e-visa eligibility list. You should be able to book your e-visa online here. As usual, there have been some teething difficulties with the service, but as of April 2018, it's looking pretty stable. In the rare event that it doesn't work (or if you're from a country isn't eligible for e-visas to Vietnam)…
Option 2: Invitation letter and stamp when you arrive. The previous way to get a visa required an invitation letter and a stamp when you arrive in Vietnam. The Swans have found that www.vietnam-evisa.net provides a really good, well-priced service if you need to obtain the invitation letter. Download and fill out this form to save time on arrival when collecting your visa. There is then a stamping fee to pay when you arrive in Vietnam but before you enter the country: once you enter the immigration area, look for the counter on your left.
VIETNAMESE DONG
Changing cash in Vietnam is relatively straight-forward. Numerous counters at the airport give a very fair rate: if the official rate is 1 USD to 23,150 VND, you will likely get 23,000 VND at the money changers.
These money changers are located just past the customs counter as you exit the sliding doors, before you exit the terminal. There is also several money changing locations around central District 1, including the corner of Đồng Khởi and Nguyễn Thiệp (opposite the Sheraton).
ACCOMODATION OPTIONS
There are plenty of accommodation options in Vung Tau. We'd suggest:
EXTENDED STAYS IN VIETNAM
You need to know a few things if you're planning an extended stay.
THE SIGHTS OF SOUTHERN VIETNAM
Saigon and the immediate surrounding area has a range of tourist mainstays:
The War Remnants Museum
Independence Palace
Shows at the Opera House
The many cafe's of Saigon
Cu Chi Tunnels
The Mekong Delta
If you've got a few days, why not book a tour with a great friends, the guys from Wide Eyed Tours?
GETTING AROUND SAIGON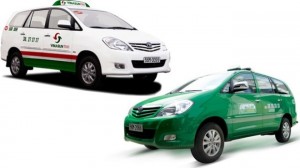 Getting in from the airport is simple. There is a taxi rank on the left as you exit the arrivals terminal. Ignore anyone who asks if you would like a taxi, and keep walking until you see the taxi rank (100m). Politely ignore anyone that approaches you for a taxi and ignore the steel grey taxi-rank line.
Importantly, only use Vinasun (green, red and white) or Mai Linh (green) to minimize any hassle. These operators are extremely dependable.
The trip to District 1 is about 30 mins and should cost no more than $10 USD or about 220,000 VND. There is an additional 10,000 VND fee the taxi will add as you leave the airport: this is additional to the charge shown on the meter.
English can be very limited in Saigon, and as the language is tonal, its best to have your hotel address written down for the driver.
Uber was huge in Ho Chi Minh City but recently sold out to Grab. Grab bikes and taxis are usually only a few minutes away from wherever you are in or around the city centre – Jump on the app and get around this way if you prefer.
FOOD, RESTAURANTS AND BARS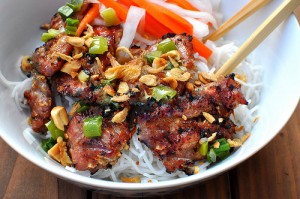 Vietnam has some of the best food in Asia. Look for some of these:
Caphe Sua Da is Vietnamese coffee, served with ice and condensed milk.
Banh Mi is the classic Vietnamese baguette, with meats, herbs, pickled veggies and pate. Available on most street corners for well under a $1.
Bun Thit Nuong is barbecued pork on a noodle salad. Epic.
Pho is the famous Vietnamese noodle soup.
Banh Xeo is the Vietnamese savoury pancake, filled with pork, shrimps and sprouts.
GENERAL SAFETY AND SECURITY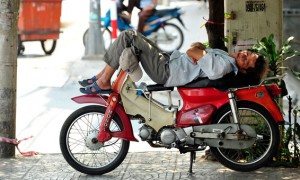 Vietnam is very safe, but like usual, have your wits about you during your stay. Be careful with your possessions, particularly in the backpacking area around Bùi Viện / Phạm Ngũ Lão.
If you need late night taxis, only use Vinasun (green, red and white) or Mai Linh (green) to minimize any hassle. Be very careful taking a Xe Om (motorcycle taxi) late at night.
While Vietnam is very safe, it has a collective and conservative culture, and is very strict in relation to criminal offences. Arguments with locals can quickly escalate and should be avoided at all times: show respect to any business owners and police officers during your stay.
If you do lose your possessions and need a police report to claim them, you should be aware that you will have to visit the police station in the ward (area) where the crime occurred within 24 hours. You will need a local to accompany you as a translator, your hotel can usually help with this.