As 2021 rolls to an end we get to reflect on what has been another abnormal yet rewarding season for AFL players in Vietnam. In the South we were unable to tour and unable to host our awesome Grand Final party at Jaspas in Thao Dien but we were able to enjoy a massive ANZAC Day Friendship Match with men's, women's and for the first time VFL games played at the Lord Mayors Oval in Vung Tau. We also were able to complete our first ever 4 team SAFL and award the Saigon Cup for the 3rd time. We'd like to thank everyone who played a part in all this but significantly we were able to award some stand out performances at Just Bar in Binh Thanh after the final SAFL Game Round.
And the winners were… (drum roll!)
Most Improved –
Nguyễn Phạm Minh Thủy
Runner up – Nguyễn Minh Quân
Both Thủy and Quân were almost impossible for the coaches to split. Quân showing such incredible skill development whilst Thủy's sheer grit and determination enabled him to have impressive impacts in games and trainings. In the final round both guys showed their improvement with Quân kicking a great goal and Thủy pulling off a courageous spoil to save a certain goal late in the game giving the Vipers a chance to pinch the game late. Both boys are on track to become invaluable members on and off the field in 2022 and beyond!
In a fantastic sign for the future our local ranks swelled after lockdown and the progression was incredible from all! Hưng , Bảo, Andy, Ha and Đạt all showed incredible efforts in picking up the game and making impacts in SAFL games. It's great to know in 2022 we have so much new talent already coming into the club and hopefully we can build on this even further! 
Coaches Award –
Jose Acevedo-Soto
Tim Pickert spent plenty of 2021 in the role of coach and didn't hesitate when choosing the 2021 Southern Coaches award. When asked to explain the decision Tim told us "Jose spent so much time trying to better his AFL craft, ball work before training, questions about drills and positioning, picked up the game quickly and is someone we can't wait to watch against a proper opposition". Although Tim wasn't in the country for the deciding SAFL round he would have been proud to watch Jose mop up on half back for the Bears both denying the opposition scoring opportunities but setting up multiple offensive forays that eventually won his team the league.
Goalkicker – Wayne McMahon
The Tigers captain had the ball on a string in the forward line all season. Although he started out rusty in terms of accuracy by Round 3 he had his radar fully calibrated with his 9 big ones including several long range snaps keeping his team in the decider. 15 goals in 3 games may mean Wayne's midfield days are numbered as he tries to kick a few more in 2022 to get the Tigers that 1 step further.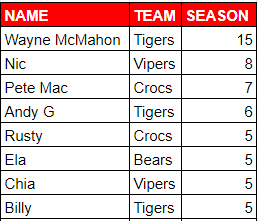 Women's MVP – Ela Walsh
Ela played 2 games for the season, polled in both games and was a key reason the Bears got over the line each time. She brings athleticism, skills, game sense together in a way that would make her one of if not the best female player in Asia all before hitting the age of 18! If only we could get to an Asian Champs to show her off! Congratulations to Chia and Lisa who were mainstays of the Vipers and Tigers respectively throughout the season.

Men's MVP – Rusty Clark
Rusty's arrival into Vietnam saw the shape of the SAFL shift. The mid season draft had many players alter the balance of the fortunes of their teams but he got the Crabs into gear immediately scoring the teams best on ground votes in both games he played. A centre bounce bull who loves to kick goals Rusty will be a huge part of any international footy the Swans can play in 2022.