As 2022 winds to a close the 2022 AGM saw a chance to bring together what has been a successful season for the Swans. Most notably the return of international footy closely followed by the establishment of Vietkick programs in the North and South. Held on the 3rd of December following the final of the SAFL at sponsor Just Bar in Saigon and at fellow sponsor bar The Republic in Hanoi and online the AGM was well attended. Summaries were given by the executive and with the unique situation of the 3 key national positions (President, Treasurer and Communications) being vacated nominations and appointments were conducted.
Overall Summary
Eric Kerrison has overseen half a decade of unprecedented success as a footy club and dialled in from remote South West Australia. He delivered some club highlights including:
Vietkick (re)launching in Hanoi and Saigon with the support of AFL Asia and the Australian Embassy
Record Asian Champs touring party with Div 1 & 3 Mens team and Women's teams
Record number of local players amongst Champs touring party thanks to Australian Embassy support
ANZAC Friendship game returned, tour to Cambodia and 2 home games vs Singapore & Cambodia saw international footy return.
Solid financial performance leaving club in amazing shape coming out of Covid-19.
Financial Summary
Rodney Stone was supported in a huge way in 2022 by Steve Diep when health complications saw him back in Australia for extended periods. Thankfully both were on site for the AGM and Rod delivered a very positive financial update including:
Able to deliver a cashflow positive result over past 3 years due primarily to Corporate Sponsorships, Player Memberships and our annual Grand Final Events.
Purchased and paid for transport of a sufficient number of new footballs and other equipment for men, women, and the Vietkick program, which should be sufficient for the next 2 years.
Able to place funds in excess of operational requirements into Fixed Term Deposits bringing about further returns and security.
Communications Summary
Bill Crang gave a summary of the content and platforms used in our outward 2022 communications and some suggestions for the role in 2023 to keep spreading the good Swannies word:
Website – key platform to

keep all stakeholders informed, show off the great work our club does to outsiders and potential new players and members – 43 articles posted in 2022 + updated events and tour info – Reached almost 7,000 visitors in 2022 so far. Looking to improve Hanoi content, tech solution to sync up calendars and create a historical record of Awards and committees on the site in 2023.

Social Media (Primarily Facebook with room to develop on Instagram and TikTok if the next comms person is under 25) – k

eeps us visible to internal and external audiences and

amplifies website content – 200+ posts in 2022 reaching almost 80k viewers with +195 new followers.
2023 Committee Nominations & Appointments
With the aforementioned stepping down of the national executive there were some pondering the next steps for the clubs direction. Thankfully we were able to fill 2 of the key operational posts meaning a stable and capable team are set to take the club forward in 2023 and beyond.
National President – Matt Barton
Matty has been a key part of the club's operations in Saigon in his 3 years in Vietnam and has plenty of international footy experience after stints in Sweden and China actively playing. His nomination by outgoing President Eric Kerrison was resoundly seconded and thankfully accepted. Matty as a key pillar of our organization going forward will definitely deliver wise direction and choices ensuring ongoing success on and off field.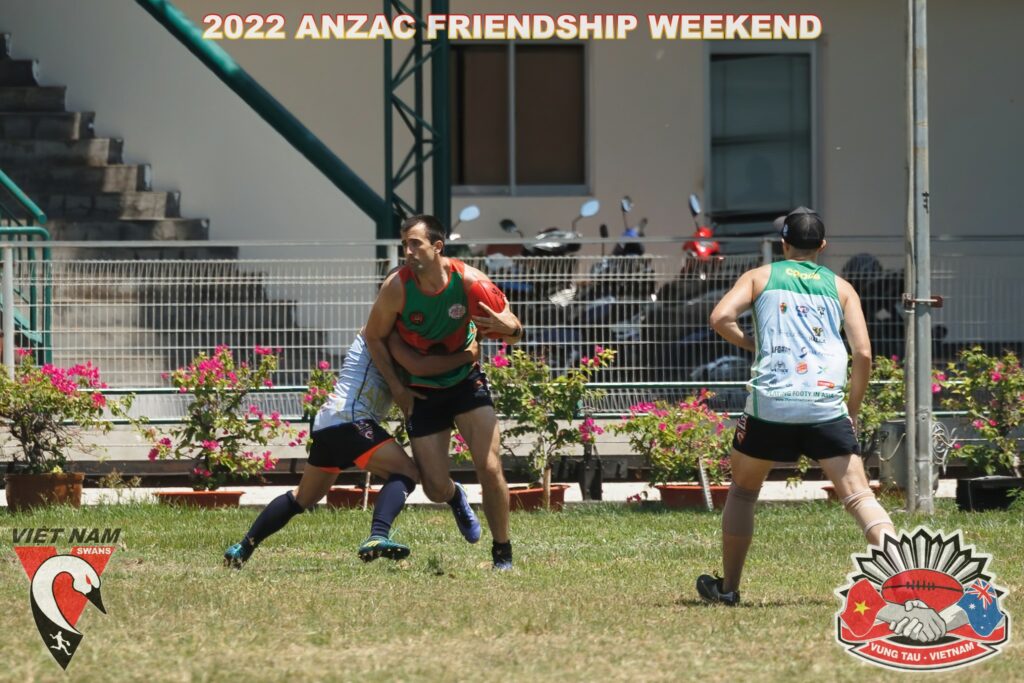 National Treasurer – Luke Turner
Long time player, Vietkick dad and off field contributor Luke Turner's nomination as the National Treasurer was enthusiastically and unanimously accepted and approved. This will see Luke take the role of balancing both cities finances and handling top level sponsorships and cash flow management tasks. Thankfully the processes have been well established by those who have gone before him and Luke will be the perfect Treasurer to keep the club's objectives in place and the finances ticking smoothly going forward.
National Communications Coordinator – TBA
This and other regional positions will be filled early in the new year behind the exceptional key posts already in place. Please reach out to Matt, Luke or the club if you have some energy and passion to bring to the table!