SQUAD OF 69 TO REPRESENT THE SWANS AT THE 2022 CHAMPS IN BANGKOK ON OCTOBER 22
We're just over a week away from the biggest day on the Asian Footy calendar. Don't worry about the AFL Grand Final with 2-3 million people engaged the Asian Champs represents 2-3 BILLION people and in 2022 the Swans will field our biggest and best ever squad with 69 active participants registered! No mean feat coming off the back of 2 cancelled Champs due to the Covid pandemic. If somehow you don't see your name listed below please contact our coaches as you likely haven't filled out the registration forms.
The Squads
The Swans will field teams in Division 1 Men's (moving up after taking out Division 2 in 2019), Division 3 Men's and try to reclaim our AFLW crown. Our squads are named below, congratulations to all the players named, Divsion 3 sees a great mix of club legends and up and comers that is sure to be hard to beat, Division 1 will be playing the hardest and fastest footy our club has ever played and is sure to take it to the big boys of Asian footy and our AFLW squad has a great mixture of new and old faces ready to step back onto the big stage and hopefully go deep next Saturday!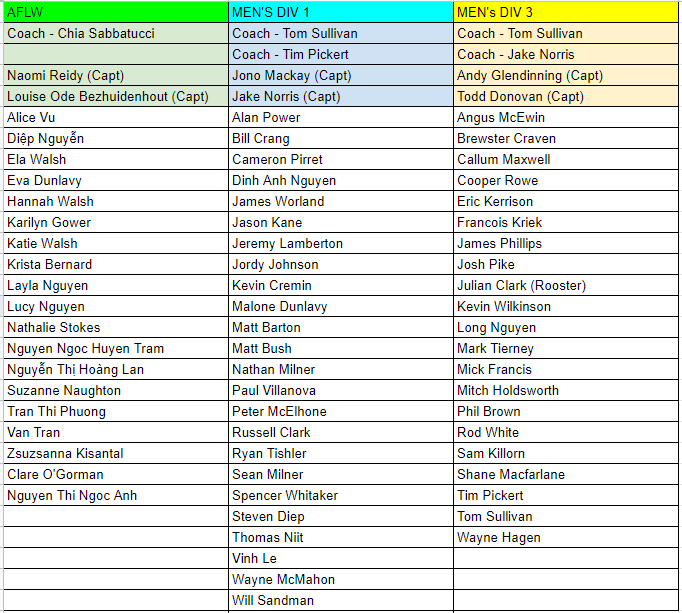 Some of the Men's players named in Division 1 will play in Division 3 to help with numbers there and ensure maximum game time across our squad on the day.
Please make sure to get to the last training sessions in the North and South as we put the final touches on our preparations.
The Schedule
If you're in Bangkok next Saturday by all means get along to watch our boys and girls take it to Asia's best! If not there's live streams to be broadcast via the AFL Asia Facebook page and our Facebook page will feature score updates thrgough the day.