On this, the 14th ANZAC Friendship Match we've been dealt the cruelest of blows…. We've been denied the access to our favorite and most significant field –  Lam Son / Lord Mayors Oval / the Dog Track. After 13 fantastic years of tradition we're forced to take the show on the road. Please don't for a second think that every effort wasn't made to play this game at it's rightful home ground and the cancellation was only communicated to us on the 11th of April after months of confirmation, alas…
The 2023 ANZAC Friendship Matches will be played at RMIT Saigon
Despite the adversity this will not put a dampener on the 2023 event, RMIT was the site of the best ever Asian Championships and there's little doubt the Swans are going to turn it into a rough hunting ground for the visiting Wombats and Wombettes.
We cannot wait to welcome Singapore, one of the fiercest of competitors in AFL Asia but one of the best clubs on and off the field and plenty of family and friends to partake in the Legends vs All Stars game and/or spectate.
FREE Bus Service Available from Vung Tau to HCMC
Given the shame of not being in Vung Tau for the weekend, we  would like to invite anyone from Vung Tau up for the day by signing up here, we are providing a FREE bus from the Rex Hotel on Saturday morning, return bus when the footy is finished (only if there is significant demand) – sign up here... Your ID info is essential and required for entry! Players in the Legends vs All Stars game can also register here.
We are desperate to making sure no-one is left out by the fact we're not able to be playing in Vungers!
Anyone who was planning to partake in the Friday activities is highly recommended to continue to do so. Don't miss these opportunities to connect with some incredible local causes!
The Friendship Matches
Despite all this we have a full day of footy ready to go! The relocation means a few more sneaky legends and all-stars could creep up and turn this into another one f0r the ages? The Swans Men have held the ascendency over the Wombats at the latest champs, expect some gruff wombat kickback… Can our relatively new women's lineup find early international success?
This is a weekend not to miss! Get to RMIT, Get comfy, Get amongst it! We need everyone in the grandstand to get community sport going in 2023!
Legends vs All Stars Game
9:30am – '66-'71 RAAF vs 2AOD (2nd Advance Ordnance Depot)
Special heritage guernsey's have been produced to celebrate 2 of the strongest teams of the VFL played in the late 60s and early 70s. If you can find someone who played in the league across the weekend buy them a beer (or a few) and have them tell you a few stories from those days – fantastic insights!
Fill out the form to make sure your name is registered at the RMIT gate…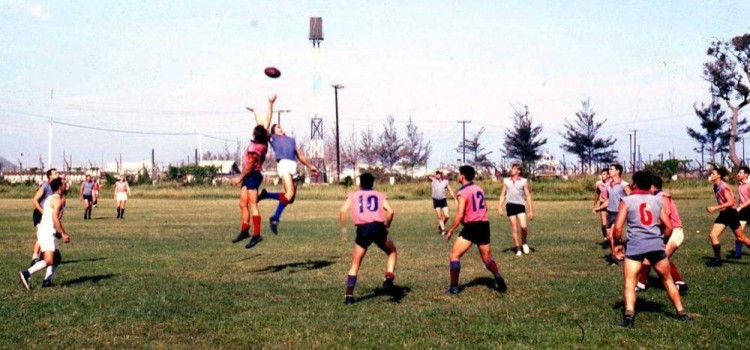 Men's International Game
10:50AM – Vietnam Swans vs Singapore Wombats
Women's International Game
12:50 – Vietnam Swans vs Singapore Wombettes
Everyone must be registered with ID number and have physical or scan of ID on you at entry to RMIT. Fill the form above or contact us to make sure your entry is easy on the day!
Visits to the Centre for Social Protection of Children- Vung Tau & Long Hai
A staple of the Friendship Weekend is a visit to the Centre for Social Protection of Children- Vung Tau & Long Hai. Both centres are long time partners of the Swans and do incredible work in the community supporting disadvantaged kids who otherwise would be left behind. We will leave the Rex on Friday at 8am and split into 2 groups to visit each centre with more time available rather than rushing to visit both centre's. Let Kerro know or the Swans FB page if you plan to join for planning purposes. All you need to bring is yourself and be ready to smile as the kids energy is infectious – this is HIGHLY RECOMMENDED if you're in Vung Tau on the Friday. Easy to head down for the morning from Saigon also!