The McMillan Dinner on Saturday Night in Vung Tau is the biggest evening we have each season from a national perspective. Given the disrupted 2020 this year's dinner gave the perfect platform to continue building on this illustrious club. You can view the rest of our Life Members here.
What exactly is a Life Membership you may ask? The criteria reads:
Life Members should those members and supporters who've made a significant contribution to the Vietnam Swans. It's intended to be a larger group with regular admissions. Life Membership is open to players, supporters and volunteers.  
Life Members should have made a significant on- and/or off-field contribution to the Vietnam Swans. This includes contributions to causes directly related to the Vietnam Swans (for example, charities in Vung Tau that relate to our ANZAC Day commemorations, or for sponsorship of the Club). The minimum period of involvement with the Club should be 5 years, with at least 2 years of conspicuous service to the Club (or a part-time equivalent). 
In 2021 we've inducted 6 Life Members who thoroughly meet these criteria. The whole of the Vietnam Swans thank each of these for their incredible contributions to the club!
Derrin "Dez" Limbrick
Years Active: 4
Inducted: 2021
Position/s: Saigon President
About:
Dez was a can do clubman, both on and off the field.
On the field, Dez was a key position player who could swing to both ends of the ground, and was fierce in the contest with good skills.
Off field, he (and wife Fleur) was a real mover and shaker, who just got things done instigating a willingness to tour and building on and off field passion through the club in Saigon.
His 3 years as Saigon President were a big reason we were able to get solid foundations set within the southern organization of the newly formed National Vietnam Swans, this work formed the foundation of the success in terms of sponsorship and player attraction/development
Dez was working for Crown Relocations and was also able to secure a sponsorship for the club, a sponsorship that still remains today.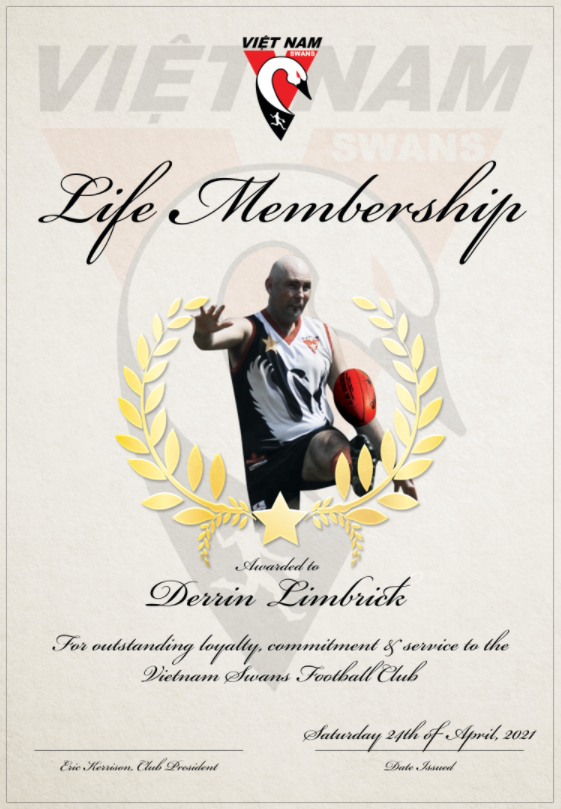 Luke "Dukesy" Creamer
Years Active: 5
Inducted: 2021
Position/s: Captain
Awards/Honours: 4 x Best & Fairest
About:
Dukesy was obviously a gun on field, hence having the men's club best and fairest award named in his honor.
Not necessarily always the best every minute as it would appear with 4 best and fairest awards, but when it was time to stand up and make a mark on the game in a key moment, he was the man that always fou d a way.
Whether that was hard at it in a midfield contest, or taking a strong contested mark and kicking truly, he could do it all.
For such a nice guy, on the field he was fierce competitor who always played with pride when donning the Swannies guernsey. Vietnam's loss is certainly Cambodia's gain, although, when the Cannonball the Cannonball run comes about, you can see he is still a little torn, due to his loyalty to this great club.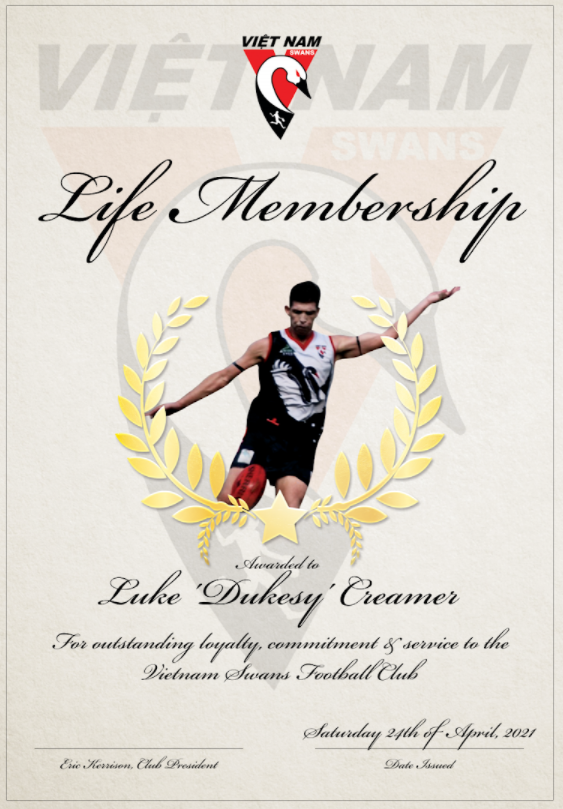 Nathan Milner and Sean Milner
Years Active: 11
Inducted: 2021
Position/s: All positions
Awards/Honours: Best & Fairest
About:
What can we say about these two blokes. I was going to do them seperate but that just didn't feel right, as they are two of the closest brothers you would ever meet.
So it is only fitting that I do these inductions together.
As many of you in this room can attest two, these blokes are as hard as it comes in the field. Their tenacity and never say die attitude when representing the Swans is something I am always so proud to see as President.
My favorite moments of the pair however, is when they line up on each other in internal club games, there is not an inch given by either.
They are players with very different attributes, Sean, the silky left footer whose delivery is some of the best in Asia and Nate whose closing speed to a contest keeps forwards looking over their shoulder all day. Nate has a little bit more of the old white line fever, but Sean is always there to lend him support, as any good brother does.
Off the field, they are always first to put their hands up to help new players integrate into the club, there grasp of the local language is also a great asset to the club as they are able to bridge the language barrier for the coaches.
They also regularly pitch in for events by volunteering their time and also by providing prizes for the clubs fundraising activities.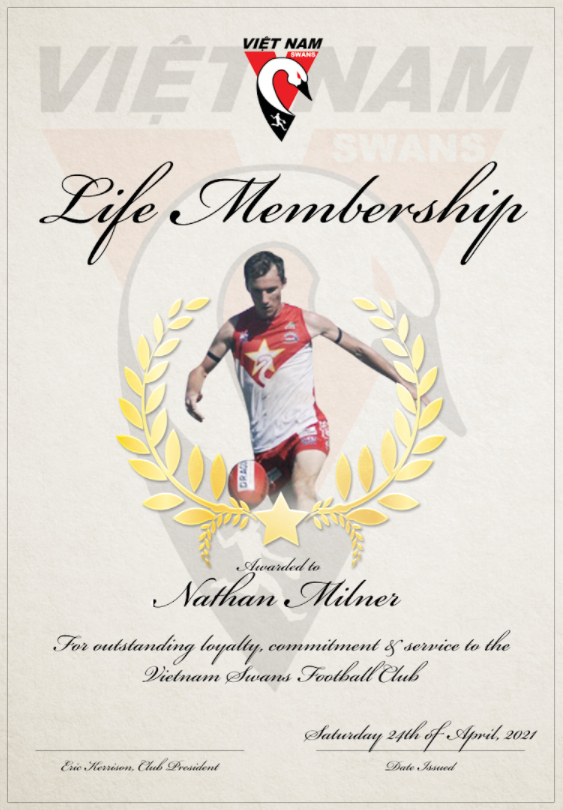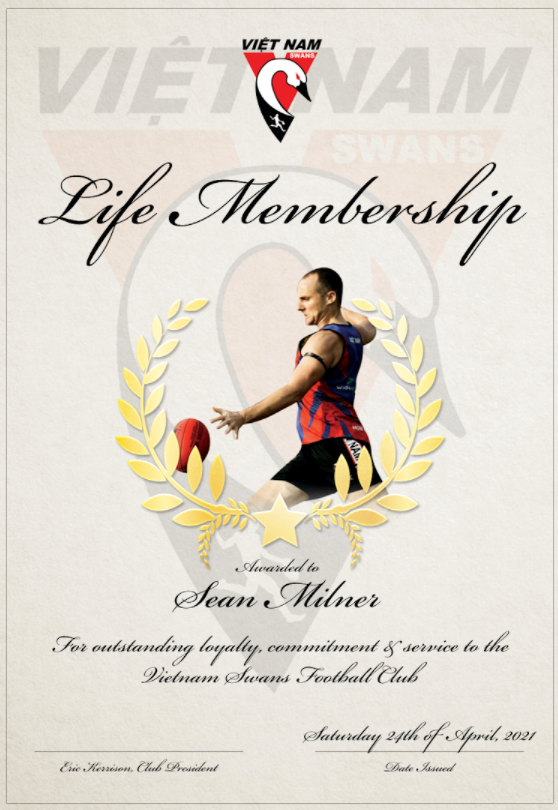 Paul "Mitter Powell" Koch
Years Active: 14
Inducted: 2021
Position/s: Full Forward and Ruck
Awards/Honours: Sponsor, Committee
About:
Having received some words about this next inductee, there was a common thread, Grumpy. I have never witnessed it, so won't believe these words. Mr Powell has been a long time supporter and sponsor of the Vietnam Swans which has always been greatly appreciated.
On the field, he was a key tall, and like any key tall, would be as sorry as anyone and the first to let you know if you didn't honour one of his leads. More known now for his off field athleticism than on field, he is a cornerstone and powerhouse in the Swannies Saigon social scene. He continues to live the dream in Vietnam, building the world's best yachts and supporting the Saigon bars, but again, still grumpy.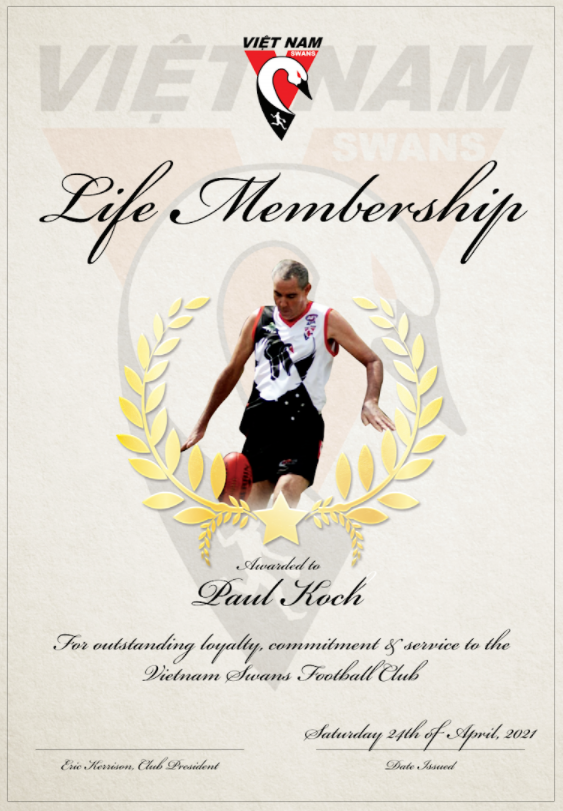 Eric Kerrison
Years Active: 7
Inducted: 2021
Position/s: Centre Half Back
Awards/Honours: President last 4 years
About:
Kerro's induction was kept seperate from the initial 5 as the president himself had to be kept out of the loop. However there's no-one more deserving of the Life Membership than the Prez himself. In his years as President Kerro has been tireless in pushing the club to new levels. Never was this more apparent than in 2020, the year that expat footy took a back seat across Asia (and the world) Kerro was creating new platforms to elevate the sport in Vietnam. Firstly through great inclusion in Hanoian training leading to a series of North vs South games. Later in the year as internal strength became the clear future ingredient in a successul Asian football team the Hanoi AFL was launched bringing over 60 players in 4 teams together to play a fun, competitive, social league. Now in 2020 we're extending this movement to the Vietnam Football League and Kerro has been the backbone amongst it all.
Kerro continues to push the club forwards in all areas, on field and off, and everyone at the club is very appreciative of the efforts!