Please note the date for the 2021 ANZAC Friendship Match: 24 April 2021.
24 April 2021
The Swans return to Vung Tau for the 12th Annual ANZAC Friendship weekend! You can read all about the previous matches here.
The Significance of Vung Tau
Vung Tau was the home of many Australian servicemen during Australia's presence in the Vietnam War between 1962 and 1973. The Vietnam Football League actually ran in Vung Tau between 1966 and 1971, at the very oval that we play on today. Pre – covid, many of the Veterans could still make the annual journey across to see the Swans play against a rival in the AFL Asia competition. This year, 2021, will have a different look to it, with global travel restrictions in place, The Swans cannot host an International team, and in the spirit of traidition and remembrabce we are carrying on with a day of domestic football, combining our Southern and Northern players for an all Men's game, an all Womens game and a mixed social game to follow, the Saigon Gaels GAA club will be adding to the lineup for the day by playing exhibition hurling and camogie matches.
A Different Look for 2021
2021 ANZAC Day Friendship weekend will be different but incredible in it's own way! With the 2020 success of the HAFL (Hanoi) and the 2021 SAFL and GAAAFL getting underway,  we will use the weekend to launch the Vietnam Football League
So, there will be bragging rights in each city, as is to be expected, but then there will be National bragging rights. National I hear you say…..yes, National. Weekends like Anzac Day and several other occasions throughout the year will see teams from each city paired up and compete side by side.
There will be more footy than ever and given the huge participation from the Viet Celts (Hanoi) and Saigon Gaels in the weekend some exhibition Hurling and Comogie matches to kick start the day.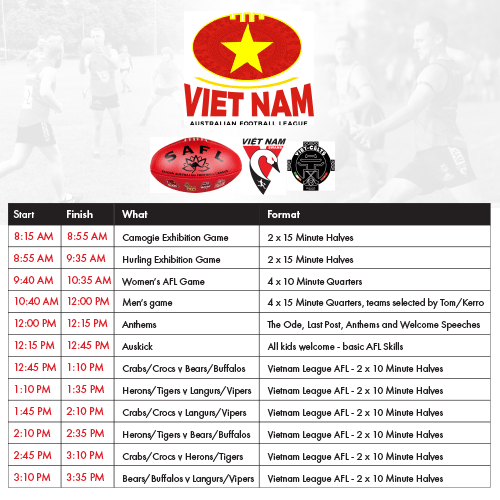 The McMillan Dinner (Saturday Night from 6pm)
A great tradition of ANZAC Day this year's McMillan Dinner will return to the Pullman Hotel Vung Tau. Guests can choose from buffet + Freeflow Beer or Beer & Wine and will be treated to the Middleton Address from John Suiker and other brief Swans formalities. A great way to socialize, celebrate the great lives we are able to live in large part due to incredible ANZAC sacrifices and those of the Vietnamese veterans who have done so much for their country which we now enjoy!
Let us know if you're attending to reserve a ticket, bookings essential!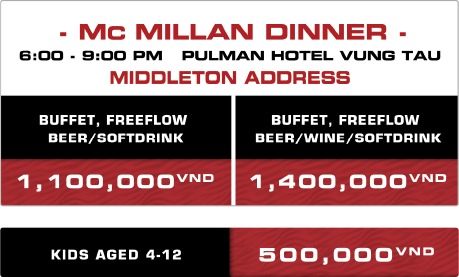 John Suiker to Give Middleton Address
John Suiker served with 4th Battalion the Royal Australian Regiment(RAR) during 1968 and was wounded in action(WIA).  After returning home to Australia he undertook university studies and obtained a degree which allowed him to work for the National Parks and wildlife in North Queensland(Flora).  For many years he grew tropical fruits at his farm near Tully.
John returned back to Vietnam in 2009 where he has run a small business and is married to Hau. John consistently tells of how lucky he is to be back in this country.
ANZAC Day Commemoration in Vung Tau – Sunday 25th
The local Australian community in Vung Tau – several of whom are veterans themselves – have organized an incredible ANZAC Day. We hope Australians and those wanting to share in one of our most important anual national events will join in. Wear your Swans Polo if possible!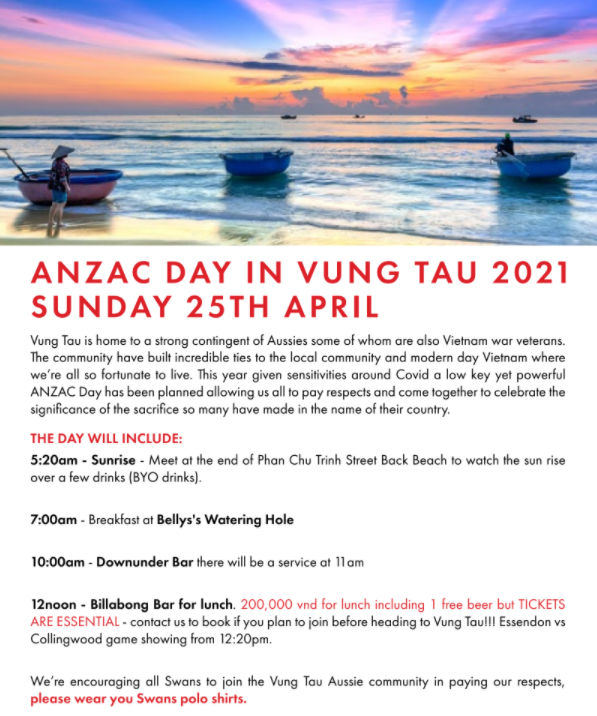 Travel Plans
The club have organised some travel options from Saigon to Vung Tau and returning..
Saigon to Vung Tau, Friday 23rd
Leaving from Playmakers Bar in D2 – 300k per person
Vung Tau to Saigon, Sunday 25th
Leaving from Pullman Hotel, Vung Tau – 300k per person