Buffalo corruption, Crab violence: these were just some of the phrases that sprung to mind after what was a dark day for the GAAAFL tournament. What kind of example are we setting for the children? Thankfully the Christmas break is upon us, giving us all some time to have a good hard look in the mirror. Namely the Crabs and the Buffs. 
Buffalos (5:5) – 35 Langurs (6:5) – 41
The Buffalos sank to new lows on Saturday, with financier and business mogul Mick Francis having to use his vast wealth to entice several high-profile players to line out for the Buffs. The sum of money involved was thought to be significant, given that lining out for the Buffs these days is widely considered to be career suicide. This level of gerrymandering hasn't been seen since the Catholic civil rights struggles in Northern Ireland throughout the 20th century. 
The Langurs rose above it all, digging deep in the second half to grind out a result. Captain Luke Philpott was inspiring at times, and Monem Farag got his first AFL goal. Veteran Mark Tierney showed everyone how it was done, scoring two goals in as many touches. Efficiency: thy name is Tierney.
This game went right down to the wire, and the Langurs won it with an entirely justified free kick right before the final whistle. Let's all be happy for the Langurs, and hope that there is investigation of some sort into the shameful carry on of those pesky Buffalos.  
Goal scorers:
Langurs: Mark Tierney 2, Paul Villanova 2, Trung Le 1, Monem Farag 1
Buffalos: Jake Norris 2, Gearoid O'Meara 2, Callum Maxwell 1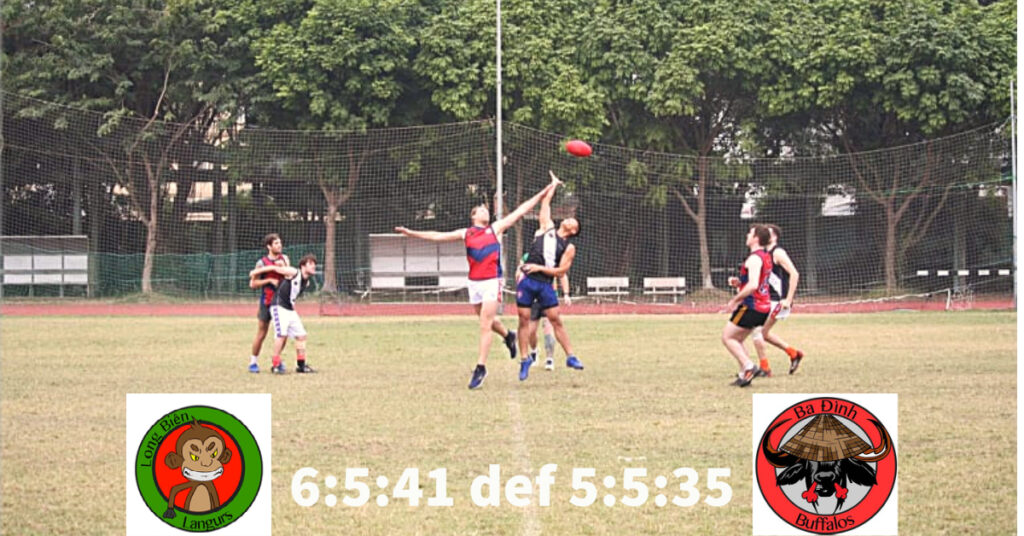 Herons (2:6) – 18 Crabs (8:4) – 52
A crabitual (apologies) tendency towards violence and intimidation worked in favour of the Cau Giay Crabs as they emerged victorious once again. An otherwise enjoyable game was marred somewhat by one incident which was as vicious as it was despicable.
Crabs player Andrew Callanan, with an address in Long Bien, attempted to headbutt Herons ace Michael Browne in a moment of madness. His head connected with Browne's finger (Andy is not known for his accuracy or headbutting ability), leaving Browne with a dislocated finger, and leaving Callanan looking like that Mad-Eye Moody guy from Harry Potter. Just like the old phrase, "An eye for a finger leaves Andy looking rough". Play continued with both players unable to retake the field, but the damage was already done to the Herons forward line. 
This Crabs team, although unorthodox in their methods, certainly know how to get the job done. 
Goal scorers:
Crabs: Tom Lynch 4, James Worland 2, Eoghan Finn 1, Dan Hopkins 1
Herons: Phil van der Browne 1, Jake Norris 1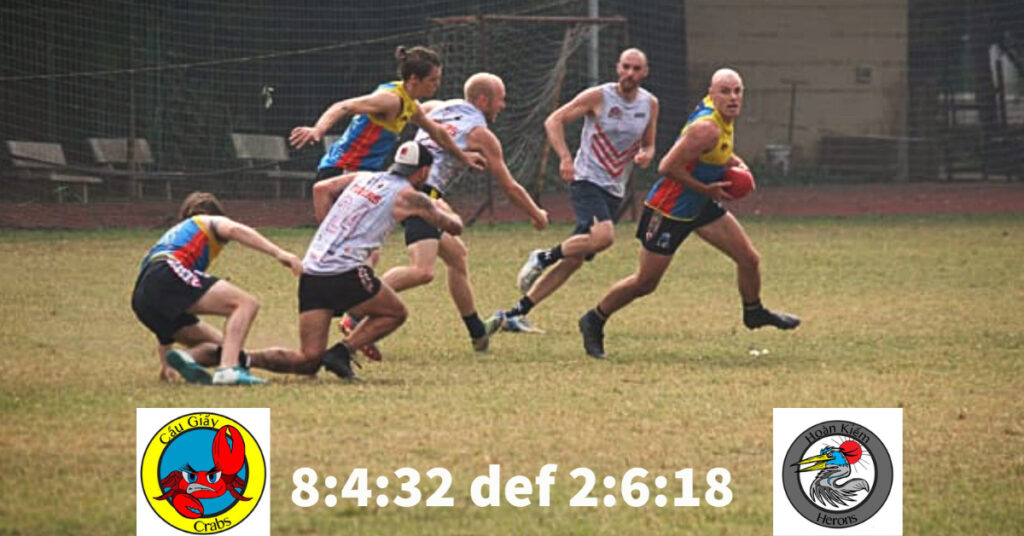 Crabs/Herons (1:5) – 11 Langurs/Buffalos (4:5) – 29
Look at that – Elaine Flavin with ANOTHER two goals in ANOTHER stellar performance. Colour me impressed! It is thought that the Langalos would have won by more if Ashley Abrahams had not left early for a manicure. That girl needs to get her priorities right. Local drunk Norma O'Sullivan was the only ray of sunshine for the Crarons with a solitary goal. Clare O'Gorman, who was also drunk at the weekend, got a goal for the Langalos. Was Siara North drunk at any stage over the weekend? I'm not sure, but she also got a goal. This kind of striking sporting insight doesn't come along too often. 
Goal scorers:
Langalos: Elaine Flavin 2, Clare O'Gorman 1, Siara North 1
Crarons: Norma O'Sullivan 1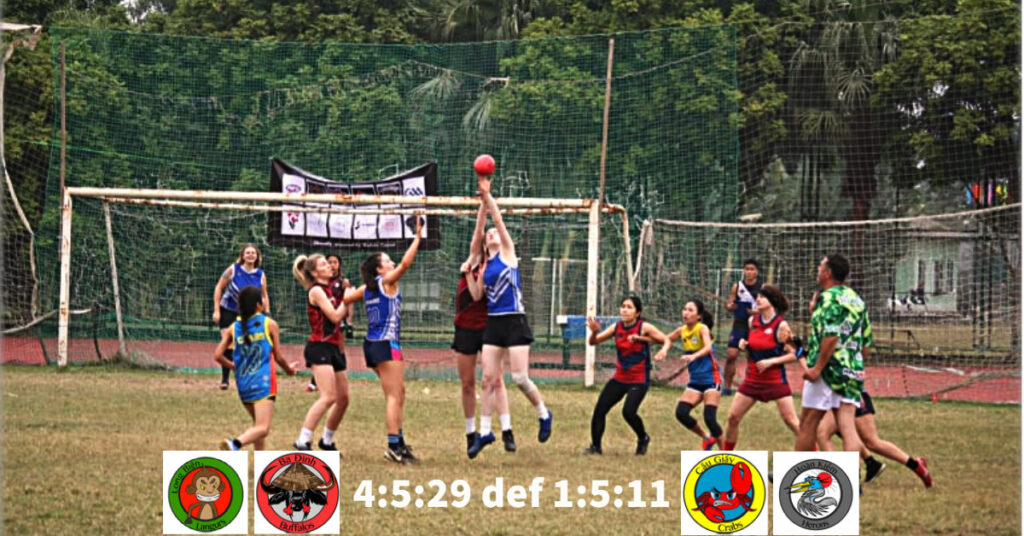 I hope everyone has a lovely Christmas and a happy new year. Word has it that the Herons are going on a drinking ban for the month of January to try and give them that extra edge. What a bunch of losers! See you all in January.