24 APRIL 2021
The Swans return to Vung Tau for the 11th ANZAC Friendship Match for 2021! You can read all about the previous matches here.
ANZAC Day (Sunday 25th April 2021) Commemeration in Vung Tau
The local Australian community in Vung Tau – several of whom are veterans themselves – have organized an incredible ANZAC Day. We hope Australians and those wanting to share in one of our most important anual national events will join in. Wear your Swans Polo if possible!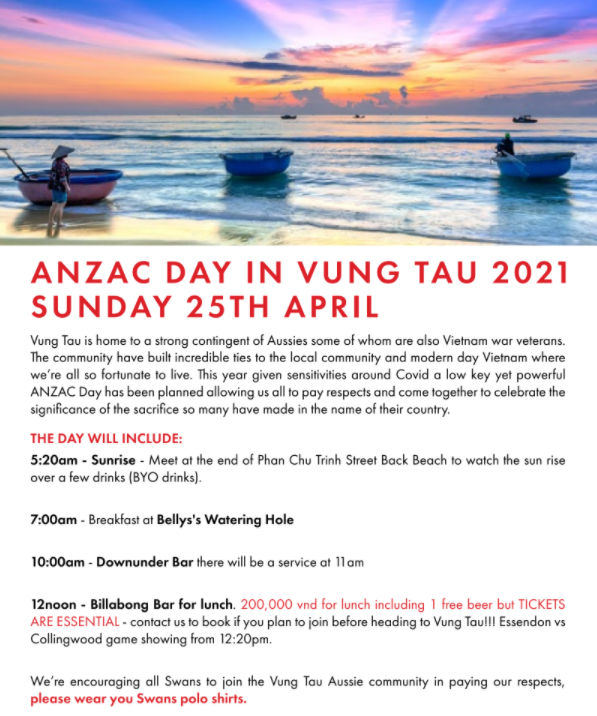 THE SIGNIFICANCE OF VUNG TAU
Vung Tau was the home of many Australian servicemen during Australia's presence in the Vietnam War between 1962 and 1973. The Vietnam Football League actually ran in Vung Tau between 1966 and 1971, at the very oval that we play on today. Many of the Veterans still make the annual journey across to see the Swans play against a rival in the AFL Asia competition. Read more of the Vietnam Football League history here.
2021 will be unique, without international travel we will focus more on a celebration of our game within Vietnam. We see this weekend being another step in building our domestic football leagues and strengthening ties with other sporting teams, most notably Gaelic, which will bring great on and off field successes in the near and longer term future.
OVERVIEW OF THE WEEKEND
Transport to and from Vung Tau – The Swans will provide bus options for those based in Saigon and those flying in, fill the form below to note your preferences.
To book your own consider Hoa Mai, Toan Thang who have VIP buses leaving District 1 every 10 minutes and from the airport. The VIP bus not regular bus is HIGHLY recommended.
Accomodation in Vung Tau – book your own, we have suggested some options of various budgets and distance from the field below.
Weekend Schedule – Latest news updated here – check it out!
Friday evening – Friday night we will gather at Billabong Bar – 31 Trương Công Định – where we will watch the live AFL game and hydrate for the Saturday games.
Saturday on the field – Full day schedule is finalized, what a day!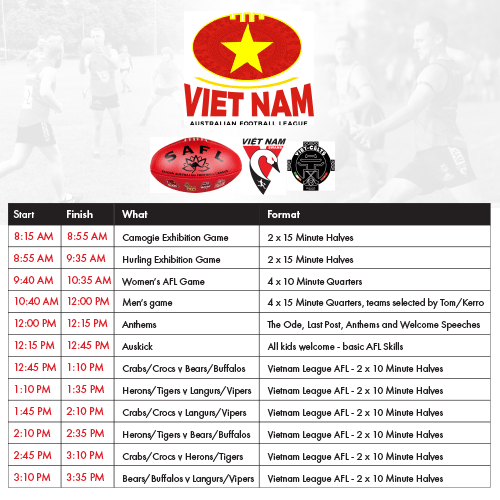 After Match Function – The McMillan dinner is always an incredible event and this year at the Pullman will be no different with the highlight being John Suiker giving the Middleton Address.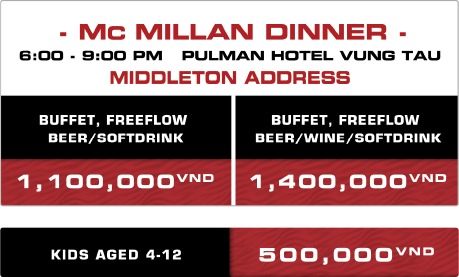 BOOK YOUR ACCOMODATION IN VUNG TAU
There are plenty of accommodation options in Vung Tau. We'd suggest:
REGISTER NOW BY FILLING THIS FORM!