23rd APRIL 2022
The Swans return to Vung Tau for the 12th ANZAC Friendship Match for 2022! You can read all about the previous matches here.
ANZAC Day (Monday 25th April 2022) Commemoration in Vung Tau
The local Australian community in Vung Tau – several of whom are veterans themselves – will commemorate ANZAC Day on Monday the 25th of April 2022. We will update the details here when we have them on hand.
THE SIGNIFICANCE OF VUNG TAU
Vung Tau was the home of many Australian servicemen during Australia's presence in the Vietnam War between 1962 and 1973. The Vietnam Football League actually ran in Vung Tau between 1966 and 1971, at the very oval that we play on today. Many of the Veterans still make the annual journey across to see the Swans play against a rival in the AFL Asia competition. Read more of the Vietnam Football League history here.
2021 will be unique, without international travel we will focus more on a celebration of our game within Vietnam. We see this weekend being another step in building our domestic football leagues and strengthening ties with other sporting teams, most notably Gaelic, which will bring great on and off field successes in the near and longer term future.
OVERVIEW OF THE WEEKEND
Transport to and from Vung Tau – The Swans will provide bus options for those based in Saigon and those flying in, fill the form below to note your preferences.
To book your own consider Hoa Mai, Toan Thang who have VIP buses leaving District 1 every 10 minutes and from the airport. The VIP bus not regular bus is HIGHLY recommended.
Accomodation in Vung Tau – We're suggesting the Rex Hotel but you're free to book other hotels. The Rex is middle price range and has a great pool for after match relaxation and is near the field. There are links to other hotels below, please use these links as they contribute back to the club via our affiliate program.
Weekend Schedule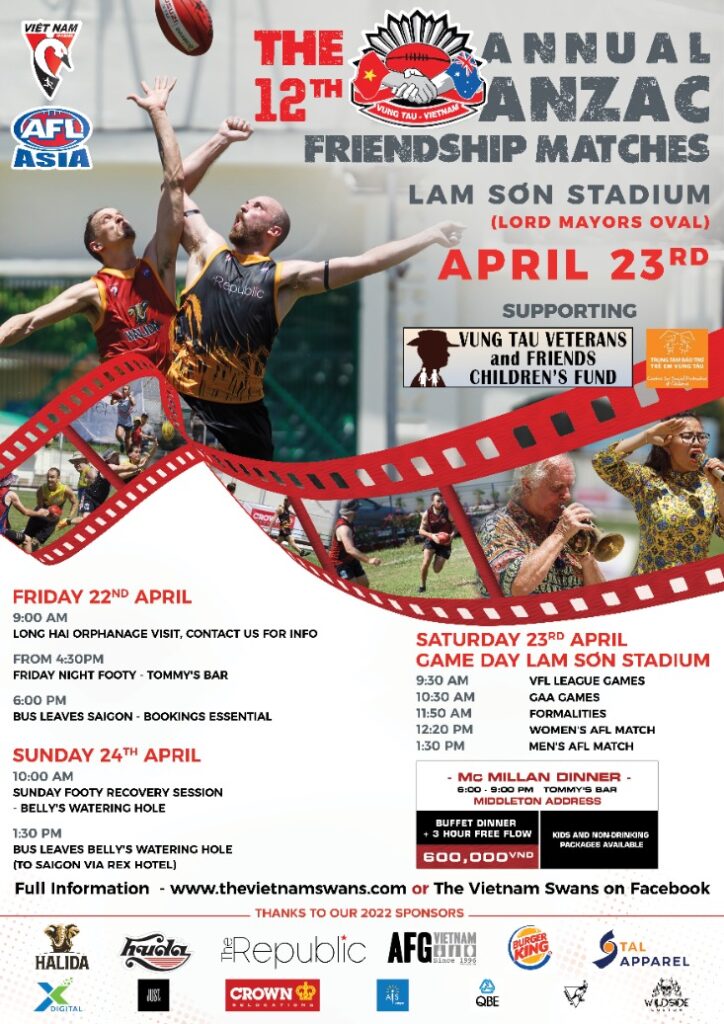 Friday morning orphanage visit at 9am – Raffle funds will be donated to the Long Hai and Vung Tau orphanages. This visit is always a highlight of the weekend as the kids are always amazing and we have some fantastic AFL shirts to give them and some footies to kick around and as always a few ice creams. If you can get down on Friday for this not to be missed experience!
Friday evening – We will meet for Friday night at Tommy's Bar ( 3 Lê Ngọc Hân, St ). Tommy's are running Friday Wing Night with 4 wing flavours available in special 6 or 12 wing plates, live band from 7:30pm.
Saturday on the field – 2 VFL League games from 9:30am (warm up at 9am), GAA Sports (male and female details TBC) from 10:30am, Women's AFL Match 12:20pm, Men's AFL Match 1:30pm.
After Match Function – Tommy's Bar 6-9pm free-flow and buffet for 600k, there will be non drinking and kids options announced closer to the date. Tickets available at the field and on the door. Live band from 7:30pm, McMillan Address from 6pm.
If you're attending the 2022 ANZAC Friendship Weekend please fill this form to help with organization:
BOOK YOUR ACCOMODATION IN VUNG TAU
We're suggesting anyone wanting to stay in the main group should book at The Rex, it's near the field and Tommy's, big enough for our group, nice pool for post game relaxation and moderately priced.
Rex Hotel (Right near the field ~ $40 USD per night, 3 star)
There are plenty of accommodation options in Vung Tau. We'd suggest: