The Anzac Friendship Weekend was built on the premise of Remembering Lost Lives, Saving Young Lives and after 12 Annual Friendship Weekends that premise rings as true as ever. In 2022 we were able to join and support once again with 2 incredible causes in the Ba Ria – Vung Tau region.
Vung Tau Veterans & Friends Children's Fund
Long time partners of the weekend in 2022 the VTVFCF were able to further strengthen ties with the Friendship Weekend. Manning the gate and running the canteen enabled the guys to raise some much needed funds after an obviously challenging couple of years.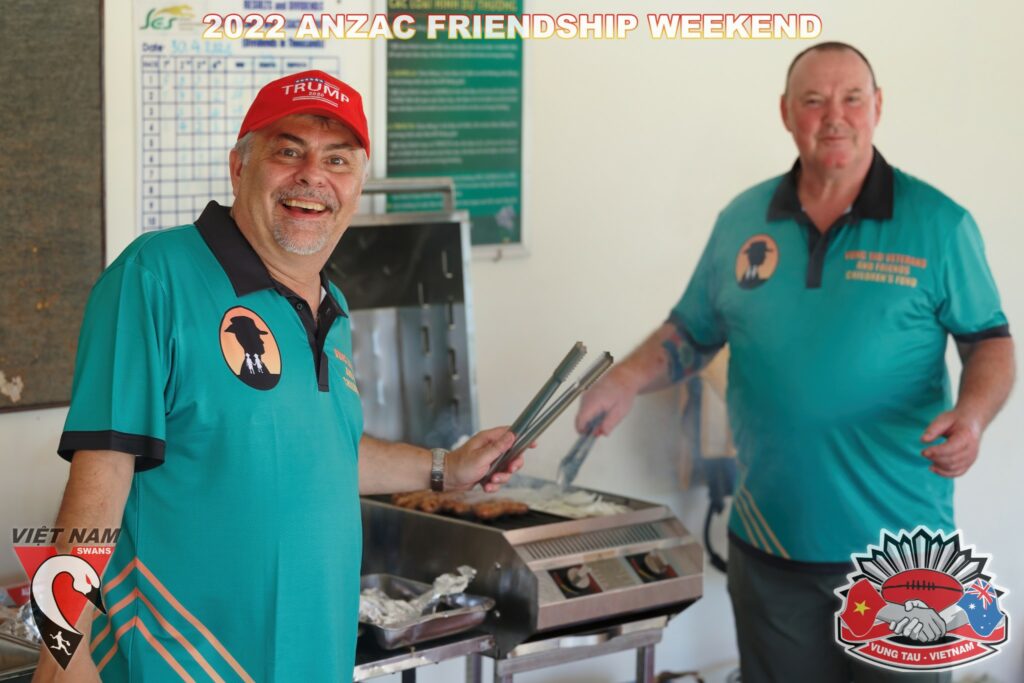 On top of this Warren Williams from the fund delivered the Middleton Address which was a moving account of the background and some of the incredible work the fund as done over the years. For many in attendance this would have been the first time they learned in such detail of the group's incredible work. With this knowledge we're confident the Swans family will be able to connect to the VTVFCF incredible work in new powerful ways.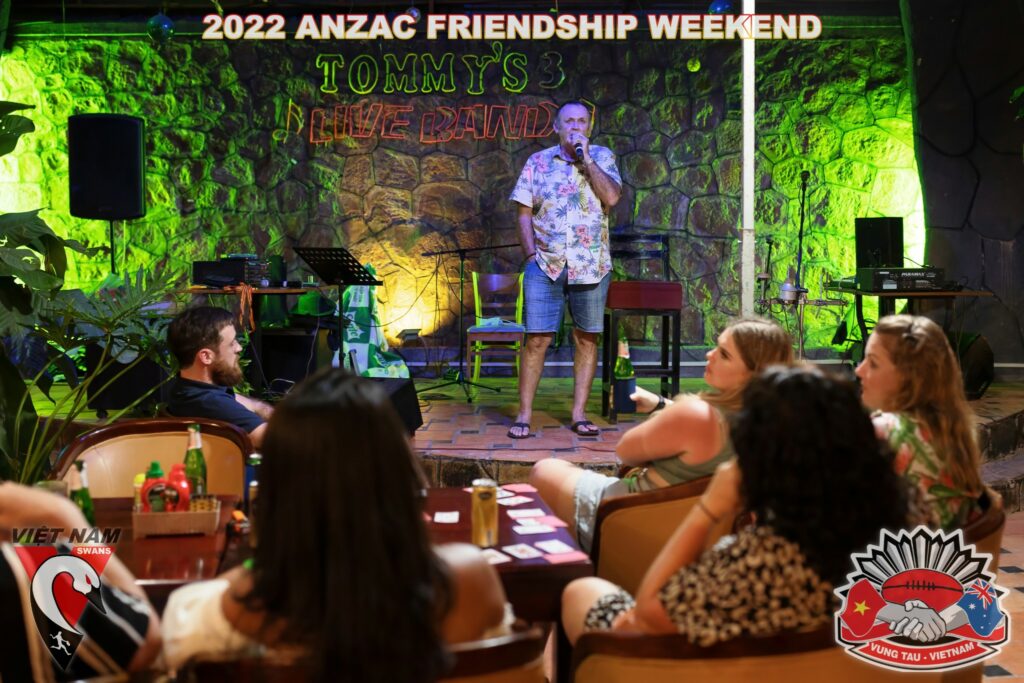 If you weren't there on the night check out some of their work here – https://vtvfcf.org/
The Centre for Social Protection of Children
Better known as the Vung Tau orphanage (with centres in Long Hai and Vung Tau) the Centre for Social Protection of Children has been a long time partner of the Friendship Weekend. In 2022 we were able to create 2 meaningful ways of supporting their amazing work.
The game day raffle raised 15,650,000 VND to support the center's generously supported by those at the field. We also need to thank the sponsors who donated incredible prizes enabling us to raise these funds. Please do find ways to support these businesses whenever you can as their support of our club and causes makes a huge difference!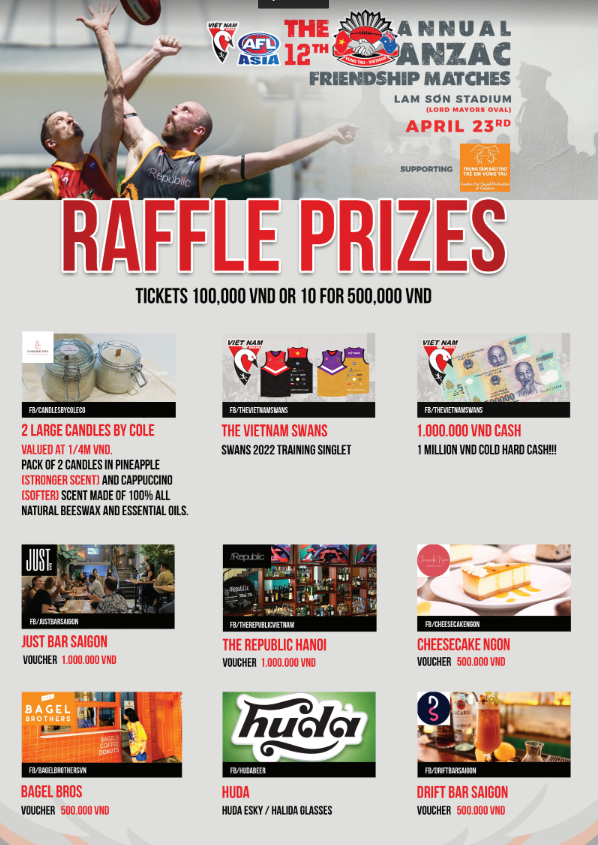 The traditional Friday Orphanage visit was a powerful experience as always, read on for Swan's Diep, Layla and Jardi's personal experiences from the visits which give some perspective to the great work done at both centers:
Diep Nguyen
Have you ever been hugged by a stranger? How about by a child with an intellectual disability? How did it feel? For me, it was an indescribable feeling the first time it happened on Anzac weekend 2022. When we visited Long Hai School, which offers free education to orphans and children with disabilities in Vung Tau, a lovely little girl ran out and hugged me with a happy smile when I walked into the classroom. Even though she couldn't speak, due to her disability, her smile touched the bottom of my heart.
That pure smile made me get happy at first but a little bit sad after. What's better than receiving such a warm hug and pure smile, right? Yet, a question popped into my mind, "Why are they so unlucky?" Even she though she suffers from both an intellectual disability and adaptive functioning, she still knows how to smile to a stranger.
After talking to the teacher of the class, I found out they all come from poor families who cannot afford to send their children to school. But despite the slow progress in their education but they still improve their awareness and social skills. That's a great thing. They taught me a lesson that sometimes you have to be content with what you have and give more than people think you have.
I'm happy to be a member of AFL where AFL sponsorship gives them a helping hand.
Layla Nguyen
I am Layla from Vietnam Swans team. I visited the orphanage with my football team. I once was a child and now I am a mom. So, I have the feeling from both side to know how lucky I am.
I met babies and kids who are only a few months old up to 12 years old, who have never know their parents. Some of them even have special needs due to physical challenges and other circumstances.
Imagine that one day you wake up, at age 3 to 5 years old and your family is gone. You have been put into the world where there is no one whom you can truly call as your family, feeling like you belong nowhere. Then imagine that you really like to do activities under the sun, you want to play football, but you definitely could not. You are really helpless with your body.
But the feeling i had when i saw the kids who got all excited and become insanely happy just by looking at us visit them, satisfied when we give them a hug. This moment it's really magical!
I guess this feeling of somebody want to know you, somebody remind you, realize that you exist, it's more helpful to them.
And look at ourself… all problems we have, our lives are not too bad. If these small kids could face such adverse circumstances with little to no monetary support, no emotional support and are strong enough to smile and laugh through life it must be easy  for us as individuals to do even a small thing for a better life and for a better world.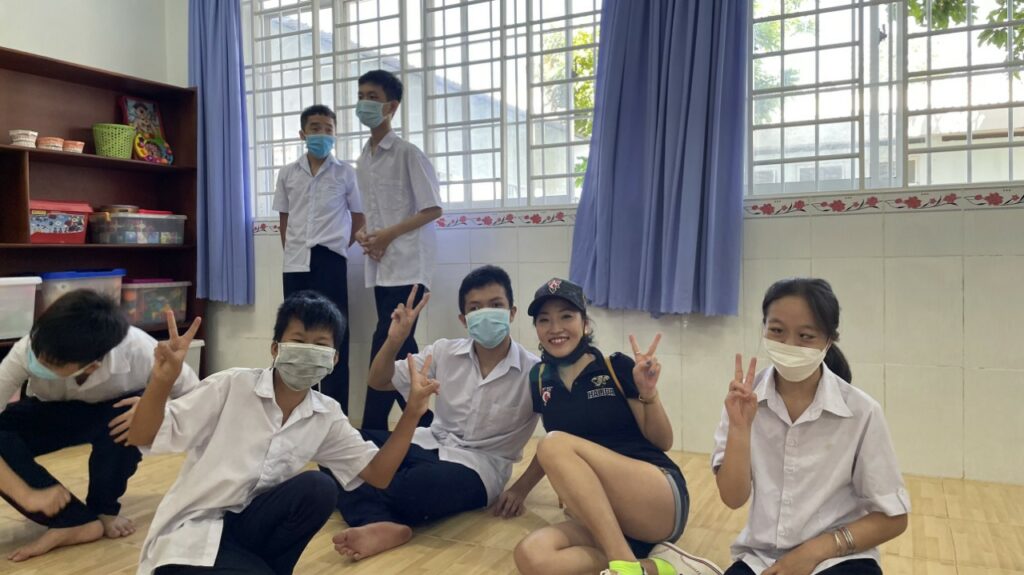 I have been to many orphanages before, so I've had a bit of an idea what to expect when going to the orphanage. I was very excited to meet the kids and to spend time with them.
The younger kids didn't really know what was going on when we got there and some were a bit scared and overwhelmed to see all these new faces since we were the first group to visit them since Covid. It was also overwhelming and heartbreaking for me to see so many children there. When they were more comfortable with us, we were able to play some games and it was an exceptional experience seeing their happy faces. Most of them seemed to enjoy spending time with us.
It's always tragic to hear everyone's different stories of how they've ended up at the orphanage, but it was a special experience to know that we might have made their day just a bit more fun by being there. It's a very personal and special experience to visit these kids and I am happy to have gone.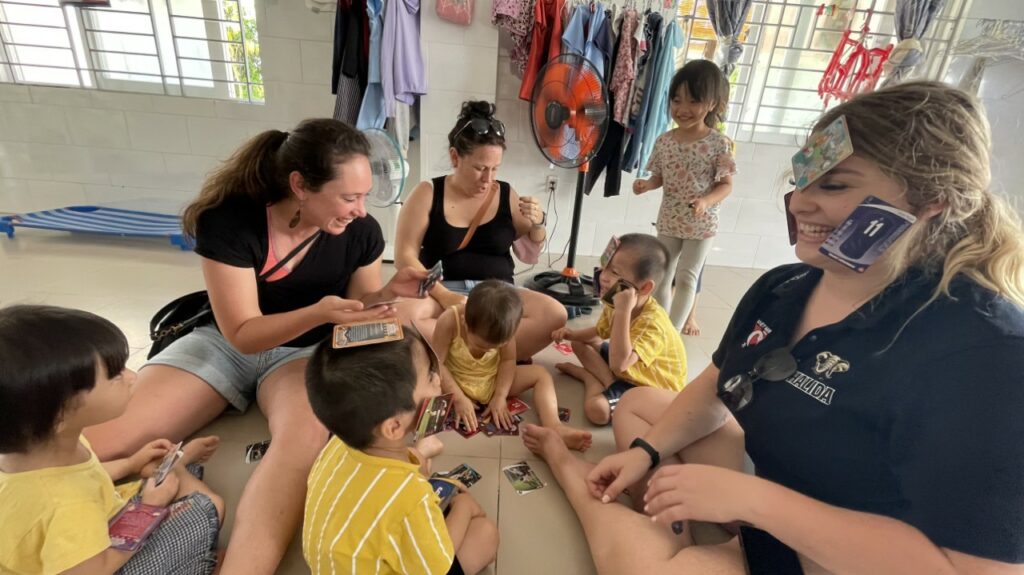 Thankyou to everyone who supported the raffle, the VTVFCF or visited the orphanages across the weekend. You have personally been a part of keeping the special tradition of the Friendship Weekend going and supporting 2 amazing causes. Special thanks to Warren, Layla and Jardi for sharing your specific experiences with all of us.