The Vietnam Swans made several very important awards at the McMillan Dinner, following the 2019 ANZAC Friendship Match. The Club has chosen to recognise some of its longest-serving volunteers, each with a special connection to the ANZAC Friendship Match.
We were also very lucky to have three of the four new Life Members present at the game. With a video crew on hand, Swannies Hall of Famer Phil Johns grabbed each of the three to talk more about their stories.
Presented in no particular order, read on for more, or click through to the clips on Youtube!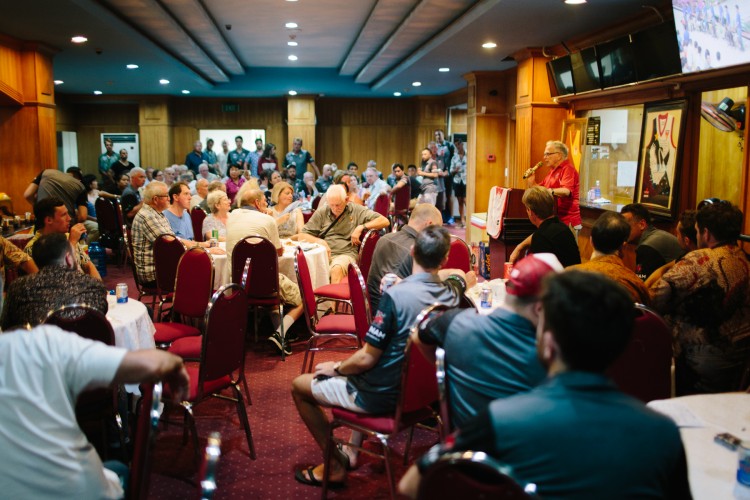 The 2019 McMillan Dinner was held at the Vung Tau Greyhound Track! 
Stan Middleton
The Vietnam Swans have awarded Life Membership to Stan for his ongoing support of the Club. On top of his work with charity and within the Veteran's community, Stan has been invaluable to connect us with the history of the Vietnam Football League.
Stan is an articulate storyteller and has a keen interest in history: Phil caught up with Stan just before his Life Membership was announced.
Many thanks to Stan and his wife, Sinh.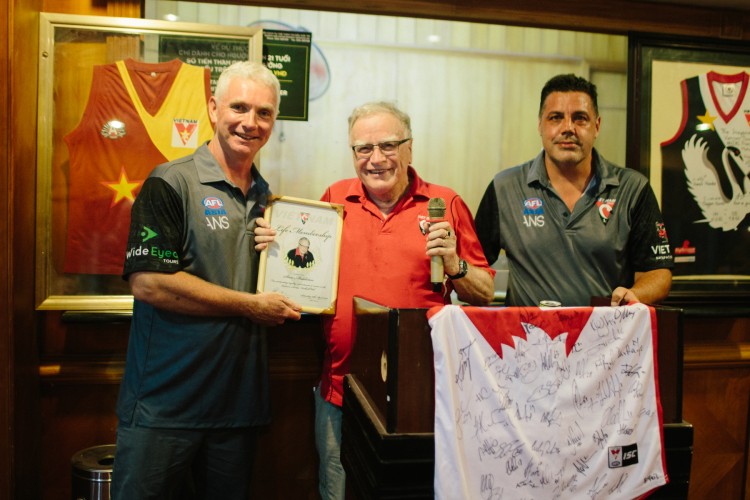 You can also read more about Stan, including his contribution to the Swans at his profile in our Life Members section.
Ron and Ailsa Vernon
We've awarded Life Membership to the Vernon duo for their charity work in Vung Tau and long-term support of the Swans. They've worked tirelessly for charities in the Vung Tau area for over 10 years.
Phil spoke with Ron about the work that he and Ailsa have been involved in:
Ron actually played in the team that won the very first premiership of the Vietnam Football League (back in 1967!) and still speaks to the Swannies before each big game in Vung Tau. It's an important occasion for all Swans.
Unfortunately Ailsa couldn't join us on the night, but we look forward to catching up with her very soon.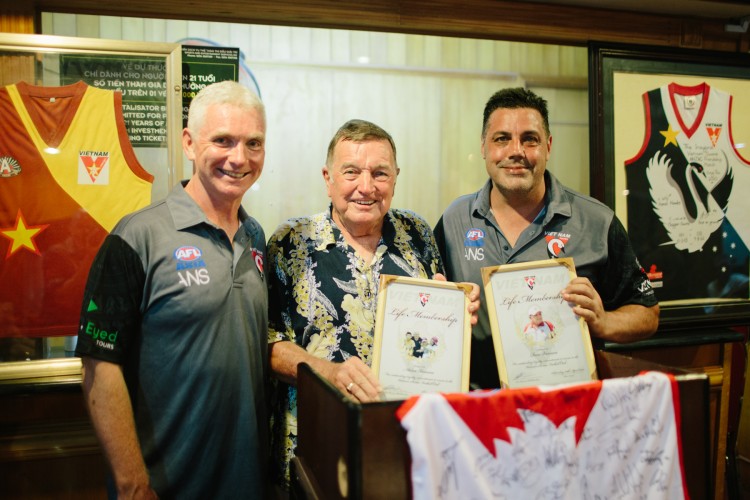 You can read more about Ron and Ailsa's support for the Swans at their profiles in our Life Members section.
Glenn Nolan
We've awarded Life Membership to Glenn for his help in starting and then growing the ANZAC Friendship Match over the past ten years. It's a great story with humble beginnings: Phil Johns spoke with Glenn about those early days and all that's happened since.
Thanks to Glenn, his wife Trang, and the whole community in Vung Tau who make the ANZAC Friendship Match a success each year.
You can read more about Glenn's support for the Swans at his profile on our Life Members section.
Congratulations to All
The Vietnam Swans are very lucky to have volunteers, supporters and members such as Stan, Ron, Ailsa and Glenn. They've been invaluable in growing the Club to the strong position that is in today.