The 2022 Season heats up this week in Saigon with 3 massive footy dates in the calendar. You won't want to miss:
Training – Wednesday 7:30pm at Hoa Lu
After being rained out this weeks run is must attend ahead of all the upcoming games.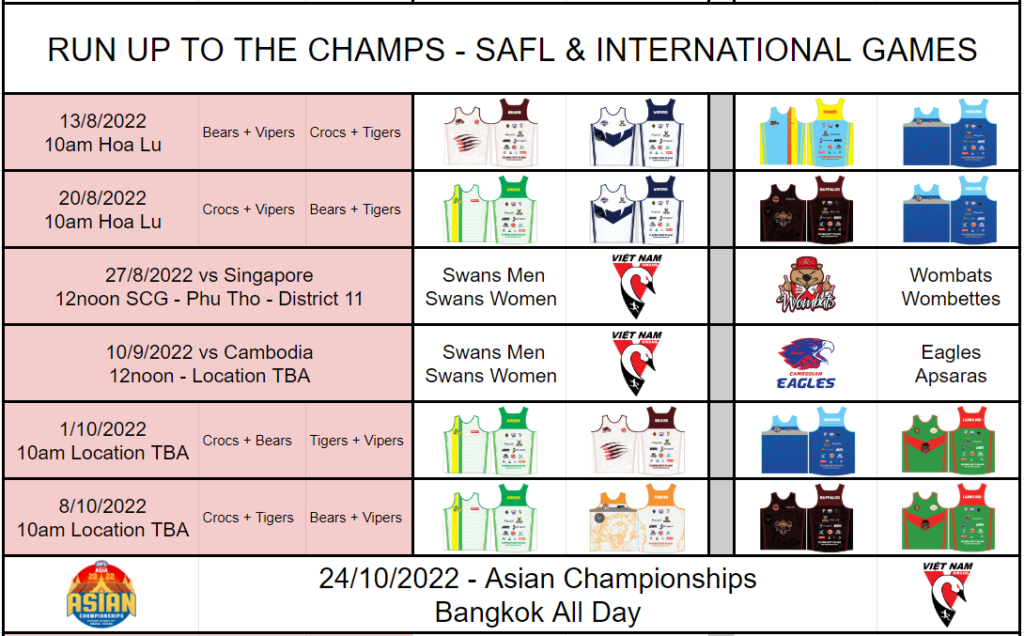 SAFL Round 4 – Saturday 10am at Hoa Lu 
The SAFL returns Saturday and while we may be rusty there's plenty on the line with the ladder currently log-jammed.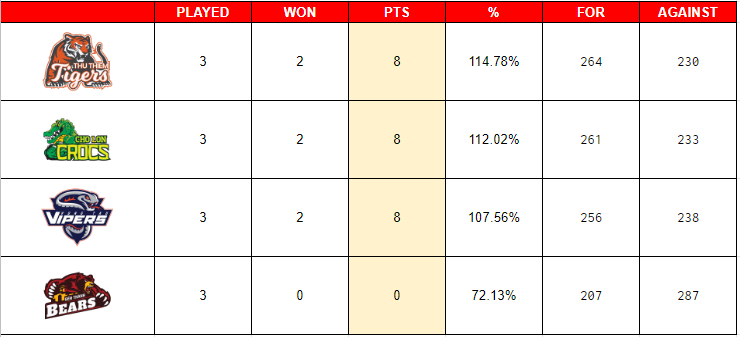 All Swannies, family members, partners, friends and members of the public are invited to join us in a night of laughs, delicious food and plenty of beers! Hosted by The Vietnam Swans AFL Team and Asia Out Loud, this is not an event you want to miss.
6:30pm Dinner
7:15pm Jumper Presentation
7:30pm COMEDY SHOW STARTS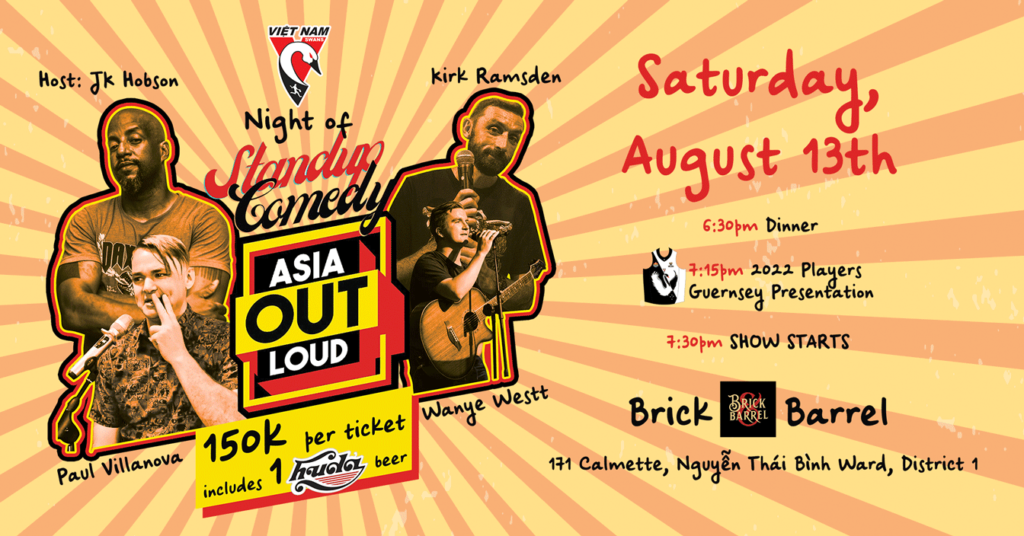 –Your Host: JK Hobson–
JK Hobson got his start in entertainment playing in the Metal, Punk, and Hardcore scene in the Lower East Side of New York City in the 90's back when NYC was still dangerous! He moved to Los Angeles in 2000 with his touring band Crisis and landed a record deal, eventually leaving the music biz in 2012. He first hit the stage as a standup comedian in 2013 at Marty's Open Mic on Hollywood's iconic Sunset Boulevard on a dare! He performed standup again in 2016 and soon afterwards moved to Vietnam on a Fulbright Scholarship.
He began performing regularly in Saigon in 2017, and has been doing so ever since! His caustic brand of humor which is full of takes on race, dating, and a large range of social issues made him a finalist in the Vietnam Comedy Competition, and has taken him all over Vietnam as well as Thailand, Cambodia. He even graced the stage in his hometown of New York City in 2019!
–Paul Villanova–
Paul was a tradesman in Australia who moved to Vietnam to be a professional basketball coach but over 3 years later (thanks COVID19) finds himself performing & running comedy shows, doing voiceover work and playing dungeons & dragons.
He has sold out shows in Hanoi, performed all over Vietnam, in Hanoi, Dalat & Saigon and was lucky enough to be part of "Comedy Oi" Vietnam's first comedy festival.
He tells stories of his own failures(there are many), what it's like to change your life completely in your 30's & what mild success in Vietnam is like.
–Kirk Ramsden–
Descending from the foggy hills of West Yorkshire, Kirk Ramsden grew up on a farm and often wore Wellingtons. Especially when it wasn't raining. No wonder he burst into the local comedy scene with a bang! He is sure to keep you entertained with his physical movements as well as oral skills on the mic. He also performs Improvised comedy which adds a spontaneous oopmh to his stage presence.
–Wanye Westt–
Gaining inspiration from Flight of the Conchords, Axis of Awesome and Tri-Pod, Wanye Westt combines music and comedy together, covering a range of topics including his love for Maccas, losing his virginity and getting down and dirty with your mother.