WHEN -Saturday December 3rd from 10am – allow time to get out to the field!!!
WHERE -Sân bóng Anh Thư, Phường 28, Bình Thạnh, Ho Chi Minh City – Maps link here…
WHO – Tigers+Crocs vs Bears+Vipers
As we head into the final game of the year the ladder could not be closer! All teams are locked on 12pts with a 3-3 record with just percentage separating the four sides.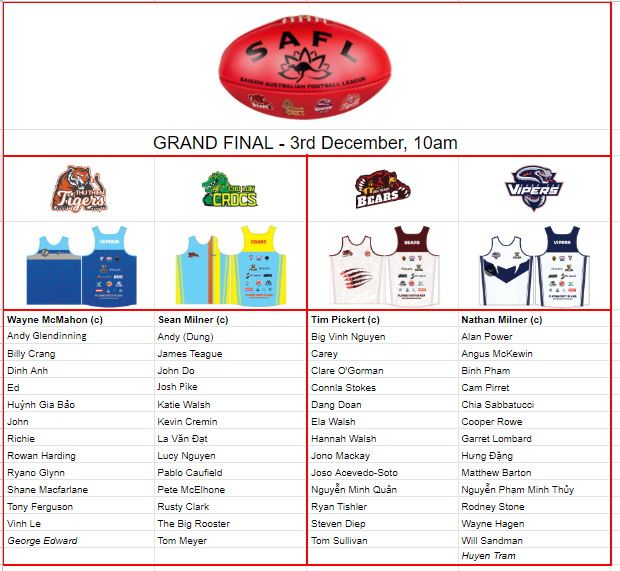 The Tigers and Crocs will combine forces with a win securing the Tigers their first SAFL premiership. Whilst the Bears and Vipers will walk out together with a win meaning the Bears will become back-to-back flag winners following a slow start to the season.
These two combinations of teams have played twice already this season, with Tigers/Crocs securing a 31pt win in Round 1 and the Bears/Vipers getting the chocolates in Round 4 by 20pts.
On paper, the Bears/Vipers seem to have the stronger backline with the combination of "Better" Milner and Matt 'Fartin' Barton. One of them (or both) will no doubt head to Wayno who currently leads the SAFL goalkicking with 20 for the season. However, they'll have to be wary of Pete who has also bagged 13 goals this season to sit in 2nd place on the goalkickers list.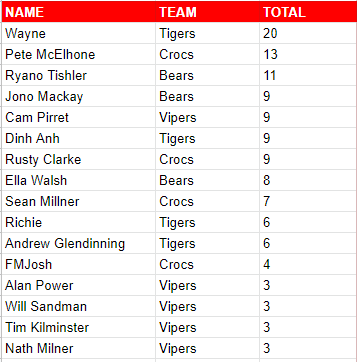 At the other end, Bill 'can't stay on the park himself but criticizes soccer players who go down' Crang will be hoping to a) not get injured and b) stop any Bear/Viper attack. Without any natural forward for their side the Bears/Vipers will be looking for their midfield unit to push forward and kick goals.
The engine room is where things get interesting. Rusty vs Tish. Dino vs Cam. Sean vs Will. Ryano vs Jono. It truly is matchup galore.
With Ella having headed back to Aus it is also time for the likes of Lucy and Tram to step-up and show that they can get on the scoresheet too. With these 2 ladies on opposite sides this week will it be the experience of Lucy or the rising star enthusiasm Tram who gets their team over the line?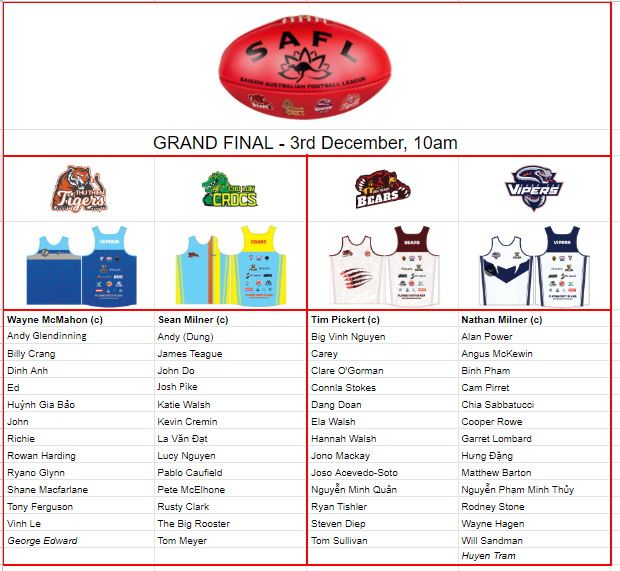 Plenty on the line in the form of premiership medals, MVPs and leading goalkickers so make sure you get down to play in the final hit-out of the year and then enjoy our Awards Day/AGM at Just Bar afterwards!
AGM + 2022 Presentations at Just Bar from 2pm