Halfway Mark of 2022 Season
With our first international footy since 2019 upon us Round 4 of the SAFL will be delayed. This means we go into the half way point of the season with everyone having played everyone and the Tigers sitting atop the ladder only on percentage with the Crocs and Vipers also on 2 wins from the first 3 rounds. The 2021 Premiers the Ben Thanh Bears haven't pulled off a win yet, discipline seems to be an issue after last year's success with half their team arriving late in various states. Will their leaders be able to turn it around in the 2nd half of the year? Some of the leaders seem to be suffering the worst of the discipline issues…
There's plenty of time to catch up with a busy 2nd half of the season looking like containing 6 more SAFL rounds, 2 touring team visits plus the Asian Champs in October. Time to knuckle down on the track starting with tomorrow's full field finishing touches session at Hoa Lu as well as next Wednesday's final training before the bus leaves Friday 3:45pm from McDonald's Dien Bien Phu D1. If you're looking to get on the tour still contact the clubs Facebook page or any of our coaches.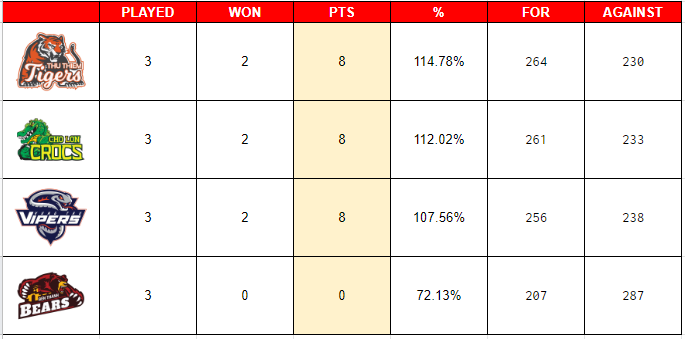 Round 3 Summary
Round 3 was a see-sawing encounter with plenty of footy on display that should hold us in good stead heading into plenty of international hit outs! On paper the Bears / Crocs midfield looked too powerful… The Tigers and Vipers had depth across the field but could they avoid being blown away long enough to utilize the depth???
First Quarter – Bears/Crocs 4:3:27 Leading Tigers/Vipers 1:3:9
As predicted the Bears and Crocs got some dominance going through the middle and took a solid lead. When the Tigers/Vipers did go forward they looked dangerous with Wayne McMahon as always sharp on any scoring opportunities. A slightly wasteful Tigers and Vipers looked in for a looooong day!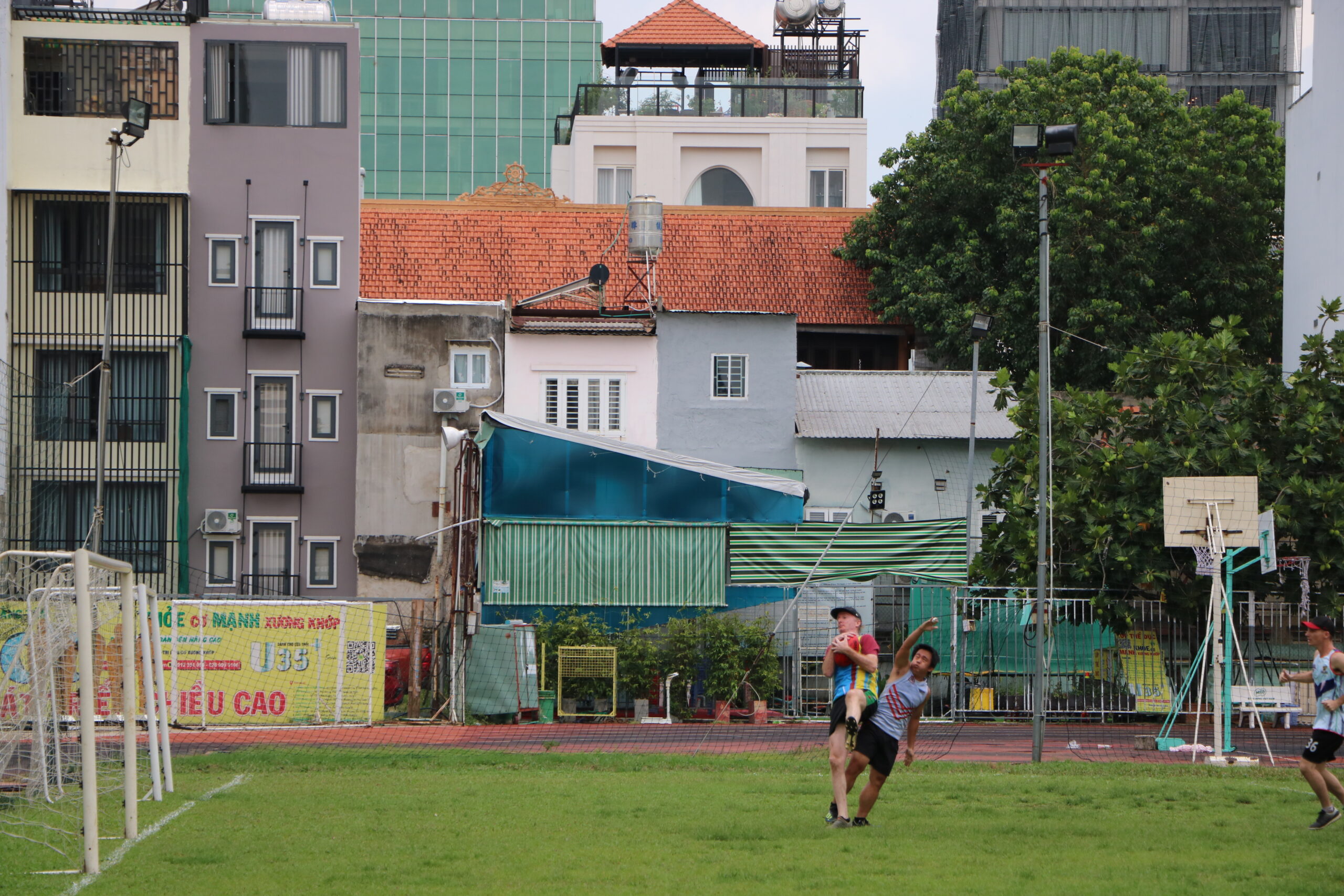 Second Quarter – Tigers/Vipers 8:3:51 leading Bears/Crocs 6:5:41
Early in the 2nd quarter the game looked fairly predictable, with the midfield drive and center clearance goals to Rusty Clarke and Jono Mackay the Bears and Crocs looked too strong. From that point on the game shifted, the Tigers and Vipers toughened up in the middle stopping any explosive clearances and outside run from Gaels recruits Richie and Alan powered (pun intended!) the Tigers and Vipers forward. A 4 goal burst to finish the half saw them take a lead into half time. As is often the case Kev 'Tiprat' Wilkinson channeled his inner Milney to step through several opposition tackles and score the goal of the day.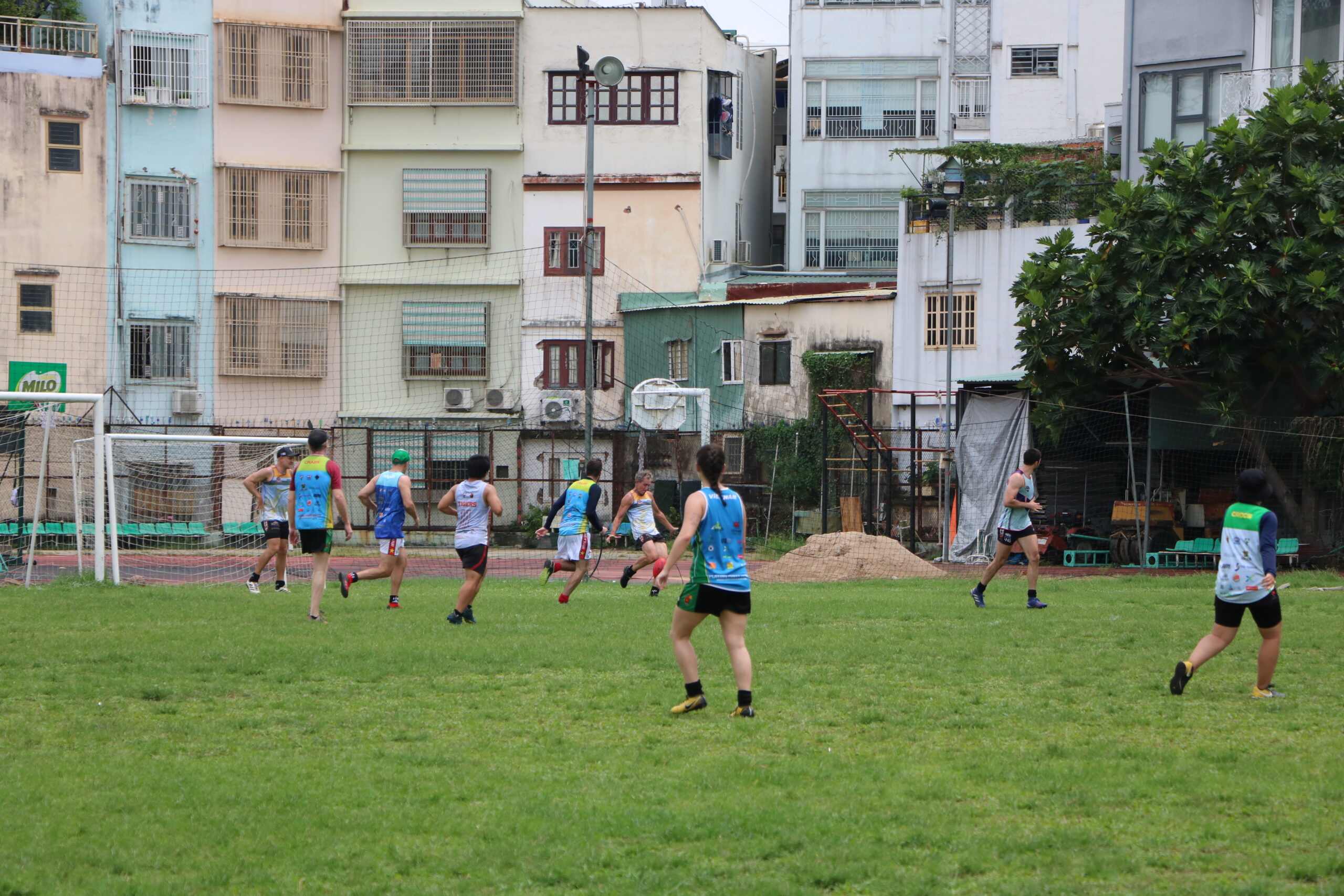 Third Quarter – Tigers/Vipers 13:9:87 leading Bears/Crocs 10:5:65
In the third the Bears and Crocs struggled to re-assert themselves on the game. When they could go forward the Tigers and Vipers stayed dangerous up front converting chances the better of the 2 teams. Vinh 'Diesel' Le, playing one of his best ever AFL games and the Tigers/Vipers backline were almost unpassable. Heading into the last a surprising 22 point lead had developed, would it be enough?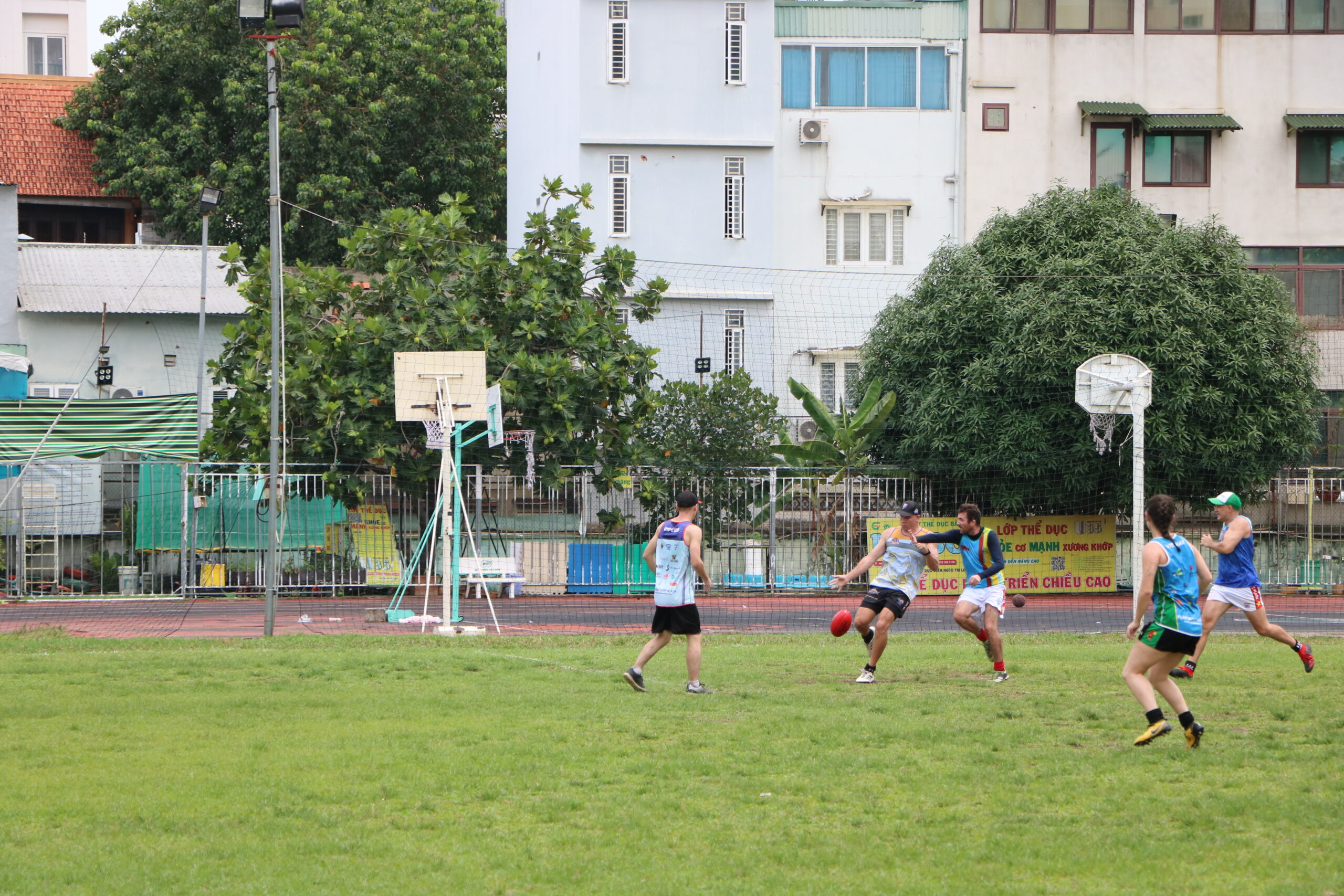 Final Scores – Tigers/Vipers 17:11:113 defeated Bears/Crocs 13:9:87
Turns out it was, the Bears and Crocs threw everything at the lead but inaccuracy stopped them from getting close enough to ever really challenge the result.
Best Players
Tigers / Vipers played as a consistent squad with every player contributing. Stand out performances from Cam Pirret in the middle, Wayne McMahon with 5 goals up front and Vinh 'Diesel' Le down back rebounding all day were the best.
3 – Cam Pirret
2 – Wayne McMahon
1 – Vinh Le
For the Bears and Crocs the midfield was strong all day and figured throughout the votes.
3 – Ryan Tishler
2 – Rusty Clarke
1 – Sean Milner
Goal Kickers
Wayne McMahon continued his defense of his 2021 goalkickers award with 5 big ones with Ryano, Cam Pirret and Andy G also getting 3 from their respective midfields.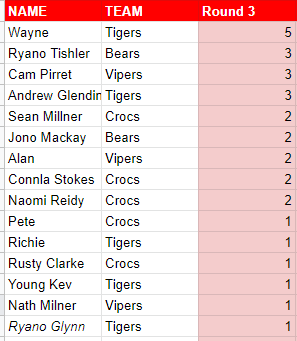 After a full round of games Wayne is gonna be hard to catch with Ryan Tishler in great form leading the chasing pack.