International footy brings with it the unfortunate reality of fantastic people moving on frequently. This transient environment is challenging but we also are blessed to cross paths with so many wonderful people who enrich our club in their own special ways. One of these people has been Chia Sabbatucci who arrived in Vietnam about 5 years ago from Jakarta with a wealth of experience and enthusiasm for many of the off field challenges facing an Asian footy club. In particular the Grand Final Parties of which Jakarta's event is world renowned.
Of course Chia's experience in joining our committee was valuable but what happened next was simply astounding. As Women's footy emerged around the region Chia took on the challenge of getting a Swans dedicated AFL team going. (It's worth noting the emergence of AFLW in Asia was due in no small part to the exhibition game and great work done by Maz Scanlon during her time in Vietnam – hear more about that on the Keep Honking Podcast here…)
While always closely linked to our sister Gaelic club the Saigon Gaels Chia scoured the country in early 2018 to bring in a wide range of new/experienced, young and old passionate Lady Swans. Would you believe it she then led them to the first ever Women's Asian Champs in 2018 in Kuala Lumpur and took out our FIRST EVER Asian Champs trophy – read more about the triumph here… Chia had almost single handedly doubled the scope of our club and achieved our highest ever on field honour and created a legacy that won't be forgotten. For that the Vietnam Swans will always be deeply thankful!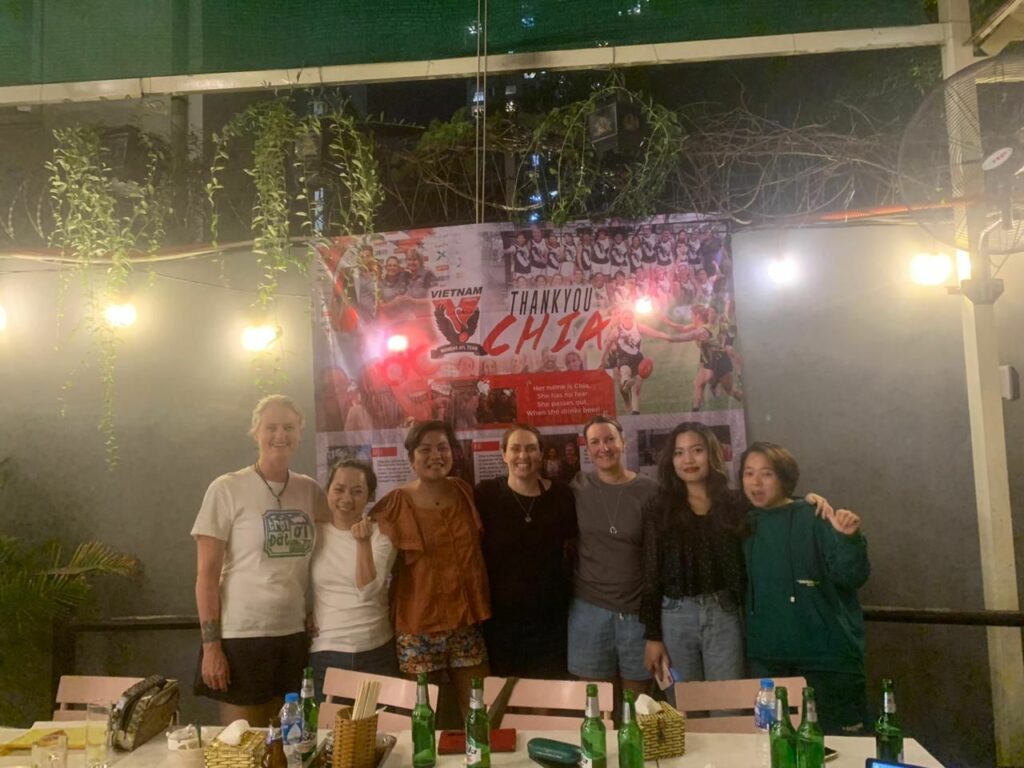 Unfortunately Chia departed Saigon in December of this year. As she left we collected some of the thoughts of the women who have had the pleasure of being coached by Chia and presented it to her, of course these are just a few of the 1,000s of incredible memories that have been created and will always be part of the Swans folklore.
Read on for each of the specific memories collected for the banner: