With a new year comes new opportunity!
We are opening up a playing guernsey redesign competition for 2021 and beyond!
There's plenty of history behind our current guernsey but periodically it's fun to collect ideas which could be applied across our Men's, Women's, Masters and AusKick kits.
How it works
Rules are simple, keep club colors, predominantly black, white and red.
Mens
Women's
Masters
AusKick
So, if you have some artistic flair, have a crack. Winning designs will be voted on by <the full playing group> need cleary defined rules.
All winning designs will receive a FREE membership pack and 2 General Admissino tickets to the 2021 AFL Grand Final Party (Hanoi or Saigon)
Some Vietnam Guernsey Background
After going National in 2007 the Swans current strip was introduced in 2008 (has had some fine tweaks since) by none other than Miss Australia under the watchful eyes of Gus McEwan and Phil 'Fabbo' Johns among others.
Why the Swans? Andy Wall provided the then Hanoi Hawks a full set of Sydney Swans jumpers in 2001 and the Hanoi Hawks became the Swans.
It's worth noting that the Saigon Saints had been active prior to this down South in traditional Red, White and Black St Kilda style jumpers. Even touring Thailand with some Hawks as the Vietnam Saints in 1999. Read more about the early days here.
The Swans have played out of the traditional strip notably once in the 2016 ANZAC Day Friendship Match vs the Jakarta Bintangs. The Red and White Sydney Swans-esque top was a hit but it clashed with the all red Bintangs once off guernsey so much so that the Bintangs played the Second half with their tops inside out!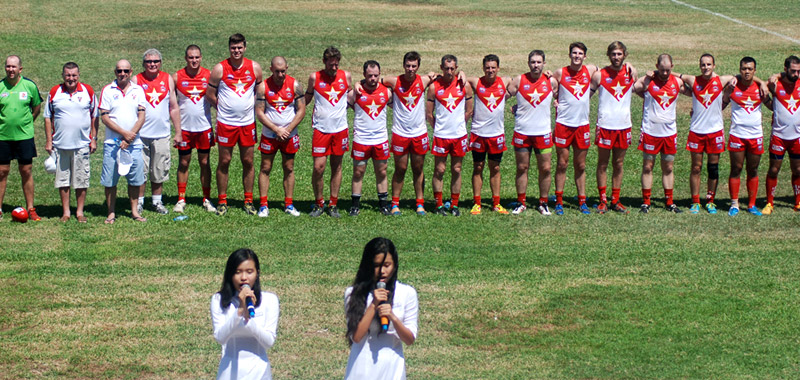 What will the Swans be wearing in 2021 and beyond? Bring your best ideas to the table and win!