There are a lot of good things going on at the Vietnam Swans. Sure, we play Aussie Rules in Vietnam on a regular schedule, but there is so much more! Take a moment to check out our 2018 highlight reel, taking in:
AFLW and the Lady Swans
Local Development
Charity and Community
A Growing National Club
On Field Success
Read on for the details of our major initiatives, and the debt of gratitude we have for our supporters and sponsors!
1) #AFLW and the Lady Swans
This year we've expanded our club to formally include a women's team. It's really taken off, not only amongst Australians, but nationalities of all sorts. In addition to some talented locals and a few experienced Aussies, we've welcomed rugby players from New Zealand and Canada, gaelic players from Ireland, football (soccer) players from the UK, and newcomers from the Philippines!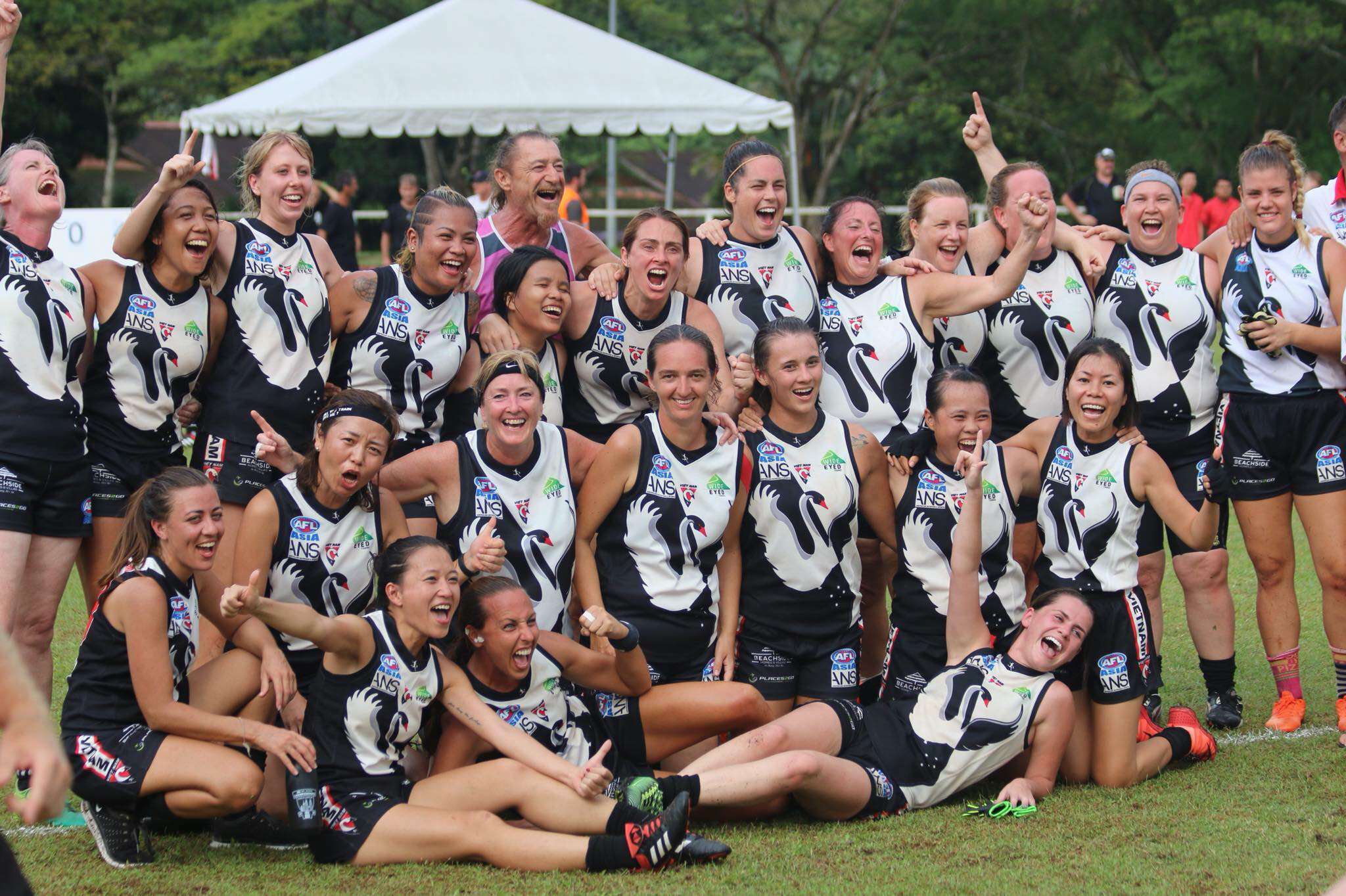 The Lady Swans had an amazing debut season, with international games against Malaysia, Hong Kong and Cambodia. There was even some on-field success… more about that below!
2) Local Development
Local development has been high on the agenda for the Vietnam Swans for several seasons. National President Eric "Kerro" Kerrison explains:
Our Vietnamese players have taken well to the game over the years. It gives them an avenue for developing a new set of skills, whilst also providing opportunities for them to travel, experience a different side of life, whilst representing their country and playing a great game. Our vision here at the Vietnam Swans is to send a full local team to Australia to compete in the International Cup, which gives our players, men and women, something to aim for. 
We're passionate about getting Vietnamese to play Australian Rules Football and developing those players. It's been a task we've been working on for years.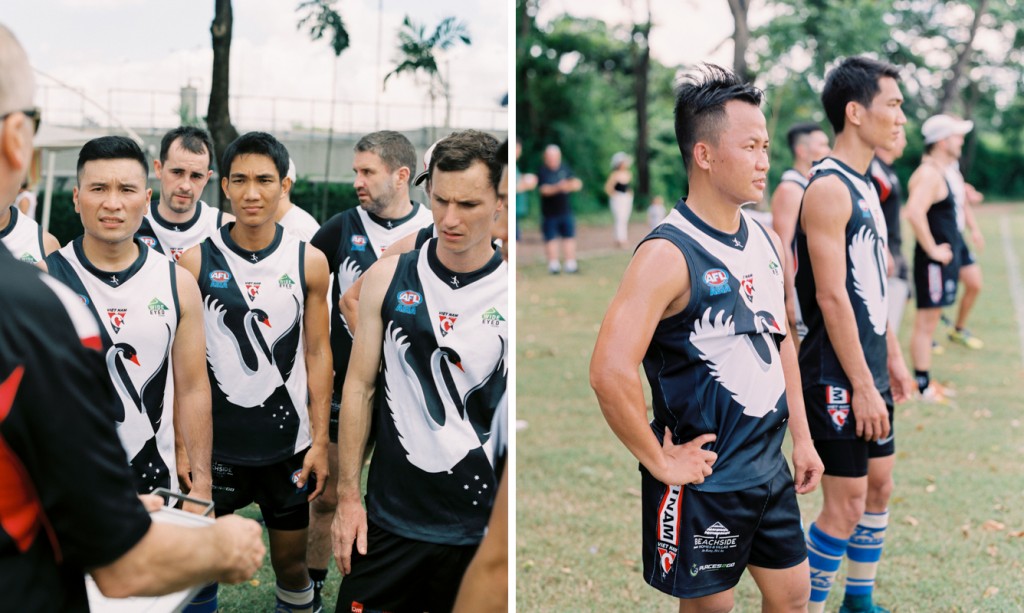 Dang (left) and Dinh Anh (right)
Our local players tour to all of our international games. In 2018 for the men, this included Phnom Penh (Cambodia), Kanchanaburi (Thailand), Penang and Kuala Lumpur (Malaysia). Also, two of our local players (Dang and Dinh Anh) were also selected to tour with the Asia Lions to Shanghai (China) in May.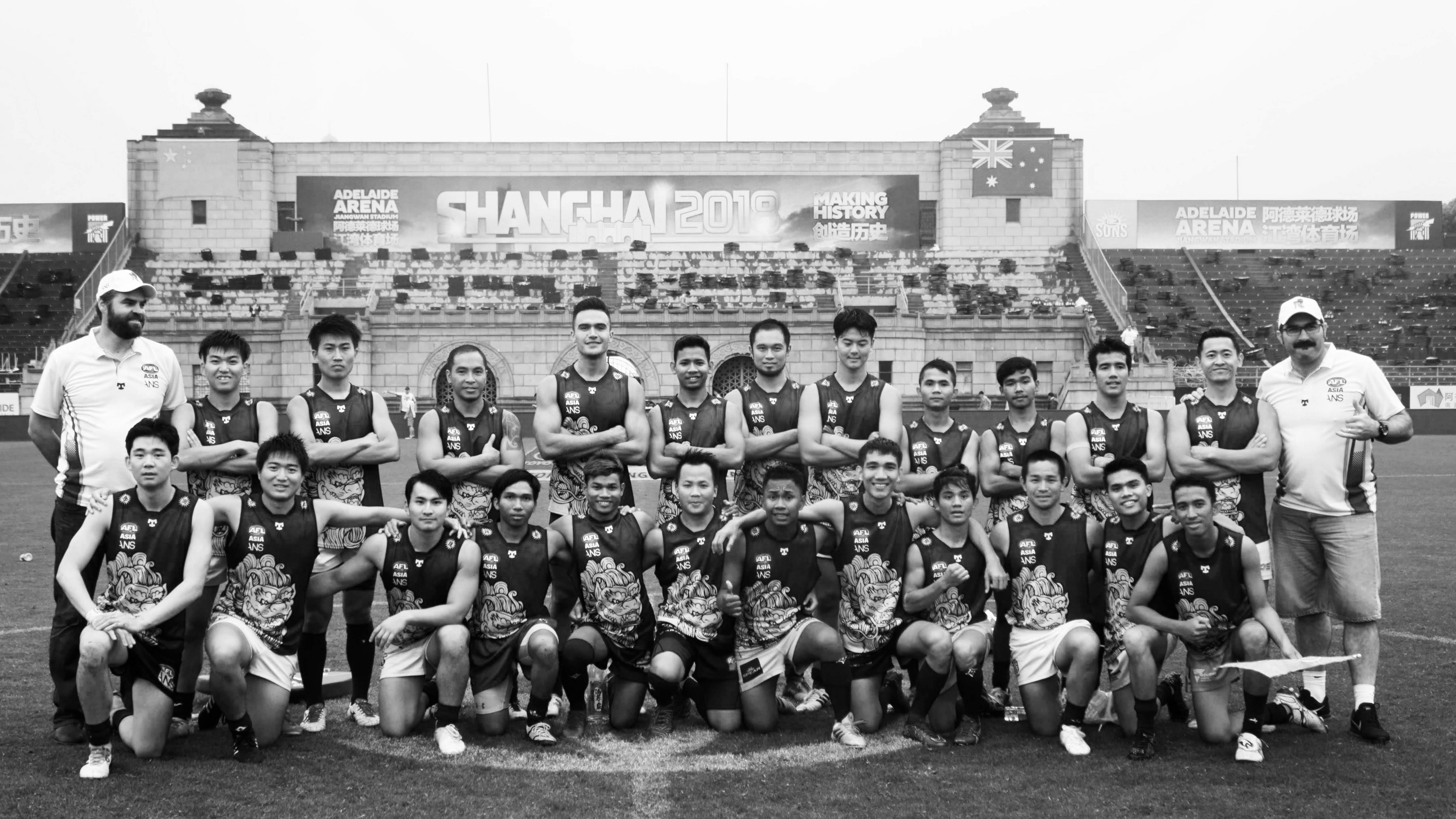 Of course, local women were a vitally important part of the Lady Swans too!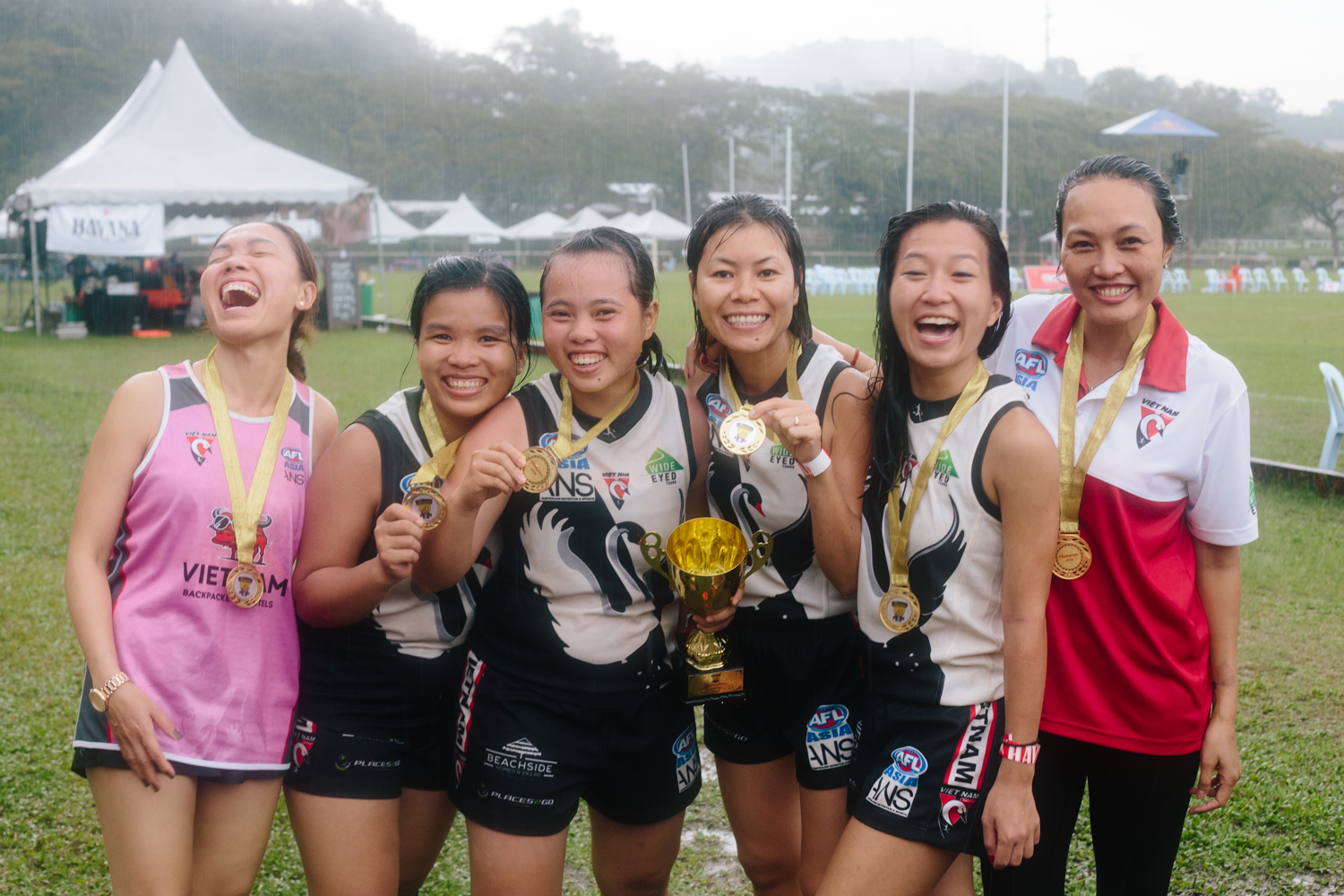 The level of local participation in the Lady Swans is a huge result for a team in only its first year. We spoke to a few of the Ladies about what the win meant to them: you can read more at the Champs Wrap Up.
The interview with Chia Sabbatucci and Rosie Hoang explains more about the approach to local inclusion in the Lady Swans. Aired on VTC10 back in March, the approach has certainly paid dividends for the Lady Swans.
These are just some examples of the support offered by the Vietnam Swans to our local players and our efforts to bring the expat and local communities together. We see football as a tool to open doors and build bridges between cultures. We're 100% committed to the growth of the game in Vietnam and the region.
3) Charity and Community Building
In addition to our work developing football in the community, The Vietnam Swans support several charities by volunteering and fundraising.
Swim Vietnam
The Vietnam Swans have been long time supporters of Swim Vietnam. Swim Vietnam is doing incredible work advancing water safety in Vietnam. In the first 6 months on 2018, they've trained over 1500 school-aged children in Central Vietnam. They've also trained over 500 local teachers on water safety knowledge and survival swimming skills.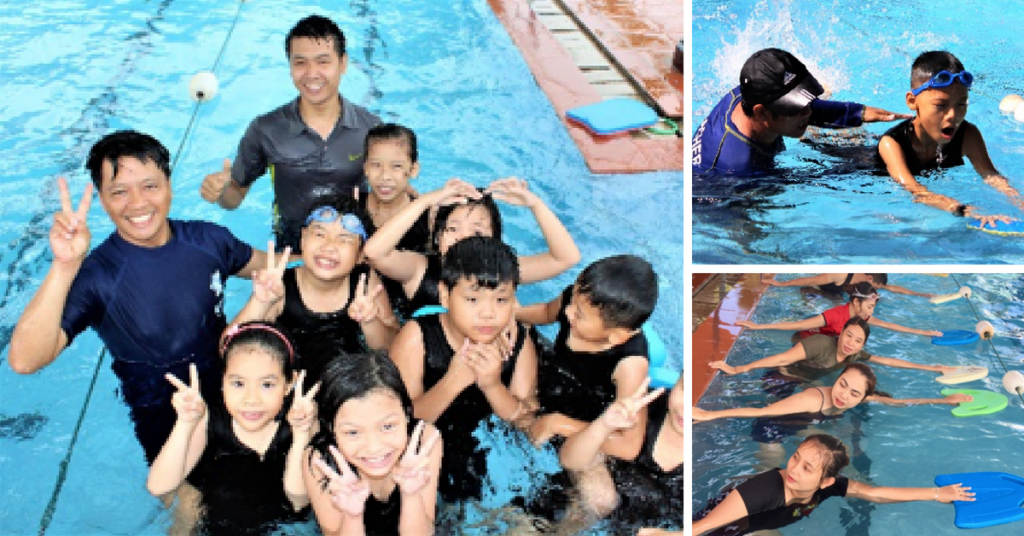 Swim Vietnam is continuing to work hard during the latter half of 2018. They're expecting to teach 1500-1700 more children and train another 100+ teachers in water safety and swimming.
The Vietnam Swans are proud to contribute to the ongoing efforts of this amazing charity. You can also donate directly to Swim Vietnam here.
Loreto Vietnam
Over 18.7m VND was raised on Grand Final day in Saigon for Loreto Vietnam, including the auction of a bicycle donated by The Bike Shop VN and a signed playing jumper from the Hawthorn Hawks. These funds will be used for education programs in Vietnam.
Niem Son School
Funds were raised in 2018 for improvements to Niem Son School, including water heaters and pumps for better toilet/shower facilities. Small changes like this make a major difference to local kids in Vietnam!
Centre for Protection of Children in Vung Tau
Each season we make at least one journey over to the Centre for Protection of Children. Its a special place that the Swans and Australian Veterans have supported over many years. After our big Anzac Day game against the Thailand Tigers in April 2018, the boys headed over to check in on the kids. Smiles all around!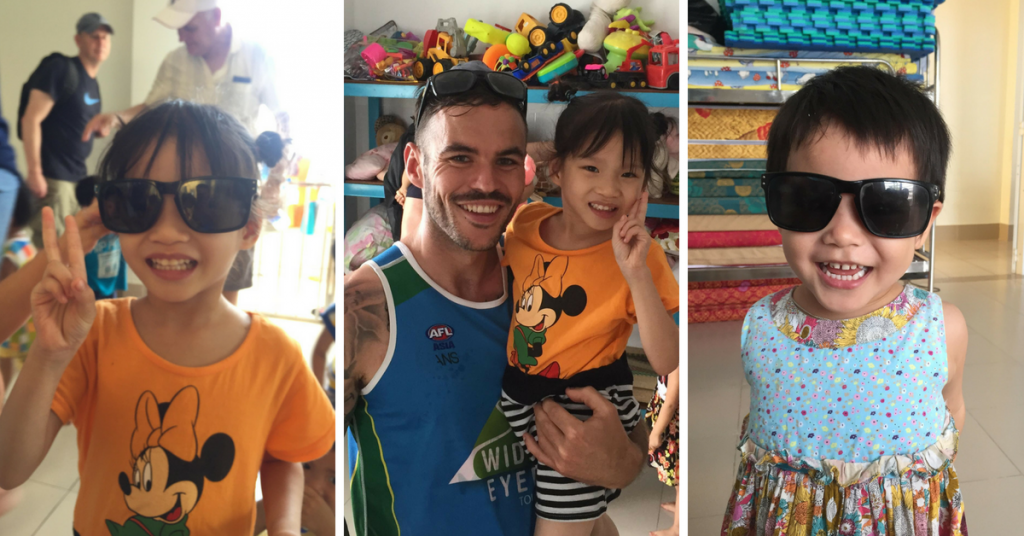 Volunteering with The Thanh Loc Project
A few of the young guns (and not-so-young guns) ventured down to the Mekong to volunteer with The Thanh Loc Project in August 2018. Club members Rod Stone and Micka have been regulars on this trip for years and have built an incredibly strong relationship with the communities in Kien Giang and Hau Giang Provinces.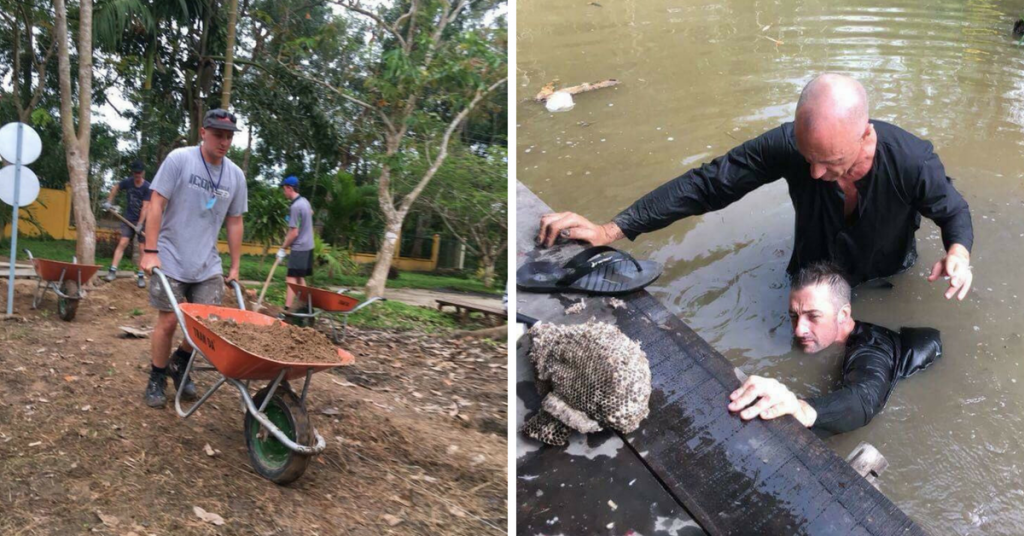 The main focus for the trip in August was the construction of a house for a family and building critical infrastructure at a local kindergarten and primary school. Each of these projects support disadvantaged members of the community and will have a transformative impact on their lives. Well done to Rod, Micka, Oscar, Shane and Tommy Watson for contributing their time and expertise to the cause.
Supporting Community and Stakeholders
The Vietnam Swans have long been committed to supporting relevant causes and stakeholders in the community. As a group with an Australian heritage, we're naturally supporters of the Saigon Colts, Australian International School, RMIT, Swim Vietnam and other organisations that have helped to build the Australian business, social and philanthropic community here in Vietnam. We also make every attempt to support the Australian Embassy/Consulate and AusCham.
In practice, this means many things for the Vietnam Swans: hosting events, attending events by others, supporting tours, providing networks and contacts, fundraising and/or sharing resources. We promote an open and welcoming relationship with many stakeholders.
In that spirit, here are a few of selected moments from 2018.
The AFL Grand Final was an obvious highlight, with strong attendance and great support for raffles and auction items. From Hanoi to Saigon and most places in between, you could find a Swans-aligned event!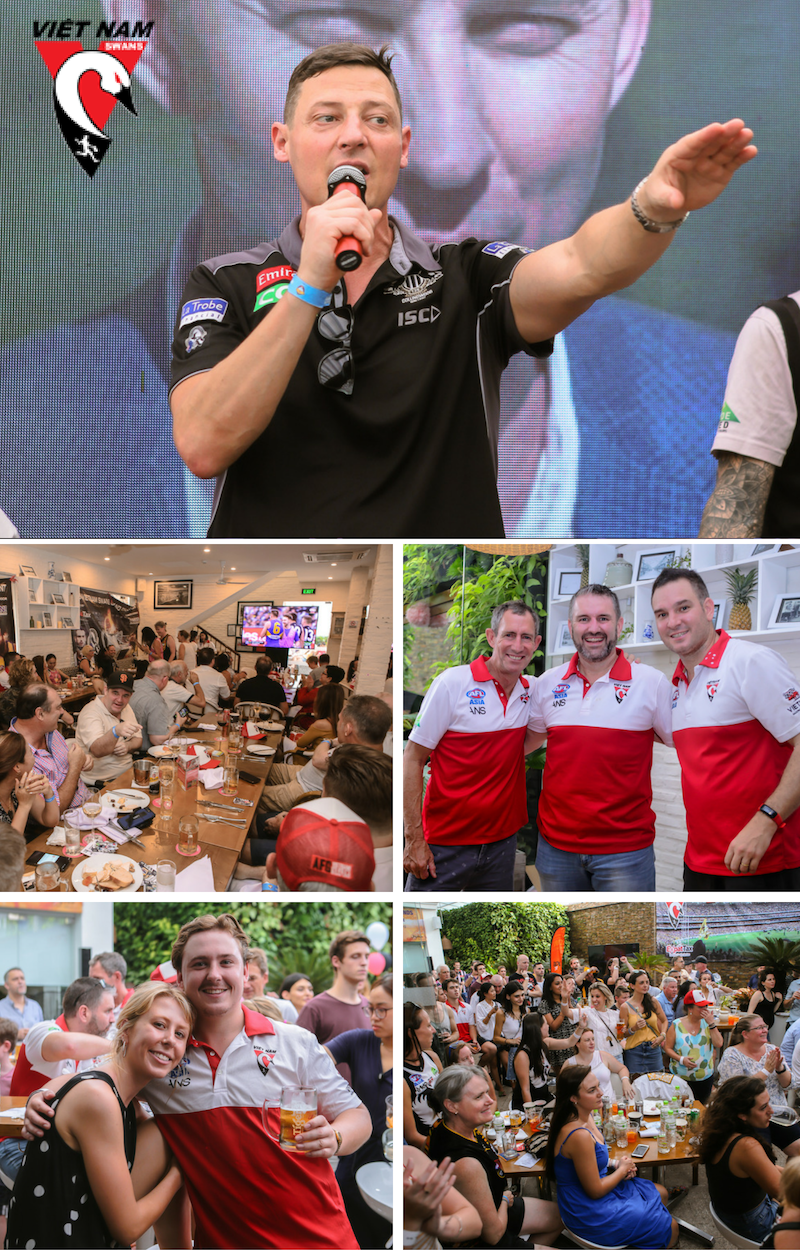 Of course, it was a coup to bring Merrick Watts to HCMC in time for the AFL Grand Final. Not only did he host the Grand Final in Saigon, but we teamed up with AusCham to get Merrick to their AFL Grand Final Golf Scrambles, and joined with Saigon International Comedy to put on a comedy night. Proceeds supported various charities and our football development activities, but it was fantastic to see the community get together in such a big way.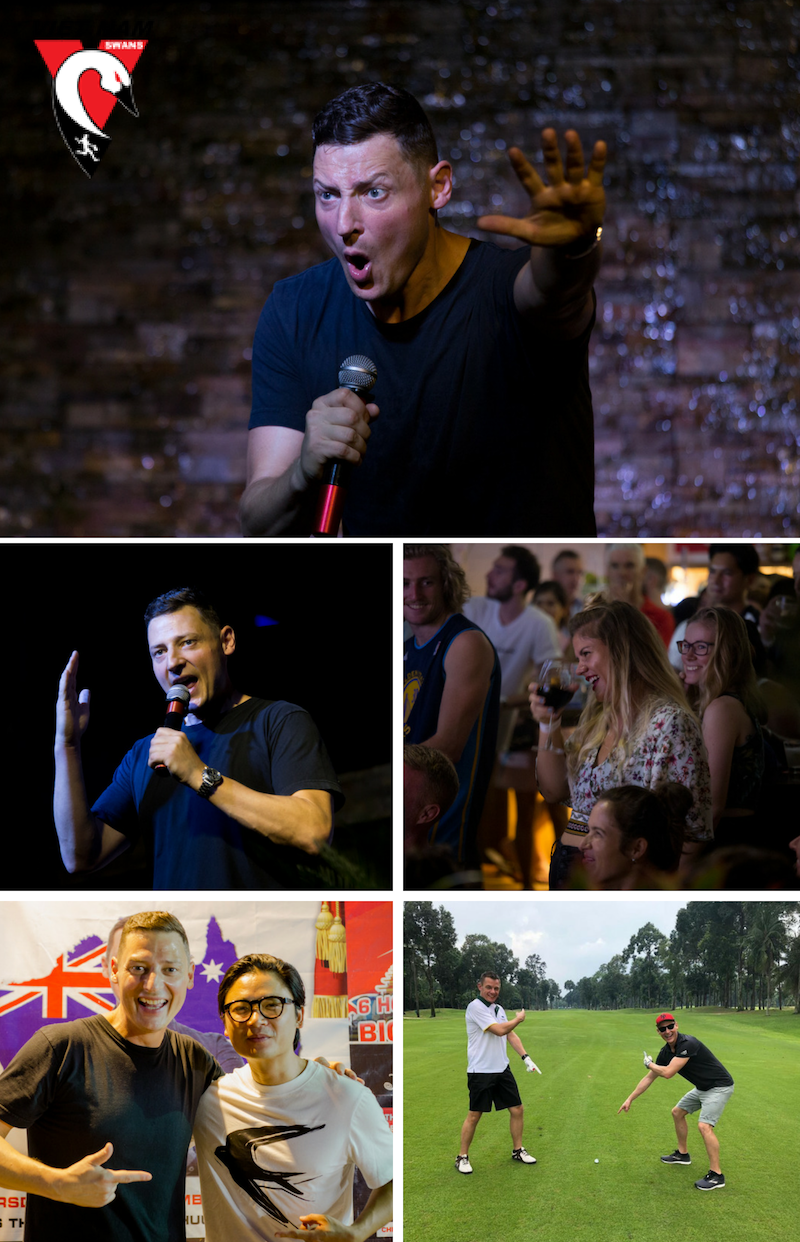 Beyond the excitement of Grand Final Week, players of the Swans also made at least 100 hours of time available to support the kids over at Saigon Colts!
Thanks to all the players who made it over to Saturday sessions at Australian International School throughout the season. We appreciate the players efforts to support the Colts, especially as it's on top of many other commitments and its an awkward time and location (making Swans' training in the heat on the other side of the city that little bit tougher!).

Photo Credit: Saigon Colts
Thanks also to the wide range of players who also got along to help out during the South Melbourne Districts Auskick visit arranged by Saigon Colts. We were really glad to see the Aussies back over in Vietnam again in 2018! Check out this great short video from Johno Hackenberg, son of new Swans' Life Member Kyle Hackenberg:
This season we also supported a visiting student group from Western Sydney University to provide a clinic for children from the local Green Bamboo Shelter and Double Happiness. In connection to activities surrounding the 45th anniversary of diplomatic relations between Australia and Vietnam, it was also an honour to have the Australian Consul-General, Karen Lanyon and Shaun Fitzgerald attending from the Australian Consulate in Ho Chi Minh City.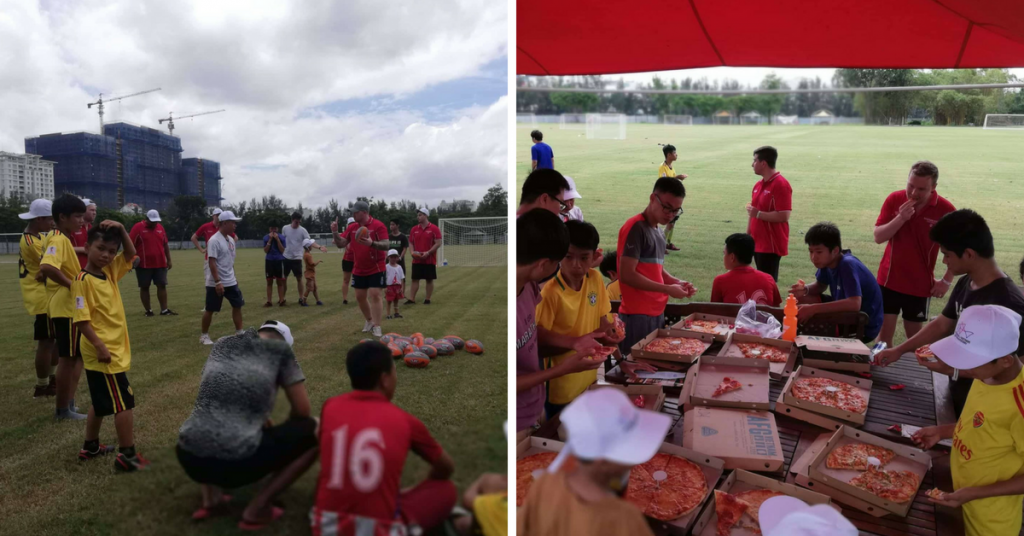 We're looking to build on these successes in 2019!
4) One Combined Club for Vietnam
The Swans work hard to bring groups together. Locals and foreigners, men and women, northerners and southerners, footballers and non-footballers, young and old. We're all one in the Swans. It has its challenges, but we're better off for it.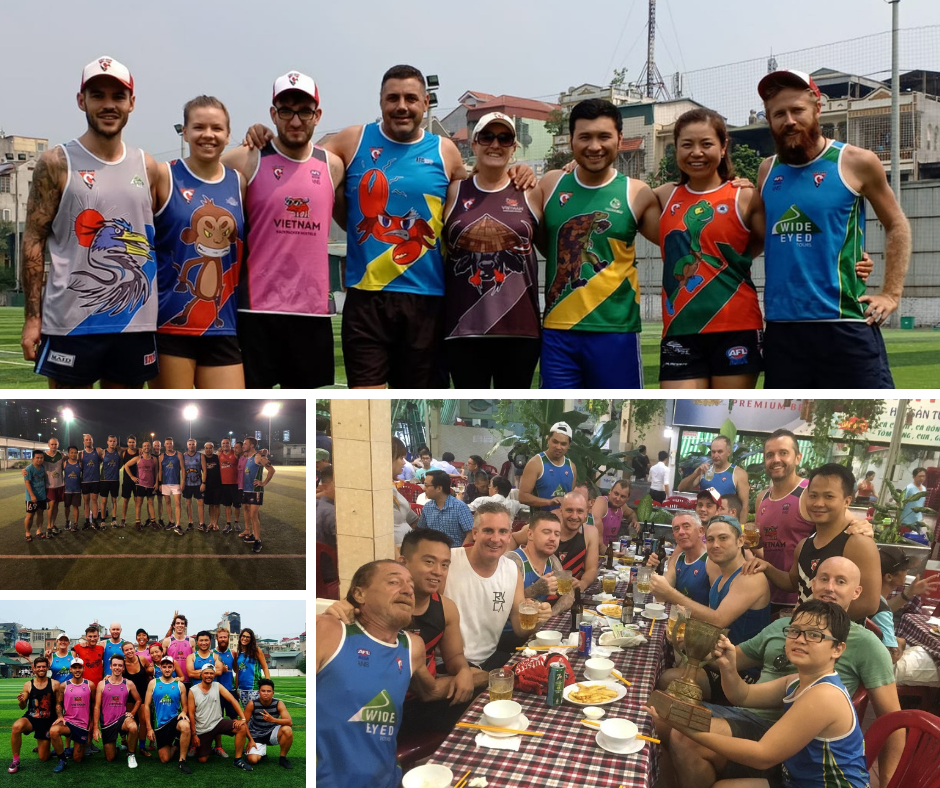 2018 was another year of bringing more people into the fold of the Vietnam Swans.
5) On Field Success
Last (and perhaps least?) on this list is our on-field success. Of course, The Lady Swans claimed the very first AFLW Title at Asian Championships. They also triumphed on tour, beating the Cambodian Apsaras in Phnom Penh in June for their first win on the road!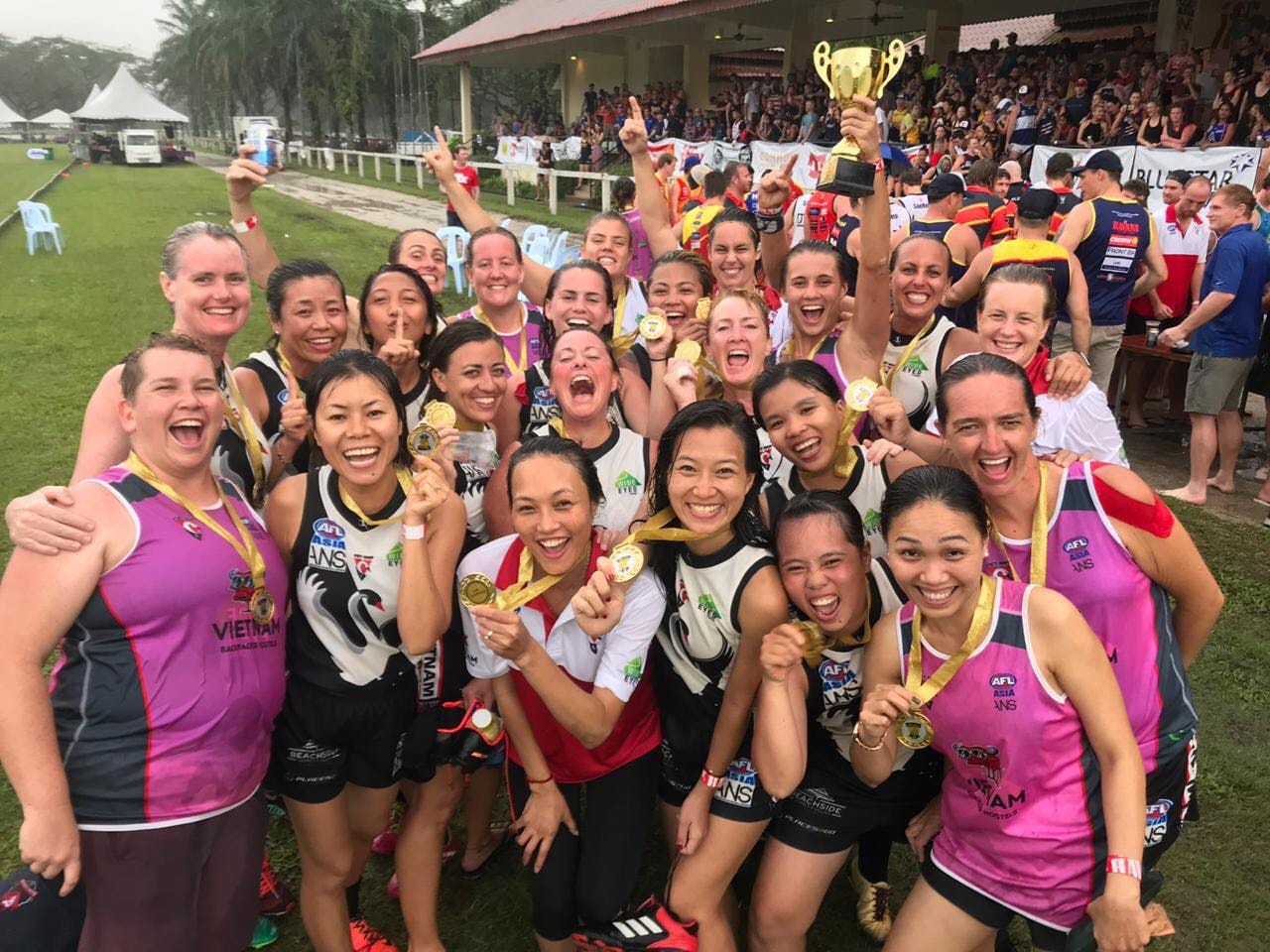 2018 saw series wins for the mens over Cambodia and Thailand and an away draw with then Asian Champs the Malaysian Warriors, and the retention of the Indochina Cup for the men's team. They'll be back in 2019 and looking to continue their strong form!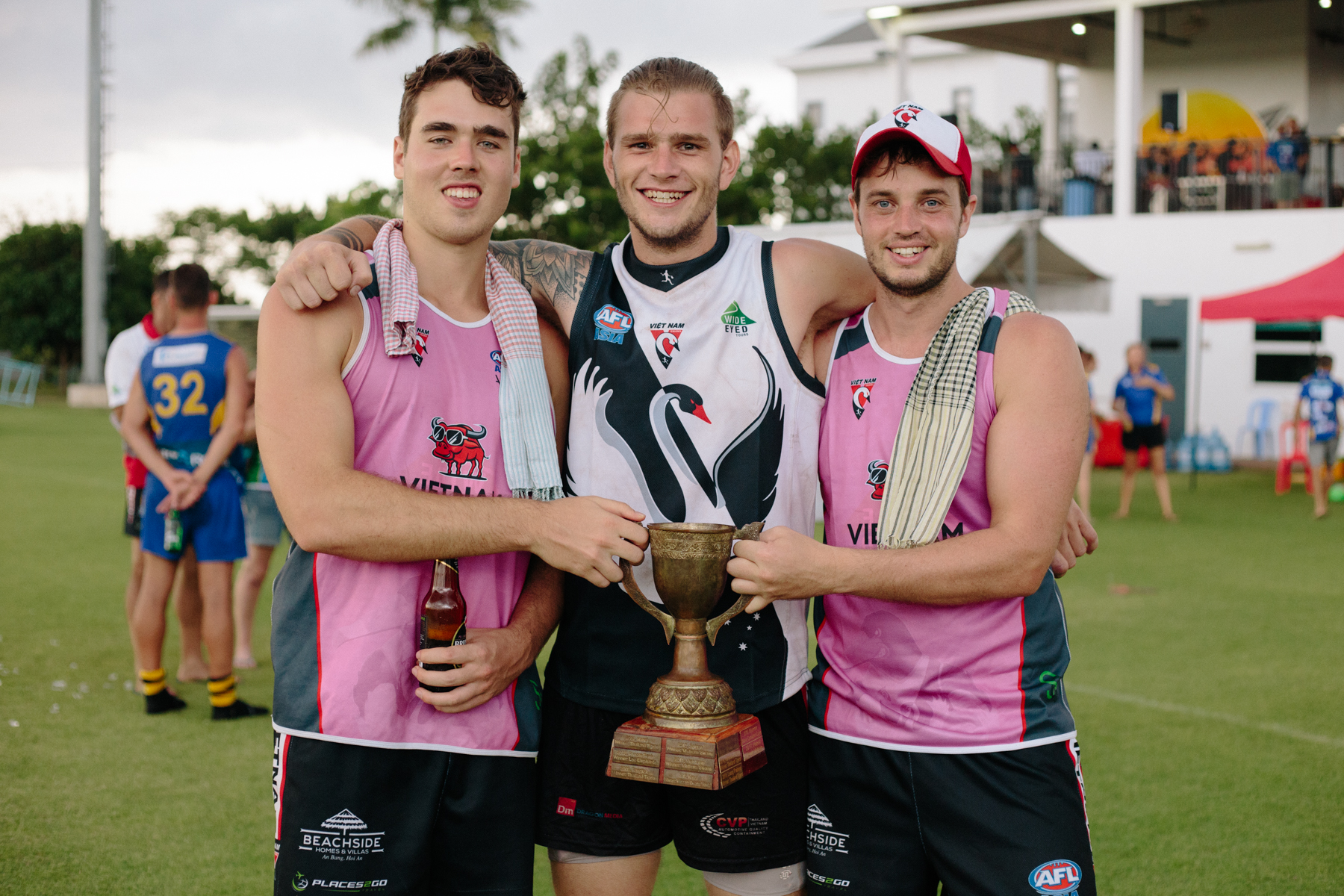 The Vital Role of Our Sponsors and Supporters
The contribution of our sponsors and supporters is vitally important to our work in Vietnam. We are supported by a wide range of sponsors for events like the AFL Grand Final, but we would love to take a moment to thank our major sponsors for the 2018 season:
We also have a long list of donors to our events. This makes all the difference for our footy club.
If you have the choice, strongly consider using the products and services of our sponsors.
We're also deeply appreciative of all those supporters who made the journey across to our games at home in Vietnam and further abroad. Veterans, parents, brothers, sisters, friends and even old mates from footy clubs back home.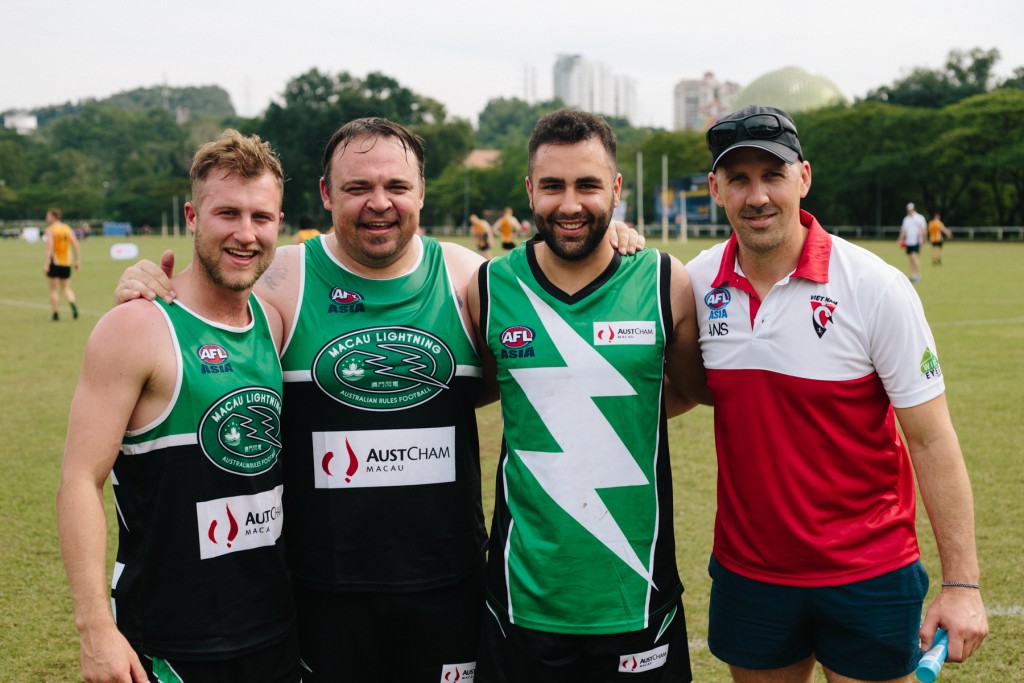 If you haven't been across to Vietnam before, you should really think about it!
Big Plans for the 2019 Season
2019 is already shaping up as a huge year, and the Club needs you!
Items on the agenda for 2019:
A new playing kit to be released and sponsors to be renewed (get in touch!)
Second year of the Lady Swans… and a Title defence!
The 10th year of the ANZAC Friendship Match in Vung Tau, with 40 diggers already confirmed to come over
Another great touring schedule with games against Hong Kong, Malaysia, Cambodia plus all the tournaments
The addition of a Masters team who will play in Phuket in March 2019
Another roaring AFL Grand Final weekend in Vietnam
Committee members for 2019 have been confirmed in the wake of our AGM on December 8 in Hanoi. The 2019 Committee will include:
Eric Kerrison – National President
Chia Sabbatucci – National Vice President
Rod Stone – Vice President Financial Operations
James Bairstow – Vice President Communications
Steven Diep – Local Development Officer
Shane McFarlane
Bill Crang
Tracey Johnson
Thomas Niit
Naomi Reidy
Jake Norris
Micka Matthews
Rod White
As always, the Vietnam Swans rely entirely on volunteers. Get in touch if you want to be involved!