Following the wrath and havoc that COVID-19 wrought on the footy schedule the Indochina Cup returns in 2023! The 15th annual Indochina Cup initially slated to be held in Laos will take place in Saigon, Vietnam on the 28th of October.
After victories in Hanoi in 2017, Phnom Penh in 2018, and Bangkok in 2019 the Vietnam Swans are keen to make it 4 in a row and add the inaugural women's ICC trophy to the cabinet. Buoyed by taking out the trophy at Champs the Vietnam ladies will start as favorites though will no doubt face stiff competition from heavy hitting Thailand and Cambodia. Not to be outdone the Swannies men will look to shake off another 3rd place finish in Champs Div 1 and make it four on the bounce by taking home the chocolates in this one. 
TOURNAMENT DETAILS
The tournament venue is the Thanh Long Sports Center, about a 30-45 minute drive from central Saigon.
The ground is located at B8/251 Ấp 2, QL50, Phong Phú, Bình Chánh, which is approximately a 30 minute drive from district 1 in the center of Ho Chi Minh
The schedule for the tournament day is:
8:00 – Arrive at Thanh Long Sports Center
8:20 – Welcome & Event opening by Simon Highfield – Head of International Development AFL Asia
8:30 – Commencement of matches
14.05 – Longest Kick & Sprint Champion Events
15:30 – Completion of games & pitch side presentations
19:00 – After party at Alfrescos Xuan Thuy where there will be free flow drinks (alcoholic and soft) and buffet food packages available for 650K VND and 350K VND respectively
THE TOURNAMENT DRAW
It's a big day of footy! With the women's draw a three way round robin and the men's draw ensuring each team plays 2 qualifying games and at least 1 finals game!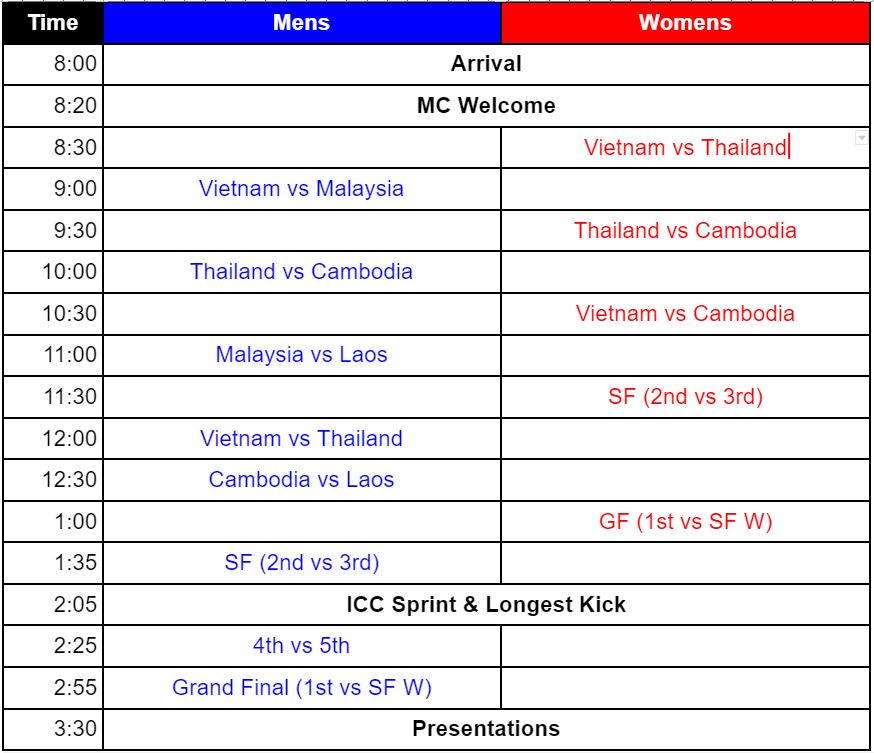 TOURNAMENT RULES
Indochina Cup matches 2 x 12 minute halves, with a 3-minute half time break (change of ends)

Indochina Cup Grand Final matches 2 x 15 minute halves, with a 3-minute half time break (change of ends)

12 players will be on the field. This may be reduced subject to agreement between participating teams

25 metre penalties will apply, not 50 metres

Send off rule: A 10-minute sin-bin will apply for what would be a reportable offence including abusive language and time wasting. The player cannot be replaced during the 10 minutes. In the case of a particularly serious offence, the officials will have the right to ban the player for the remainder of the competition. In this instance, the player can be replaced for the next game.

Each team is permitted one team runner and two water carriers.
COMPETITION FORMATS
Ladies
Play every team once

1st straight through to GF

2nd vs 3rd for spot in GF
Mens
Play 2 games (match-ups were based on Asian Champs divisions/results)
1st place after the 2 games through to Grand Final

2nd/3rd play in a Semi Final, winner through to Grand Final

4th/5th play to decide final standings