International footy returned to Saigon on the 27th of August when the Singapore Wombats came to town. Firstly massive thanks to the Wombats for getting on a plane and getting Asian footy back up and running for us! 2 great games of men's and women's footy have left everyone hanging for more. We now look forward to hosting the Cambodian Eagles on September 10th and heading to the Asian Champs on October 24th.
Men's Game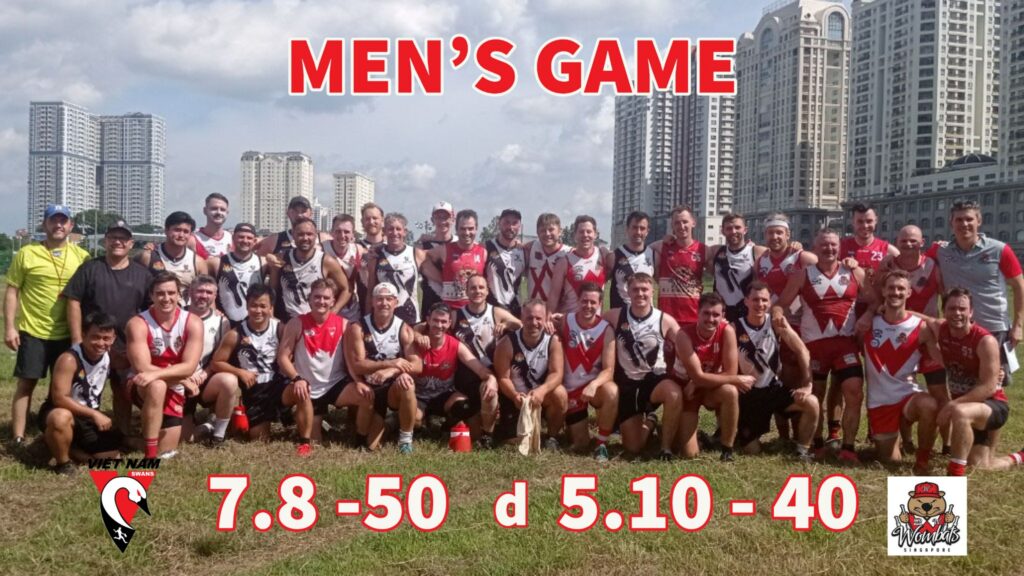 Q1 Swans 3.3.21 leading Wombats 0.1.1
After so long without international footy the Swans came out breathing fire, the name of the game was contested footy and we won the key battles with the midfield crew of Rusty, Ryano, Sean M and Jono Mackay gaining clearance ascendancy, our forwards locking it in the forward line for extended periods and our backs clearing everything that looked like a Singapore chance to score.
The Swannies applied immense pressure in their forward 50 with a strong tackle from Wayno leading to a smart finish from Irish stalwart Teaguey.
Q2 Swans 5.4.34 leading Wombats 0.5.5
The Wombats lifted into the contest around the ground but our backs led by Matty B managed to force the Singaporean's into tough scoring opportunities keeping them from putting meaningful scoreboard pressure on.
A chasedown tackle by Will Sandman through the middle of the ground highlighted the Swans pressure in forcing a goalless Wombat's half.
Experience and plenty of talk in the forward line from Flapper helped him connect well with forwards Pete and Wayno as he kicked another great team goal after good link-up play.
Q3 Swans 7.5.47 leading 3.8.26
The game continued to heat up and the Wombat's started to find range. Quicker transitions enabled Mitch (a Swan at heart) to get dangerous up forward. With a couple of Swannies switching jumpers at halftime it saw the game turn as FMJ got on the scoresheet. Ryan 'Tishler's List' Tishler was taken to the candy shop by his most hated Swannie and will hear about it for the rest of his life.
However, the Swannies replied with goals of their own including a lovely running goal from Rusty out of the middle (I've heard a rumor he will now never take set shots again).
Kev and Matty B helped limit the damage in this quarter with 2 big tackles to ensure the Swannies took a buffer into the final 15 mins.
Q4 Swans 7.8.50 def Wombats 5.10.40
Wombats got out of the blocks early again in the 4th and brought the match within 2 goals with a few minutes left however the damage had already been done after a dominant first half.
The Wombats kept coming and it looks like plenty of Swans could do with some more running before the Champs but we held steady in the last to run out 10 point winners.
All in all a great hitout in great spirit. Thanks to the Wombats for making the effort to tour and being such great visitors. We know that they'll bring plenty more firepower to the Champs and we'll have to lift accordingly. Thanks also to the Swans players who helped out with Singapore's bench rotations.
A day of enjoyable footy then transitioned to a night of beers, cocktails and delicious chicken at one of our favourite restaurants in Saigon; Brick & Barrel. Another massive thank you to the staff at B&B for hosting us at their venue and delivering quality food and service as always!
Swans Goalkickers
Andy G – 2
James Teague – 2
Sean Milner – 1
Ryan Tishler – 1
Rusty Clarke – 1
Wombats Goalkickers
Mitch Hyde – 2
Josh Pike – 2
Stewie – 1
Words – Wayne McMahon
AFLW Game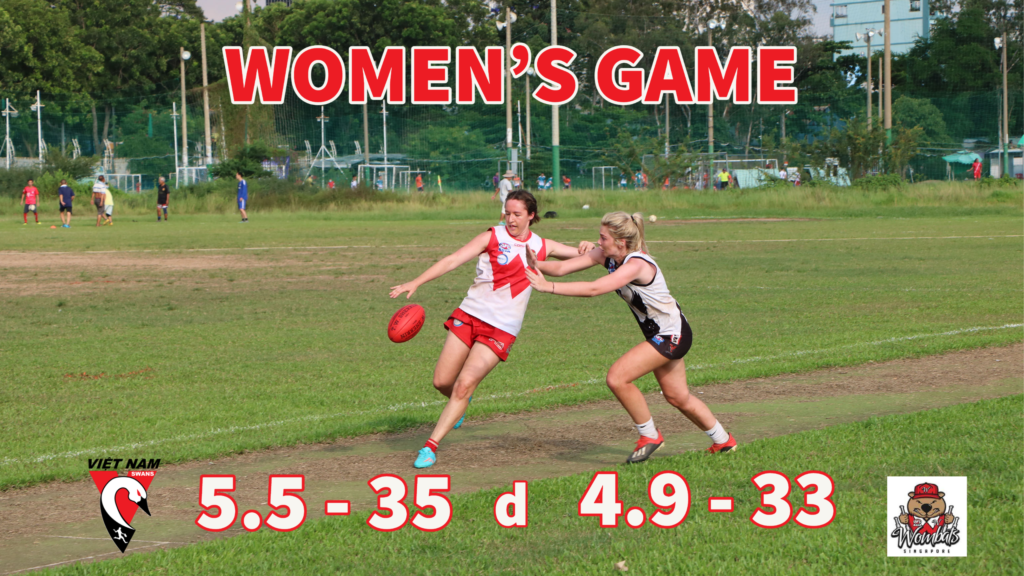 Vietnam: 5 goals 5 behinds 35
defeated
Singapore: 4 goals 9 behinds 33
The Women's game showed two really strong teams going head-to-head playing 10-minute qtrs with 9 aside all players show great determination and a willingness to play hard at the football, with both teams playing a possession game,  Singapore was able to convert in the first 3 qtrs with more accurate goal scoring dominating the ruck at times they moved the ball out quickly and were able to hit their target forward. In the final Qtr, Vietnam came back from 3 goals down moving the ball out of the midfield along the wing, showcasing some good ball skills and kicking two really good goals.
Vietnam Standouts
Lucy played her role in the CHB defending the ball, getting the ball out of scrummages and showing her strength with some amazing smothers. Clare ran all day through the midfield moving the ball from our backline to the forward, took a couple of great marks and showed great agility. Hannah worked well in the ruck all game against a really tough experienced Singapore opposition. Tram, Mary, Maebh, Anh and lucy all played very well in their first AFLW Asia game with Mary getting her very first AFLW goal!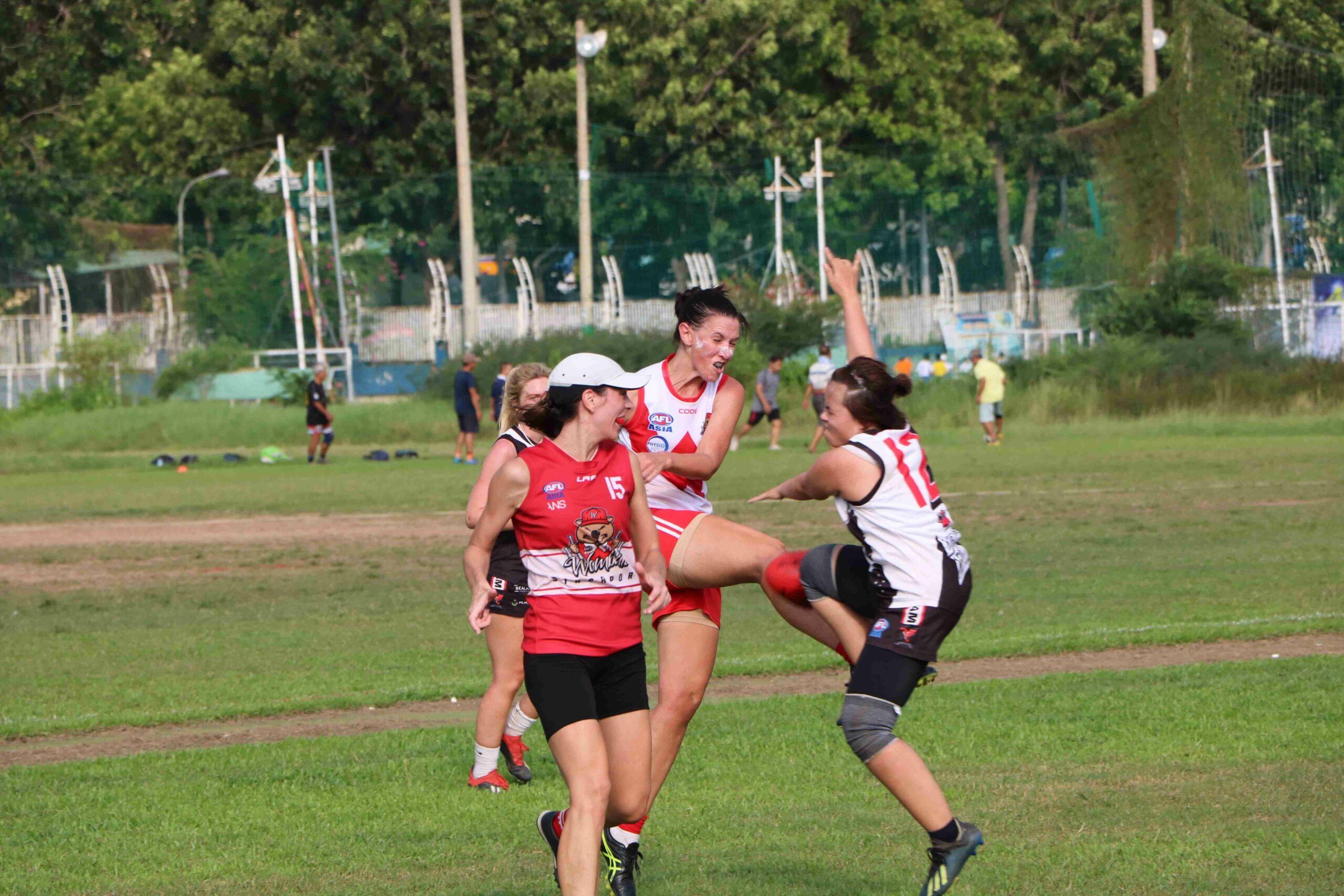 Goalkickers:
HJ – 2
Clare – 2
Mary – 1
Fionnula – 1
Singapore standouts  
Rez for continually running to every stoppage and centre bounce, and dominating those ruck contests. Sharon who was the backbone of the backline, tackling with ferocity despite often being outsized. Most improved are Koko (some excellent leads and marks) and Helena (showing strength in the midfield).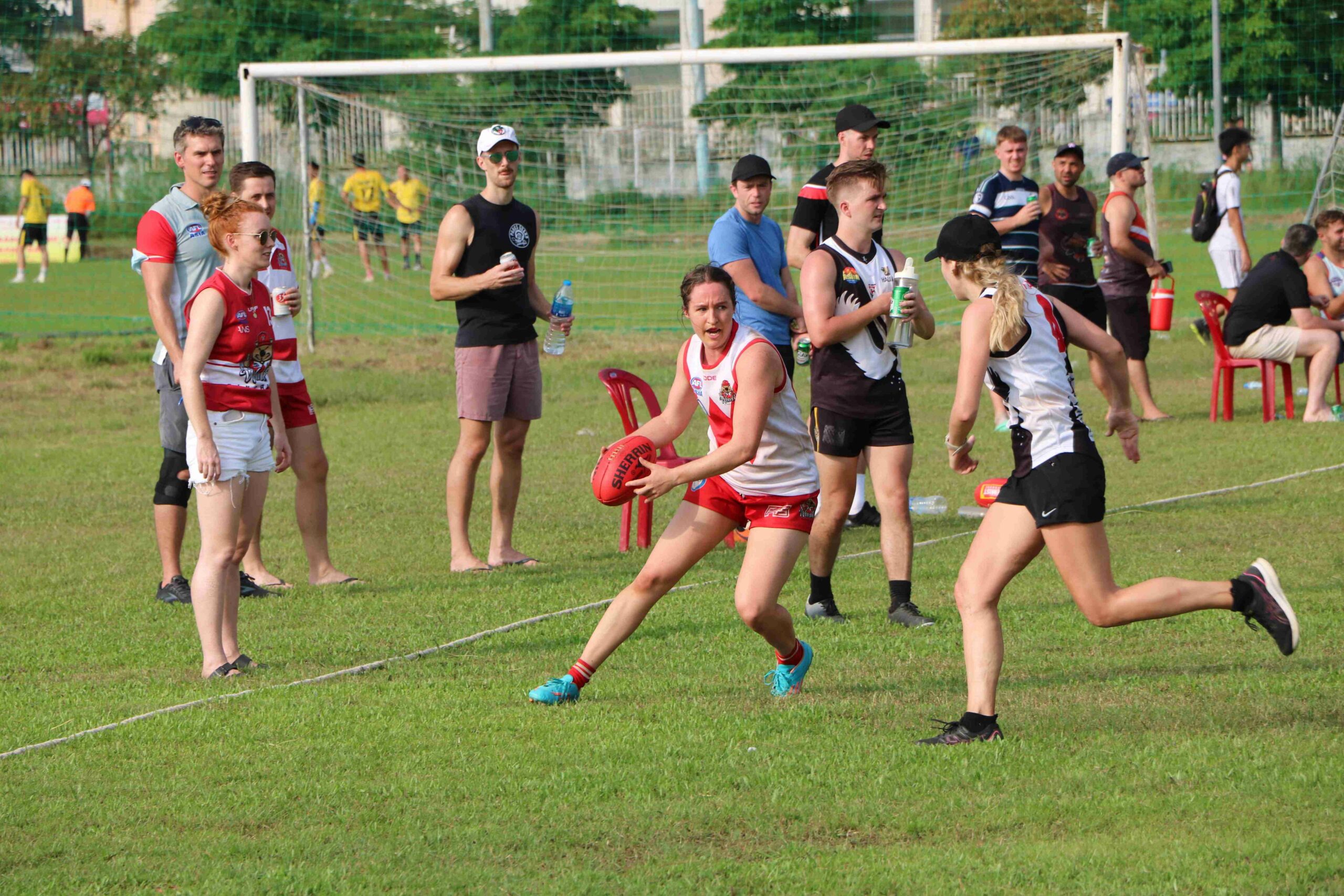 Goal kickers:
Mac – 2
Rez – 1
Lou – 1
Words – Chia Sabbatucci