A great story has come out from Melbourne and the North Sunshine Football Club, as the local Vietnamese community gets more involved with footy in Australia!
Read on for the latest from a young trio of Vietnamese in Melbourne's West.
The Australia Rules Football community is making a huge effort with many different nationalities who call Australia home. The Vietnam Swans work hard to promote the game in Vietnam: we love our local boys and its great when they perform in the big tournaments of Asia…. and seeing news like this from other footy clubs back home is just fantastic.
Strong Tradition of Foreign Heritages in Australia's Local Game
"Under-represented communities" have always held great potential for footy clubs in Australia. Many players of diverse heritages have even made it to the professional levels of the sport, including shining examples such as:
The Sudanese, like Majak Daw (North Melbourne) and Aliir Aliir (Sydney)
The Irish, like Tadhg Kennelly (Sydney) and Zach Tuohy (Geelong)
The Croatians, like Peter Sumich (West Coast)
The Greeks, like Anthony Koutifides (Carlton)
The Italians, like Tony Liberatore (Western Bulldogs)
The Papuan New Guineans, like Mal Michael (Essendon)
The Myanmarese, like Andrew Embley (West Coast), who's visited Asia many times to coach representative teams
…. and many, many more.
The Vietnamese Community and Footy in Australia?
Mai Nguyen made her debut in the women's professional AFLW league in Australia in 2017, but Vietnam hasn't yet had a representative in professional mens Australian Rules football (the AFL).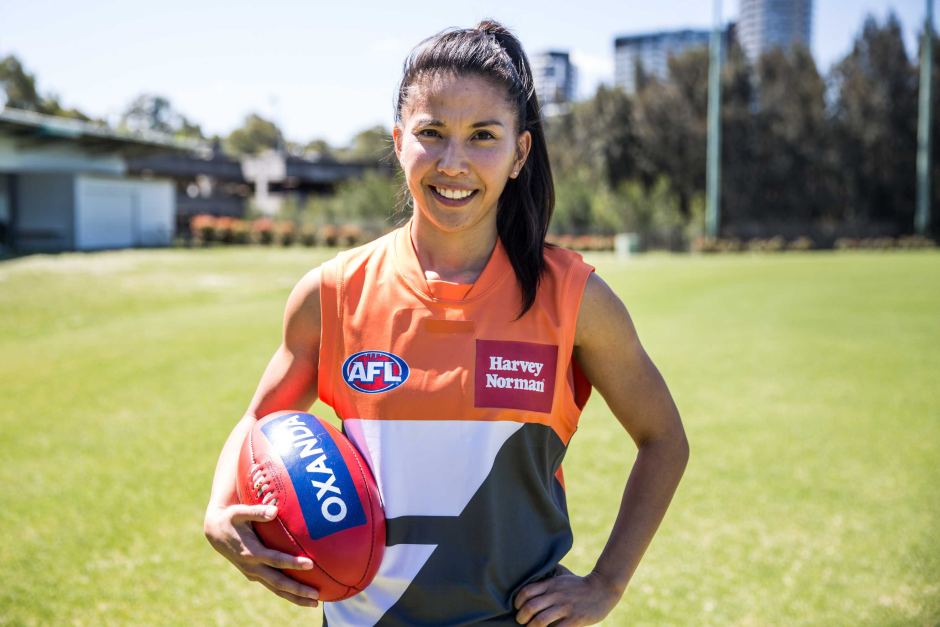 Nonetheless, the strong community of Vietnamese in Australia has always showed some promise for local footy clubs. 'The Roadrunners of North Sunshine Football Club have been particularly proactive in recent years in the area around Sunshine, in Melbourne's western suburbs. And, after some strong efforts by Senior Coach Brett Kennerley, AFL Victoria Game Development Officer Quang Huynh and senior players at the club, the results are beginning to show!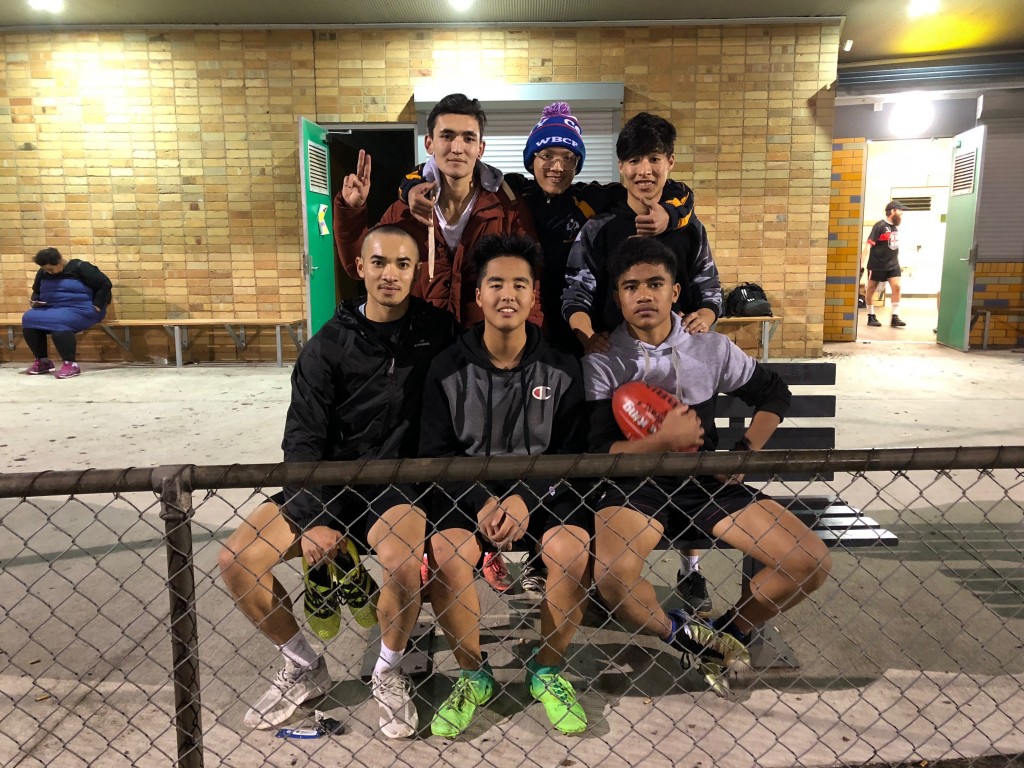 Meet four of the boys in this short feature…
The Legendary Hung Phan
Its a very rare feat to play 300 games of AFL football, but Hung Phan has passed this milestone and is still going strong!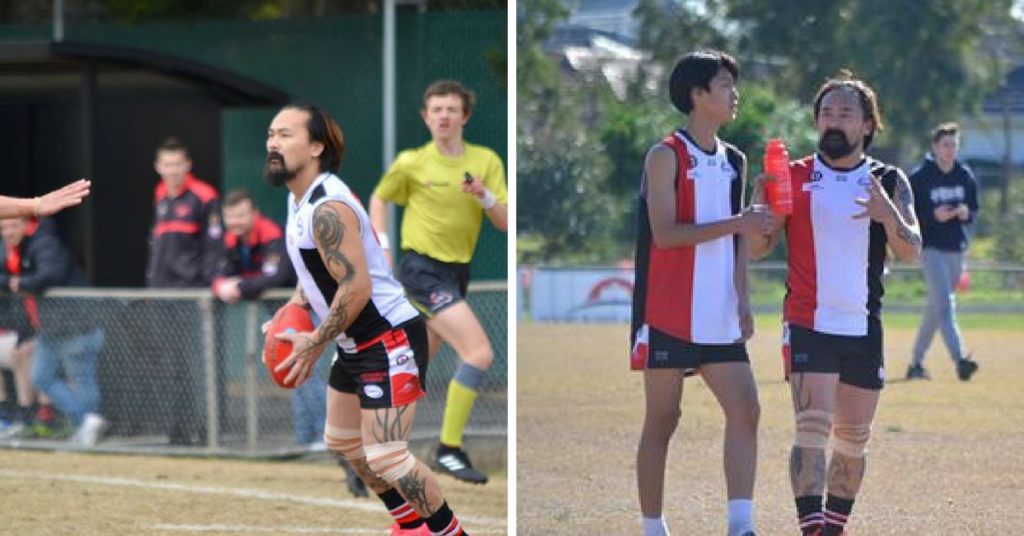 Hung arrived in Australia from Vietnam many years ago and has become a 30-year veteran of the Roadrunners. Hung is a highly skilled and hard working player, and has previously won the League Best and Fairest Award for the Western Region Football League twice (2001 and 2002). He was runner-up on another occasion.
After a lengthy career playing as a midfielder, Hung's currently mentoring this next generation of Vietnamese players. It's actually given him a new passion for the game, as he repays the goodwill that was shown to him when he arrived:
"When I first came to the footy club I was searching for opportunity. The older guys welcomed me with open arms and made me feel part of the family: thats why I am keen to help mentor the next wave of kids and to be a good role model for them."
Don 'Donny' Tran
24-year old Donny is a recent arrival to Australia from Vietnam but he has really embraced the game. He's in the senior team for the Roadrunners already. He trains hard too: every day, sometimes up to 2 hours per day.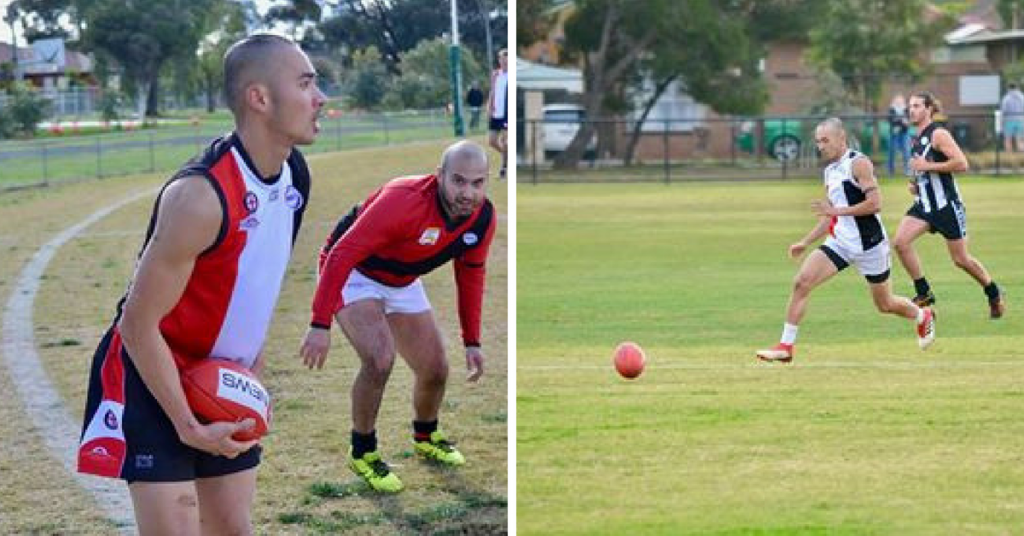 His skills have developed phenomenally due to this great work rate and ethic. Rumour has it that he's one of the quickest players in the league.
From Donny: "I really like football. I only knew football about 4 months ago but when I try and practice football now I really want to play football in the long run in the future!"
Dao Quan (Eric) and Ethan Nguyen
The combination of Hung's mentoring and Donny's enthusiasm and hard work is encouraging others to follow. Eric and Ethan are two other new clubmen who are making an impact around North Sunshine.
Eric (pictured below, left) has already made the Reserves team for the Roadrunners. He has ample courage, not afraid to tackle and compete against much larger opposition.
Ethan (right) has pace and an innate desire to learn the game, training every day just like Donny. He has even given away his soccer ball and now concentrates all of his time on his education and football. He is only 15!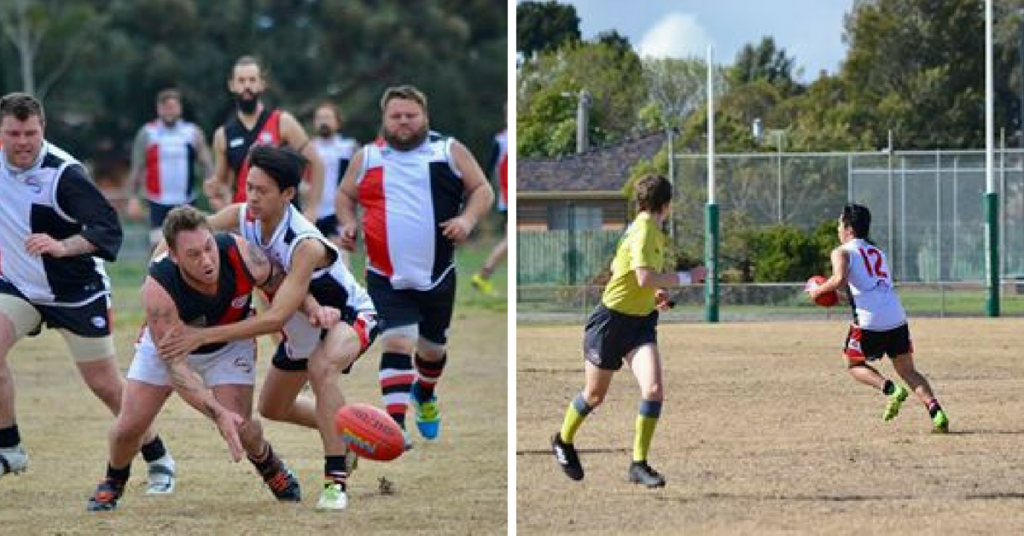 The Roadrunner Boys Representing Melbourne's Vietnamese Community
It's great to see young Vietnamese people in Australia given more opportunities to play footy and feel included in the country they now call home. They're also achieving a level of success: these young players have recently played in the Western Bulldogs 'Leaders of the West' representative team!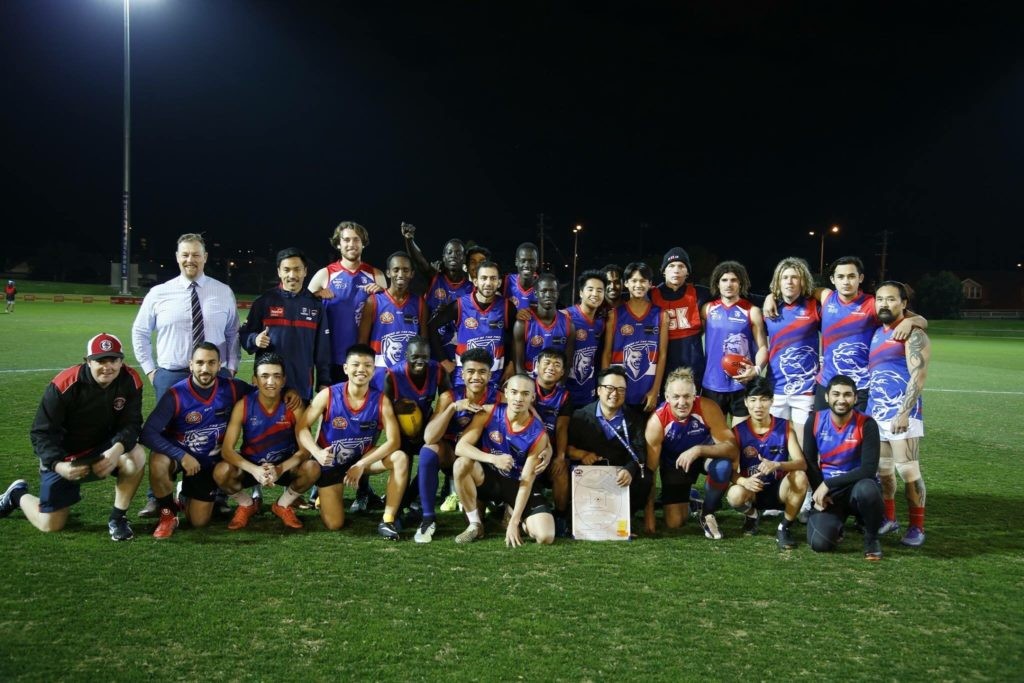 The opportunity to play in this development squad has fired up the Vietnamese players to take their skills to the next level. We're really thrilled to shine a spotlight on these guys as great examples of the opportunities available to the Vietnamese community through Aussie Rules Football.
Hung, Donny, Eric and Ethan Admired Back in Vietnam!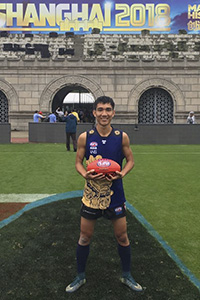 On hearing the news, Doan Dang, one of the Vietnam Swan's star local players said:
"I had no idea that there was many Vietnamese playing AFL in Australia. North Sunshine's Club seems very welcoming. What a great way to become part of Australia's way of living. I feel so interested and proud that there are a lot of Vietnamese contributing to a footy club in Australia.
These players like Donny, Eric and Ethan are very lucky too. I'd love to be mentored by a great player like Hung! Our coach and senior leaders are helpful… but Australians use so much 'slang' and learning in my native language would make a complex game like Aussie Rules much easier to learn! 
It's very good to see these other young Vietnamese playing the game in Australia and achieving success. It would be amazing to play football with these guys one day with the Vietnam Swans or the Indochina Bulldogs. Or maybe we could even play a game in Australia.
I wish them good luck and I really hope they will go on to represent one of the big team like the Western Bulldogs!" 
Want to Play Footy in Oz?
The North Sunshine Roadrunners have made their Vietnamese recruits welcome and they're looking for more players and supporters from the wider Vietnamese community.
This is part of a bold effort by the Roadrunners leadership group to build a strong and inclusive club at all age levels. There are many activities in this effort: professional football player Lin Jong recently ran a clinic at the Roadrunner's home ground and  up to 46 young Vietnamese kids have taken part in the club's Auskick clinic.
Sound like it could be for you? You can reach the North Sunshine Football Club via their facebook page. The canteen at the club even has rice paper rolls and Vietnamese coffee!
Development of Vietnamese Talent Continues in Vietnam
We wish the Roadrunner's all the best with their development of Vietnamese players. Local development in Vietnam has been high on the agenda for the Vietnam Swans for several seasons.
National President Eric "Kerro" Kerrison explains:
We've prioritised the development of our own local players like Dang, Dinh Anh, Trung, Vinh and others for several years. Fortunately we have sponsors willing to support travel and this has helped to expose the local guys to national level competition with other teams in Asia. And to make the game more accessible by locals, we've also added a women's team and we're trialling 9-a-side AFLX, as its a much easier to begin playing and also schedule on the smaller grounds of Asia.
Hopefully these changes will ensure we see more Vietnamese players getting involved in Australian Rules Football.
The women's team has been well received and several Vietnamese women are actively playing in Ho Chi Minh. See the interview with Chia Sabbatucci and Rosie Hoang from earlier this season, aired on VTC10:
For any Vietnamese players who'd like to join us in Vietnam, there is weekly training in both Hanoi and Ho Chi Minh! Reach out to us via the Vietnam Swan's facebook page for more details!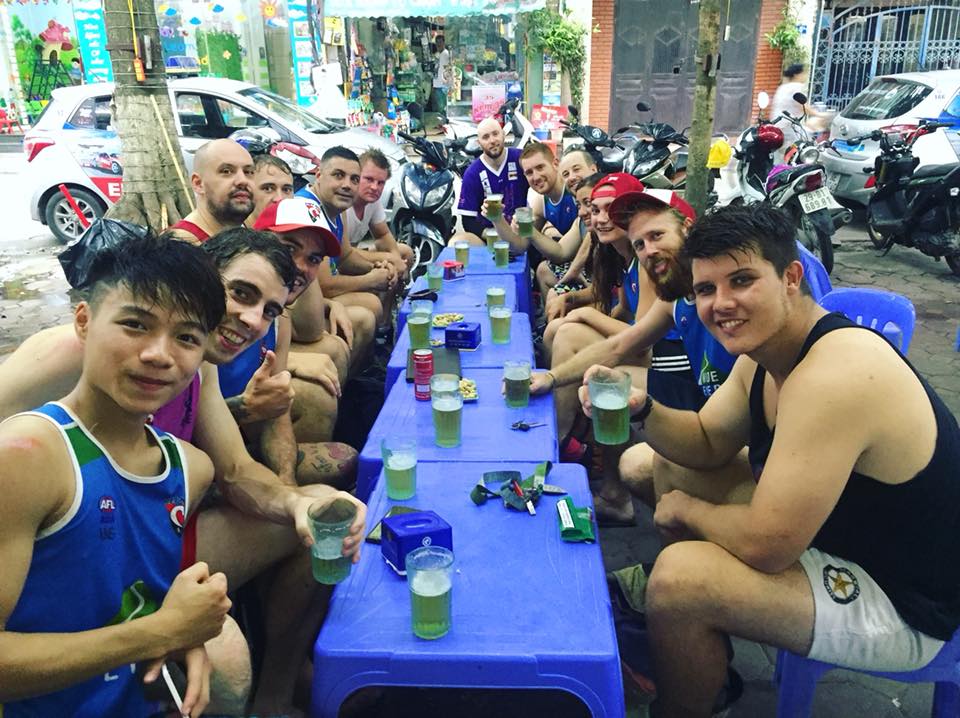 The Northerners enjoy bia hoi in Hanoi after training. 
Pics courtesy of Western Region Football League and North Sunshine Football Club.