Last year's AFL-X was a season highlight. We'll be back in Hanoi in 2019 to do it all again. Get along for a full day of fun!
WELCOME TO AFLX Hanoi
The Hanoi AFLX competition is aimed at inclusion and fun. It is an opportunity to showcase the inclusivity that comes with being a member of the Swannies family, no matter your age, skill level, gender or nationality.
LAST YEAR WAS GREAT, 2019 EVEN BETTER
See all the photos from 2018 here or read about last year's highly successful event here.
THE TEAMS!
Ninja Ink Tattoo have tweaked last years designs, and we've announced a brand new team for 2019!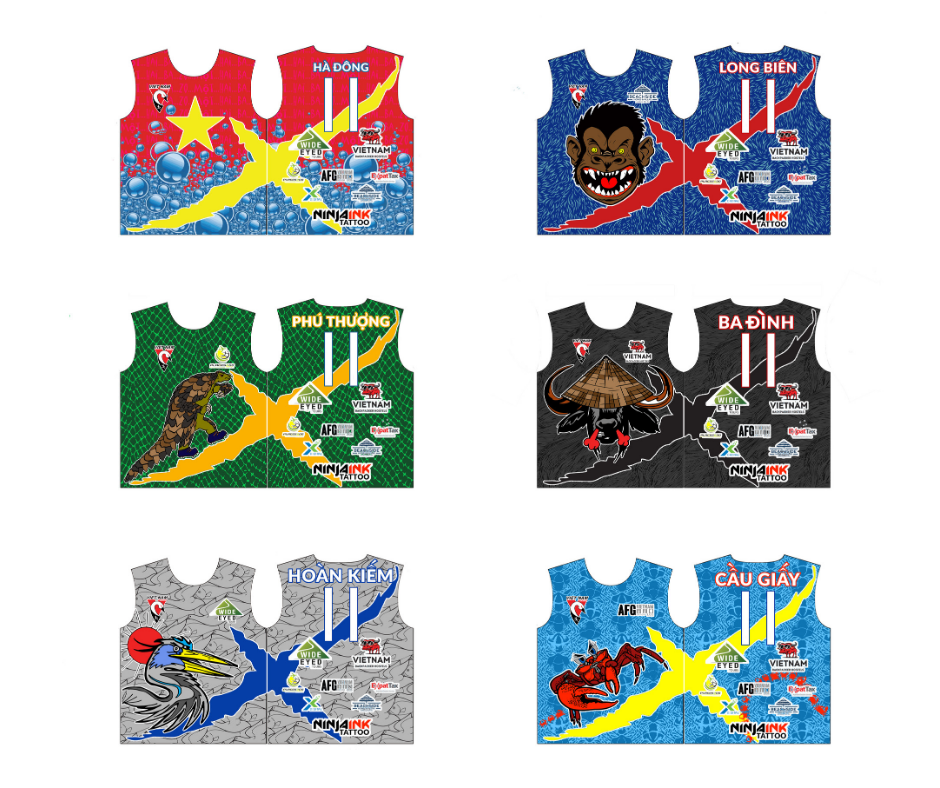 THE DRAFT!
The draft is always exciting, with captains and mentors scheming days in advance. This year's draft was held on Friday the 15th of November.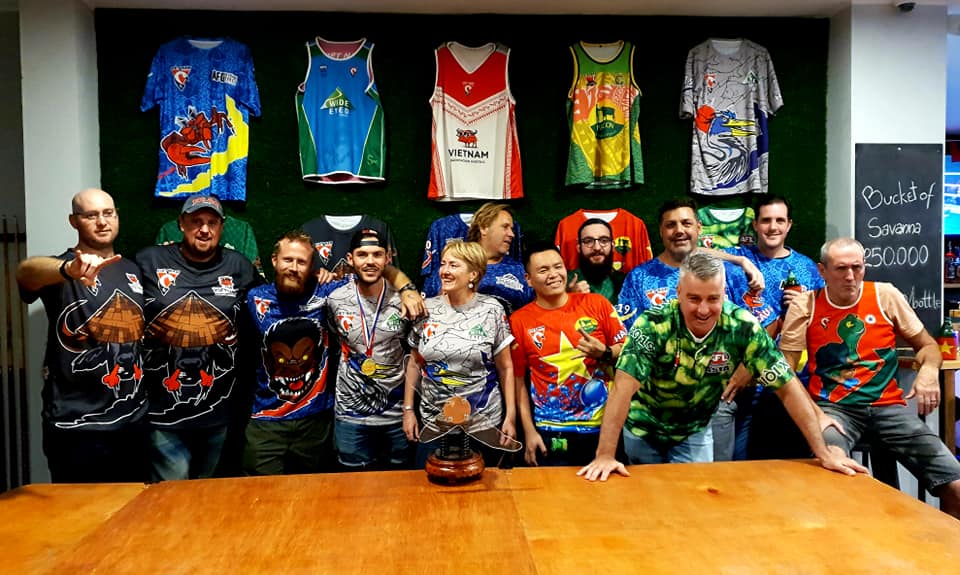 THE TEAMS FOR 2019
Teams were recently announced!
2019 Hoan Kiem Herons (Silver): Tom Sullivan, Phil Harman, Jake Norris ©, Jason Kane, Tracey Johnson, Charlie O'Neill, Louise Bezuidenhout, George Friend, Thomas Niit, Joseph Thompson, Mitch Reddog, Stephen Faughnan, Jemima Harman, Giang A Phuong, Ly Viet Hung, Ho Thi May, Ben Phillips, Dane Hansen
2019 Cau Giay Crabs (Light Blue): Eric Kerrison, Daniel Lucardie, Daniel Hopkins ©, Andrew Callanan, Frank Haltom, Nini Beltrand, Naomi Reidy, Matt Barton, Thomas Watson, Callum, Shane Mc Farlane, Aiden Brogan, Sygdae Lucardie, Fionn Lucardie, Sung A Trang, Lo A Anh**, Tong Thi Bich Ngoc, Nguyen Lanh Manh Quyen
2019 Ba Dinh Buffalos (Black): Mick Francis, Andy Glendinning, Todd Donovan ©, Alex Williams, Alex Zulietta, Katie Walsh, James Bairstow, Billy Crang, Trent Davies, Jason Mackie, Rykie Rautenbach, Ross Early, Will Francis, Daniel McGrath, Lam Tan Phat, Mai Xuan Hung, Nguyen Ngoc K Thanh Dat, Giang A Son
2019 Ha Dong Hois (Red): 

Steven Diep, Tai Xuan, Dino ©, Vinh Quang Le, Long Nguyen, Trung, Toan Nguyen, Dangster, Quang Minh, Vinh Nguyen, Trung Kien, Vu Huy Tan, Lucy Nguyen, Men Truong, Rosie Hoang, Linh Nguyen, Trang Nguyen

2019 Long Bien Langurs (Dark Blues): Travis Fennell, Rod White, Luke Philpott, Mike Allen, Cindy Armstrong, Steph Lee, Courtney, Will Sullivan, Luke Turner, Karel, Francois Kriek, Ryan Cherry, Oisin Carr, Charlie Fennell, Giang A Minh, Giang A Lu, Le Trung Hieu
2019 Phu Thuong Pangolins (Green): 

James Phillips, Mark Tierney, Brewster Craven ©, Jake Beeson, Jack Bullard, Phil Brown, Chia Sabbatucci, Mia Liu, Oscar Silk, Josh Pike, Chris Eckles, Darry Worthington, Cormac Foley, Ella Walsh, Giang A Dau, Khuat Nguyen Tuan Hung, Hoang Ngoc Phuc
NOTES FOR PLAYERS
Costs for this year's players have been kept at 500k VND, including your tournament jumper. Outstanding value.
Playing jumpers will be available for pickup on Friday night or at the ground on Saturday morning.
All the action will be at the National Sports Training Centre on Saturday, a 30 minute drive from downtown Hanoi. The field is grass and stubbed boots are encouraged.
The draw for the day will be announced! Games will be two 10-minute halves (or thereabouts), with a short break in between.
Players should be at the ground at 8:30am for a prompt 9:30am start! Good luck!
PRESENTATION NIGHT AT THE LOCAL SPORTS BAR
Don't forget, the Presentation night will follow AFLX Hanoi. See you at the Local Sports Bar from 7pm! Paid members will gain free access to the event, while non-members are 500k. Its a great night, see you there.