2020 was a little different, but the Swans kept steaming ahead.
Read on for six highlights from the season… and we can't wait for 2021!
1) Vietnam is #1… at handling COVID-19!
We've said it before and we'll say it again. What a country! Vietnam has handled everything that COVID-19 could muster and should be recognised across the world for its efforts.
That's not to say it hasn't been a tough year. We've all missed the footy tours, missed family and friends, missed travel and missed the chance to contest the 2020 Asian Champs. COVID-19 certainly disrupted each of our lives in a way that none of us thought possible.
Nonetheless, as a Club we've continued to move forward despite all the challenges. We'd like to thank all your members, supporters, sponsors and partners for sticking by us and doing the right thing throughout 2020.
2) Welcome to New Media: Keep Honking!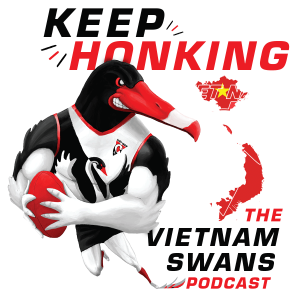 Swannies Life Member Bill Crang simply doesn't take no for an answer. When corona struck, he was one of the first to innovate and find a way to stay in our ears, irrespective of locked borders,  mandatory isolation and even the closure of bars!
After introducing Keep Honking's two hosts, the first season of the podcast featured a further six sensational episodes:
Tune in if you missed it! Rumour has it that season 2 will be even better, with Angus McEwin pencilled in to get 2021 rolling.

3) Rise of the Domestic Leagues
It's tough to carve out time for all the competitions we'd love to run. 2020 gave us a chance to finally deliver on the President's long-promised domestic league. Both the North and the South had multiple rounds of competition, providing a great outlet for everyone in the absence of the international games we'd typically fill the season with.
A big thanks to the Nini and Jack at Ninja Ink Tattoo Studios for their support in the designs of the HAFL jerseys.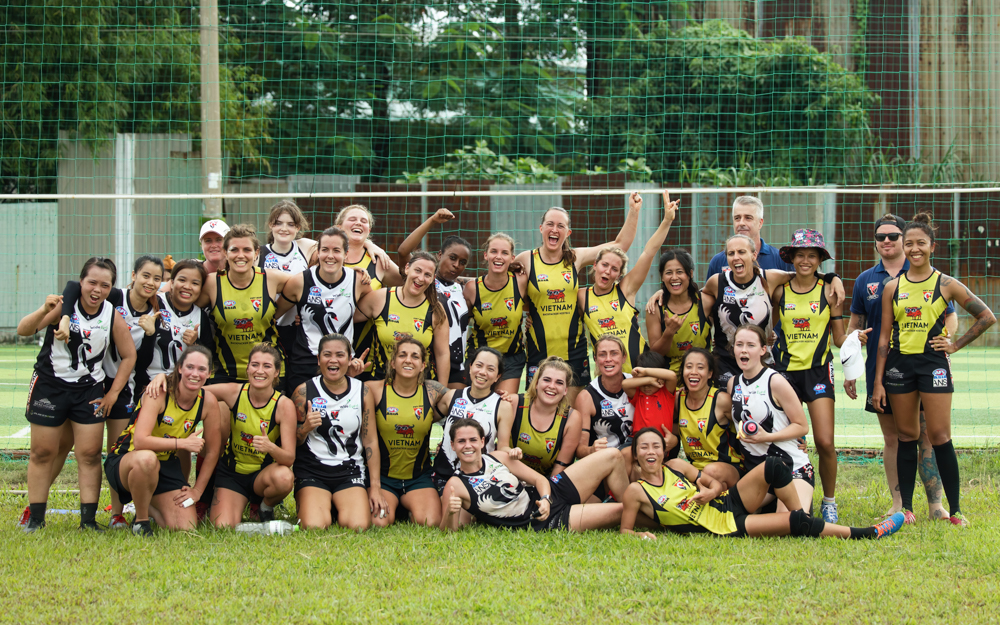 4) Big Events!
In early 2020, you would have said it would be impossible for the Swannies to still deliver multiple events of 200+ people.
But we did, and we did it safely! The North vs South multi-sport events packed venues at both ends of the country, following the model we'd established a few years ago as the Central Vietnam Games. These two events had almost as many teams as an Asian Champs, running from 7am till 7pm, plus an after party that likely surpassed any held in AFL Asia in 2020.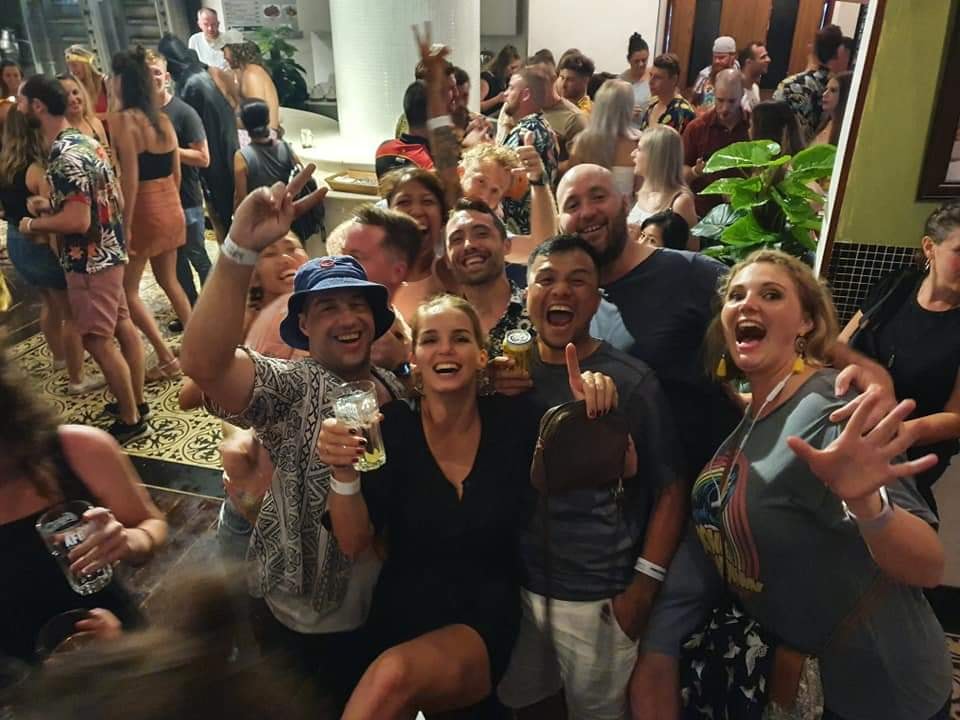 As if that wasn't enough, the Swannies Grand Final Functions went ahead with just as much fun as any other year.
5) Charity Rolls On
The Swannies kept our fundraising initiatives rolling in 2020, supporting a host of local causes. The Grand Final raised funds for the Central Vietnam floods and Loreto, in conjunction with support from Mr Biker Saigon, AIA Vietnam and Docker from the Quy Nhon Sports Bar. We hosted our quiz day raising another 20m VND for the Vung Tau orphanage who have had an especially tough year with reduced foreign support in 2020. Finally the first ever PJ & Martin bike ride involving 3 key Swannies and more raised 80m VND and bikes for the kids at Long Hai centre. Well done Luke Turner, Rooster and Sha Mac!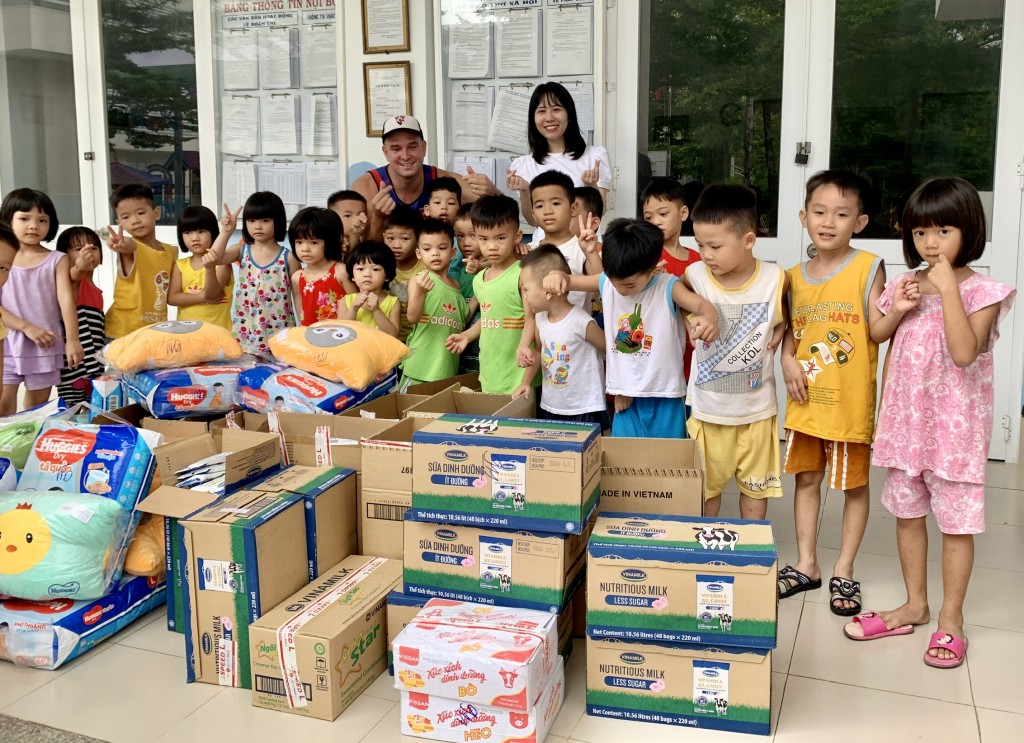 6) Continued Support from Our Sponsors
We're really fortunate to have fantastic sponsors who make all this possible. The long-term financial support offered allowed us to deliver a great program of footy in 2020, even with all the headaches of COVID. Our sponsors are lead by:
Vietnam Backpacker Hostels: Great backpacker accommodation and tours, with locations all over Vietnam.
Wide Eyed Tours: Look no further for the best in tailor-made private tours of Vietnam, Cambodia, Laos, Thailand and Myanmar.
Al Fresco's Group: Comfortable, casual dining all across Vietnam, particularly their flagship restaurants, Jaspas.
Beachside Boutique Resort Hoi An: The best boutique rooms, located on the beach at An Bang near Hoi An. Salt Pub right across the road!
HMS Hospitality – Burger King Vietnam: A huge thanks to David and the team for coming on board!
TAL Apparel: The latest tech and highest quality in apparel manufacturing in the world.
X Digital: Website development and all your digital marketing needs are covered.
Ninja Ink Tattoo Studios – Jack and Nini are exceptional tattooists and graphic designers. Drop in when the borders get back to normal!
The Local Sports Bar in Hanoi and Latitude Bar in Saigon.
Big Plans for the 2021 Season
We've tweaked the committee structure for the coming season and we'll be joined by some new faces.
We're also working on some big announcements that we'll roll out in the new year! Its a great time to get involved with the Club!
While we'll be taking a short break over Christmas and Lunar New Year, we'll see you again in February 2021.
Say tuned for more announcements on the Club Facebook.