The time has arrived! Over 70 Swans are making our way to Bangkok for the 2022 Asian Champs and here's everything Swans players need to know on the day…
If you're in Bangkok and want to watch we'd love to see you, game times below.
If you're not you can watch LIVE on AFL Asia's Youtube page and our Facebook Page.
General Player Information
All players to wear white shorts and black socks – (if you have any spares please bring them)
New jumpers only (if you bought more than 1 please bring)
Friday
For all players in BKK – From 6.30pm for a team dinner and catch up at Cabbages and Condoms Thai Restaurant

Div 1 and voluntary Div 3 Squad gathering back at Galleria at 9pm

All players expected to manage themselves and be in bed before 11pm – Saturday will be a long day and good preparation will be a significant advantage
Saturday
All Div 3 Squad depart hotel at 6am – first game is at 7.40am – 1 hour to get to the ground and 40 min to get sorted and warm up- give yourself plenty of time

All Div 1 depart hotel at 6.30 at the latest to be at the ground for Div 3 start
See below for getting to ground info!
Div 3    –   Div 1   –   AFLW
7.20am Game 1 – Div 3 play Cambodia – Start Preparation

7.40am Cambodia

8.30am Swannies Volunteers (AFLW)

9am Game 2 – Div 3 Play Laos – Start preparation

9.20am – Laos

10 am Game 3 – Div 3 Play Pakistan – Start Preparation

10.10am – Pakistan

10.40am – Div 1 – Team Meeting at tent

11.50am -Game 1  AFLW – Thailand

12.40pm Swannies Volunteers (Div 1)

1.30pm Game 1 – Div 1 Singapore – Start preparation

1.30pm Game 2 AFLW – Cambodia

1.55pm Game 1 – Div 1 vs Singapore

2.20 Swannies Volunteers (Div 3)

2.25 Game 2 – Div 1 PNG – Start Preparation

2.45 Game 2 – Div 1 vs PNG

3.10pm Game 3 AFLW – Indonesia

3.15 Game 3 – Div 1 Indonesia – Start Preparation

3.35 Game 3 – Div 1 vs Indonesia

4pm GF – Start preparation
4.25 – Grand Final
4:50pm AFLW Final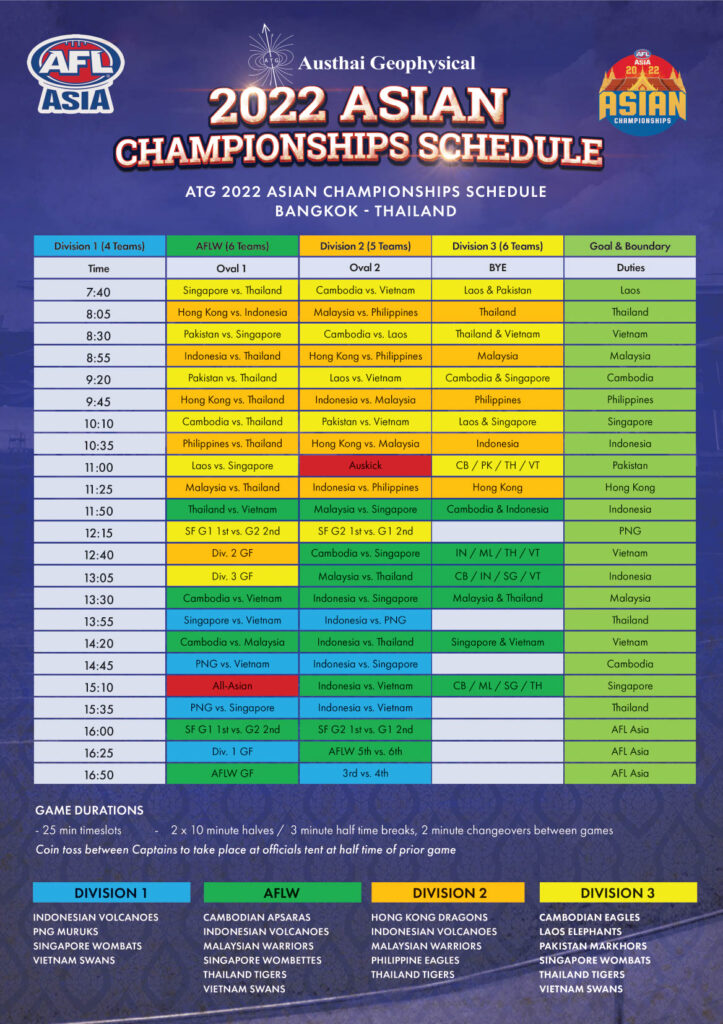 Getting to the venue
Address: Bangkok Patana School Sports Complex
643 La Salle Road
Bangna, BANGKOK
Thailand
Address in Thai: 9 2/9 ซอย ลาซาล 36 Bang Na, Bangkok 10260
You can practice the address in Thai by saying 'Rong Rrian Nanachat Bangkok Patana, Soi La Sarn',
really slowly and accentuating each syllable, maybe raising your voice at the end of each word.
Alternatively, and only if you go out late on Friday night drinking, you can call Yoda on 0898979453 for
some free Thai lessons.
Like all travel in Bangkok, this is very dependent on your time of travel and weather conditions. Or just
inexplicable! We would strongly advise you choose the transport option that best matches your time of
travel, and as a minimum, leave at least 1.5 hours before your scheduled first game. Check on Google
Maps prior to leaving to get a real time indication. Note: see the point below about Entrance to the venue
and the requirements.
Option 1: Taxi or Grab
If you are leaving early in the morning, and you are feeling a bit dusty from a solid Friday night session
(your name is probably Kerro), then this is your quickest and easiest option. The journey should take
anything from 20-50mins. As you get closer to 8am, the travel time will be getting closer to the 50 mins!
Cost will be about 200 THB for a taxi, anything up to 300 THB for grab.
Option 2: BTS Bearing
Travel time will generally be about 25 mins on the BTS from Asoke to Bearing. From here, you will need to make a short walk to our shuttle service (or alternatively grab a motorbike taxi or taxi). Total journey time from Asoke to the ground will be around 45 mins – 1 hour. But allow for the unexpected. Cost on the BTS is about 50 THB and the shuttle service is free (provided by the Thailand Tigers).
The shuttle service will be Red Songthaews, which hold up to 40 people (sardine style). These will be in circulation all day from the pickup point to the venue, both to arrive and depart later in the
day.
They can't standby directly at the BTS but it is only a 3- 5min walk to their stop. The Tigers will arrange some guides or signage on the day to help guide you from the BTS, but you are all big people now and should be able to figure it out (I do get there are some exceptions to this, won't name people). Travel time from the BTS should be about 10 mins, but again, it depends on traffic.