Tigers + Bears vs Crocs + Vipers
After a break for international games and the AFL Grand Final Party we're back to SAFL over the next fortnight forming the last chances to put our Champs preparation into game situations. Round 6 sees the Tigers and Bears team up against the Crocs and Vipers. A replay of Round 2 where the Crocs and Vipers ran out 23 point winners.
There'll be key match-ups all over the ground including that of the Tigers leading goal kicker skipper Wayne McMahon and the Vipers skipper Nath Milner. The midfield bulls, Ryano Tishler and Rusty Clark will go head to head in the centre while Katie Walsh will have the mother's nightmare of matching up on either of her daughters Hannah and Ela at stages of the match!
At the same time we'll see some rarely combined powers with the Tigers/Bears boasting the ruck guns Jono Mackay and big Ryan O'Glynn on the same side, whilst the Crocs and Vipers will see the Milner brothers passing to each other rather than smashing each other and join the Gaels-Guns Kevin Cremin & Alan Power side by side.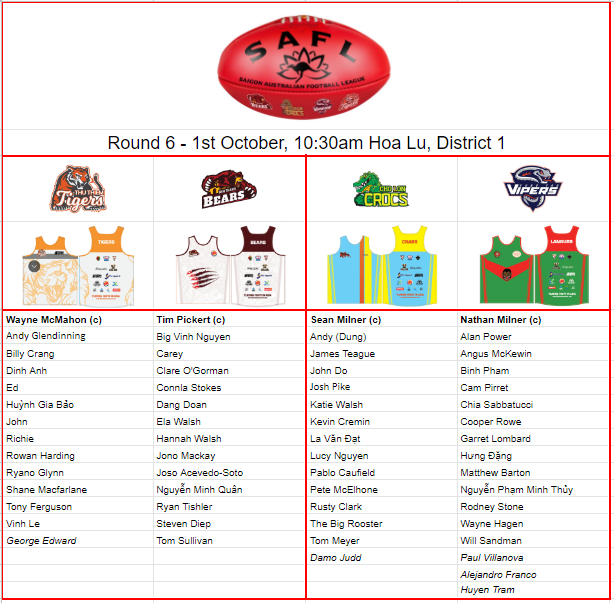 The Standings
After 5 Rounds the ladder is as tight as it gets however Round 6 shapes as a potential moving round. If the 3 win Vipers and Crocs can jag a win they will put a gap on the 2 win Tigers and Bears. With 3 rounds to go going 2 games behind would almost certainly extinguish hopes of finishing top of the table.