After a successful launch of the Hanoi Australian Football League in 2020, the Hanoi based Swannies have decided to take this concept one step further, and join with their great friends at the Viet Celts and form a combined AFL and Gaelic league. 
THE CONCEPT
The Hanoi GAAAFL competition is aimed at inclusion and fun. It is an opportunity to showcase the inclusivity that comes with being a member of both the Viet Celts and Vietnam Swans families, no matter your age, skill level, gender or nationality.
The GAAAFL will comprise:
2 sports, Gaelic Football and Australian Rules Football;

2 leagues, Men's and women's;

4 teams, Ba Dinh Buffalos, Cau Giay Crabs, Hoan Kiem Herons and Long Bien Langurs;

Alternating games, every 3 to 4 weeks;

7 Trophies:

Hanoi Club Champions (combined points across all sports and leagues)

Hanoi Gaelic Champion (combined points across Gaelic leagues)

Hanoi Men's and Women's Gaelic Champions

Hanoi AFL Champion (combined points across AFL leagues)

Hanoi Men's and Women's AFL Champions

Gaelic Football

9 aside games

25 minute halves with a 5 minute half time break

AFL

9 aside games

12 minute quarters, 3 minute break between quarters and a 5 minute half time break
THE DRAFT
Well it was that time of the year again, players were nervous, captains were scheming and mentors were bluffing, the anticipation of the night was a night didn't let anybody down, there were tears of joy of new homes found, mixed with tears of sadness of those unceremoniously dumped by their previous teams.
Those responsible for the tears are listed below, due to the new expansion and combination of the two sports, the selection committee grew to 5, for those seeking someone to blame, look no further than those named below:
Ba Dinh Buffalos

Mentor – Mick Francis

AFL Men – Todd Donovan

AFL Women – Siara North

GAA Men – Ross Earley

GAA Women – Elaine Flavin

Cau Giay Crabs

Mentor – Eric Kerrison

AFL Men – James Worland

AFL Women – Saskia van den Hoogen

GAA Men – Tom Lynch

GAA Women – Natasha Coulter

Hoan Kiem Herons

Mentor – James Phillips

AFL Men – Jake Norris

AFL Women – Louise ode Bezuidenhout

GAA Men – Jason Kane

GAA Women – Marah Charnel

Long Bien Langurs

Mentor – Mark Tierney

AFL Men – Luke Philpott

AFL Women – Katie Nelson

GAA Men – Cian Hickey

GAA Women – Maeve Culhane
TENTATIVE 2021 SEASON SCHEDULE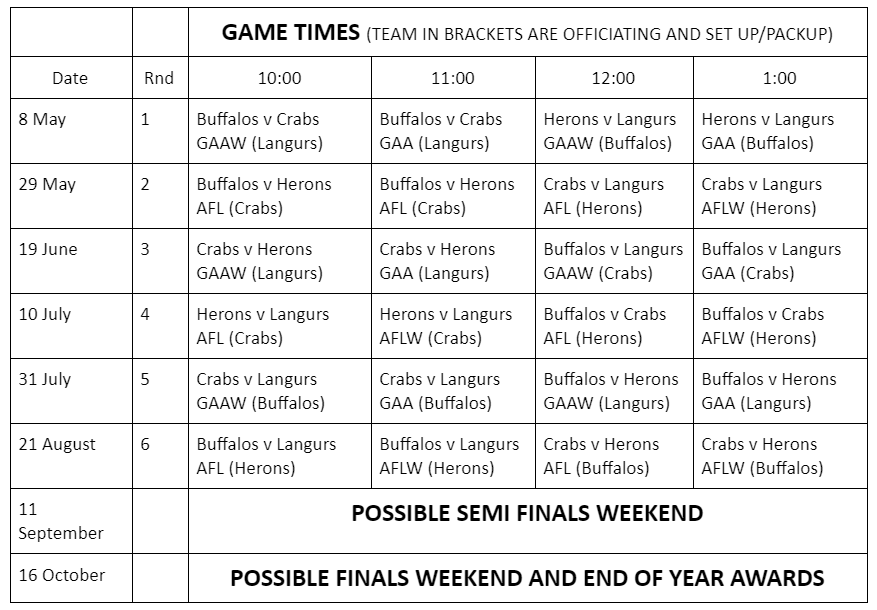 THE TEAMS
THE BA DINH BUFFALOS
Surprise mid year recruiting saw this team reach the grand final in 2020. The 2021 selection panel have moved 6 players on as they look to strengthen their current list. They will need to rely heavily on their Irish influence if they are to be any chance in 2021. Looking a lot stronger in the women's competition than the mens.
Biggest risk: a stray sandwich!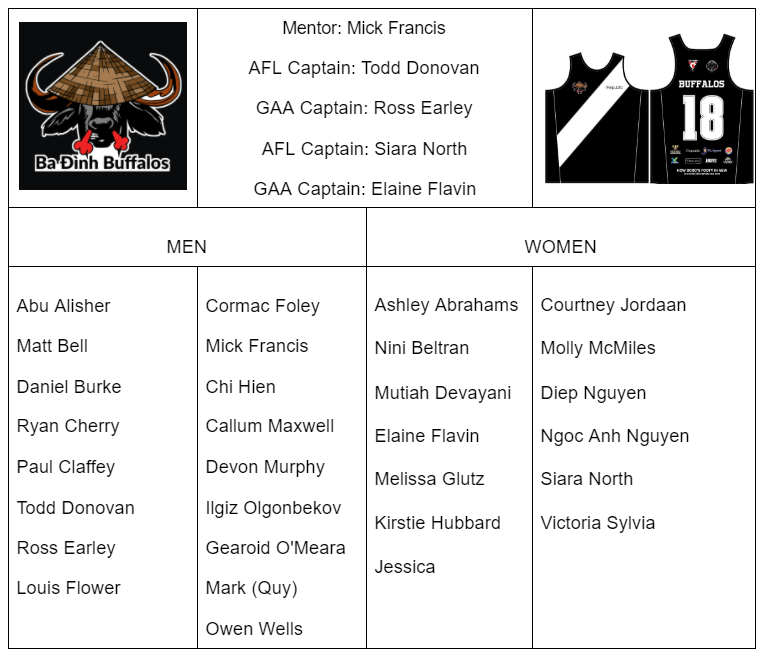 THE CAU GIAY CRABS
This club will again be a force in 2021 after finally shedding the bridesmaid tag in 2020. They may have made some recruitment errors on the side of the women, with 4 of their highly fancied recruits set to depart in June. Both squads are evenly balanced to be extremely competitive across both sports.
Biggest risk: The night before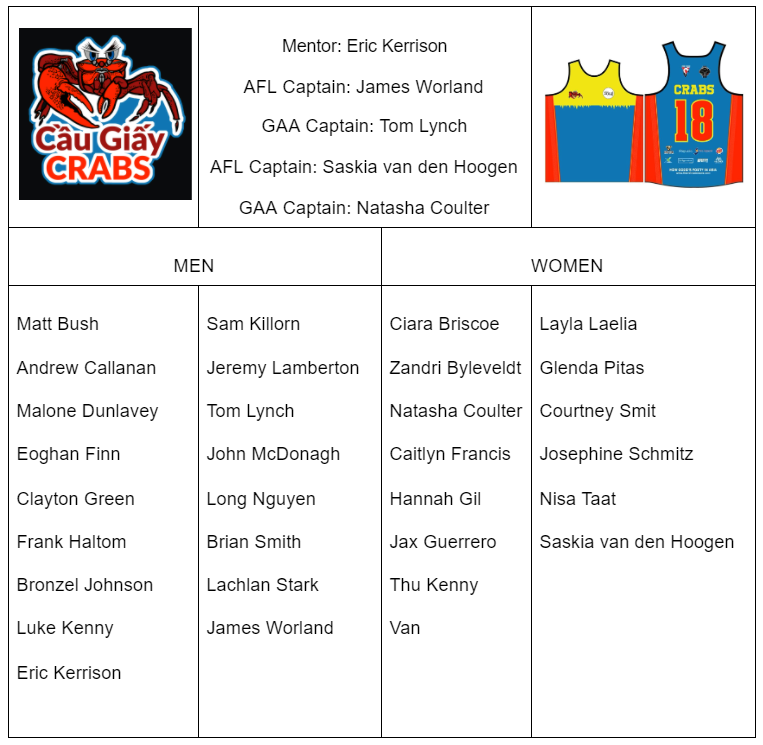 THE HOAN KIEM HERONS
Always the benchmark, the Herons regularly compete in the big dance at the end of the year, and expect it to be no different in 2021. A very strategic approach to the draft on the night by the leadership team has seen them create a powerhouse across the men and women.
Biggest risk: The hois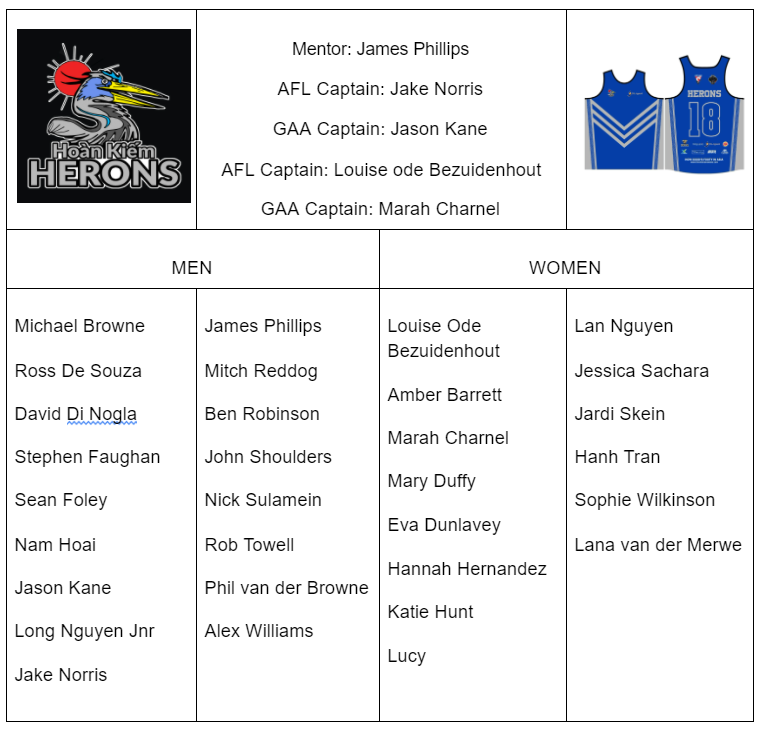 THE LONG BIEN LANGURS
The velvet sledgehammer to a very new approach in 2021 to the strategy. After being raging favorites in 2020, they fell short at the last hurdle, so 2021 is their year for retribution. They look very strong all across the teams, they have pace to burn.
Biggest risk: Ego!