The Vietnam Swans close out 2022 filled with fond memories, grateful to be back to what we consider normal and once again looking to go to new levels next year! Here's 10 of the highlights of our year!
10 – Award Winners – AGM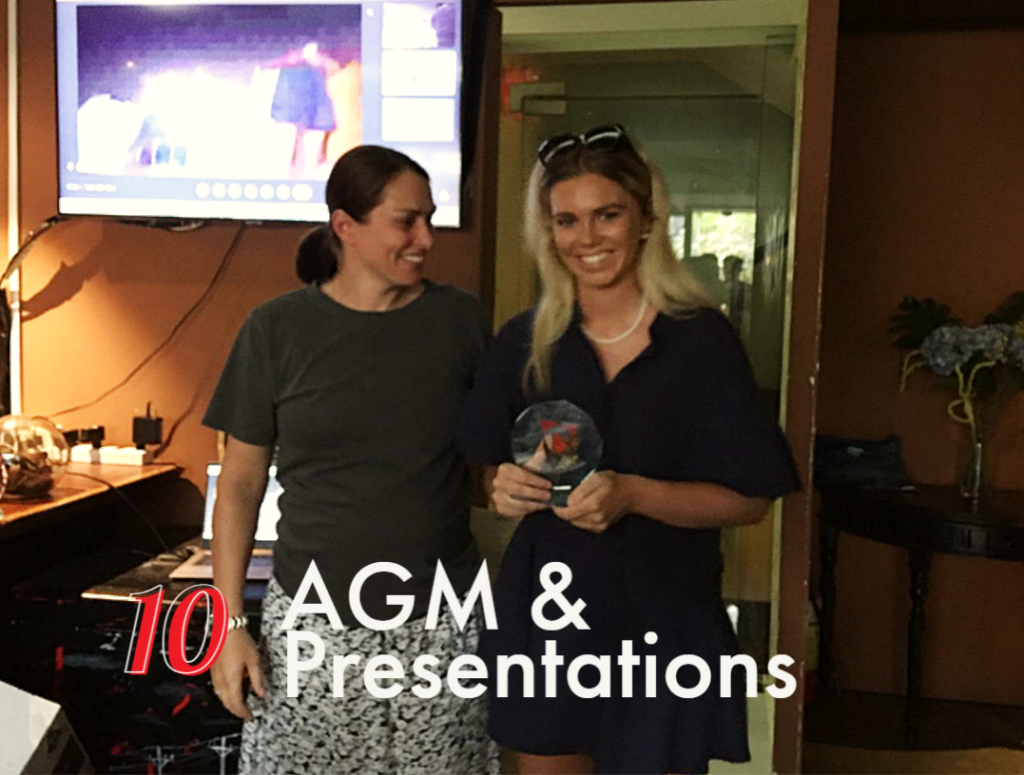 2022 was a return to normal for footy in Vietnam and across Asia but it turned out to be one that will bring some change with the whole National Executive Committee in National President Eric Kerrison, National Treasurer(s) Rod Stone and Steve Diep and Communications Coordinator Billy Crang all stepping down at the season's end. The AGM was our first step into a new era but things are looking good. You can read more here…
International footy means stand out performances and we were pumped to be rewarding many more of these to wind up 2022. Held right after the AGM check out the 2022 Award Winners here…
9 – Swans First Comedy Night
An innovation sparked by Wayne McMahon the Swans comedy night was an early season chance for us to do something different. Go beyond footy and bring together a crowd for a great night of laughs at Brick & Barrel in District 1 HCMC. 2 Swannies in Wayne himself and Paul Villanova stepped up to the mic alongside comedians from Saigon International Comedy in front of a packed house. A great innovation that is sure to only grow as years go by!
8 – Domestic Leagues
A product of the Covid years domestic leagues are here to stay. Giving us the chance to stay competitive between international hitouts the 4 teams in each city enable us to create more competitive footy across the year. The HAFL/GAAAFL in Hanoi ran at bookends to the year in 2022 while the SAFL finished up in December with the Ben Thanh Bears claiming their 2nd premiership in a row – read about the season finale here…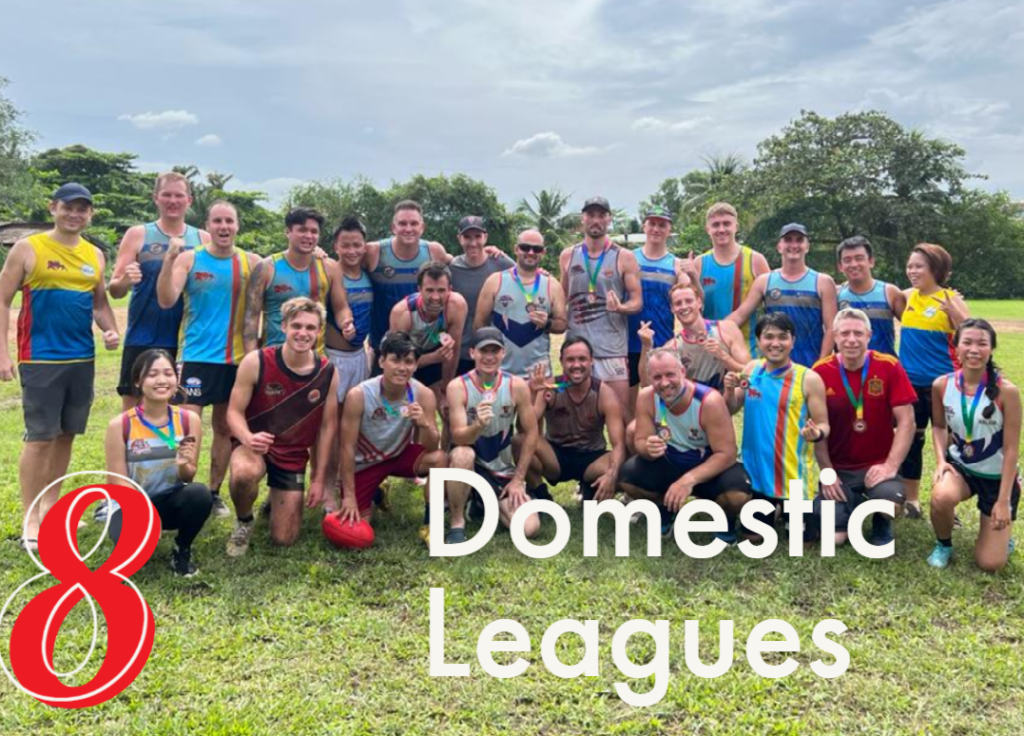 7 – Back on Tour
We finished the first half of the season getting back to one of the things we love most – going on tour and playing our friends across the AFL Asia region. In this case 2 of our favourites the Cambodian Eagles and Thailand Tigers in Phnom Penh. The Swans men kept a clean sheet beating both teams while our women combined with Thailand to beat the Apsaras. Back to international footy on a winning note!!!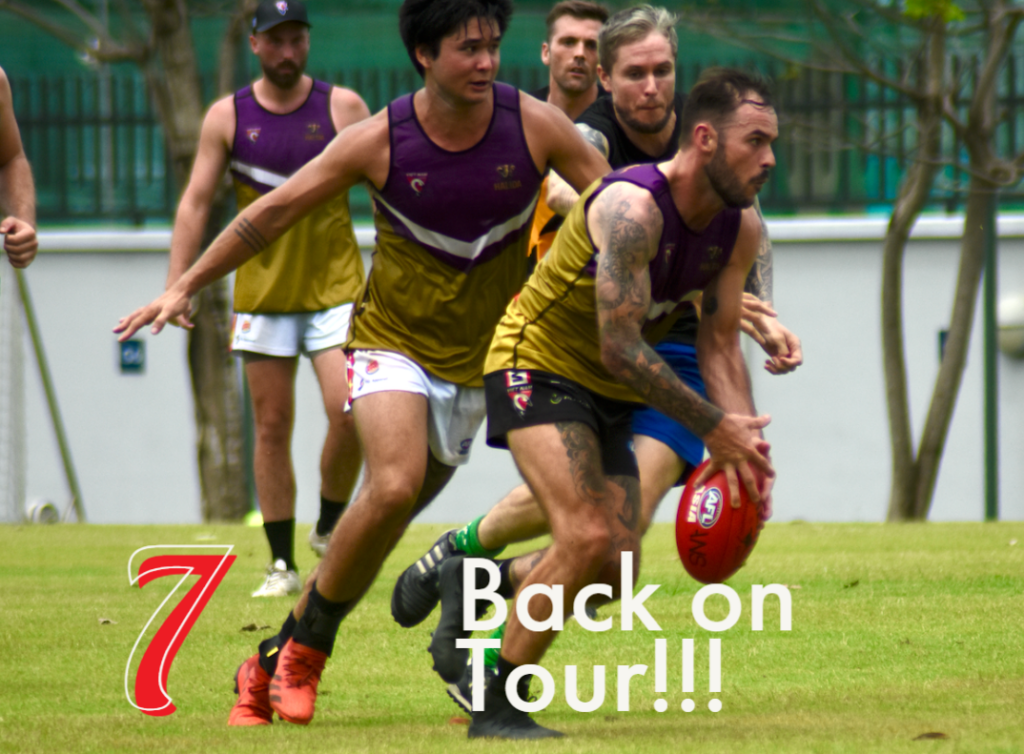 6 – Grand Final Parties
Our AFL Grand Finals act as our key social event in both Hanoi and Saigon and after missing 2021 for obvious reasons it was so good to be back in stride in 2022. Thanks to everyone who attended and contributed to each of the events!!!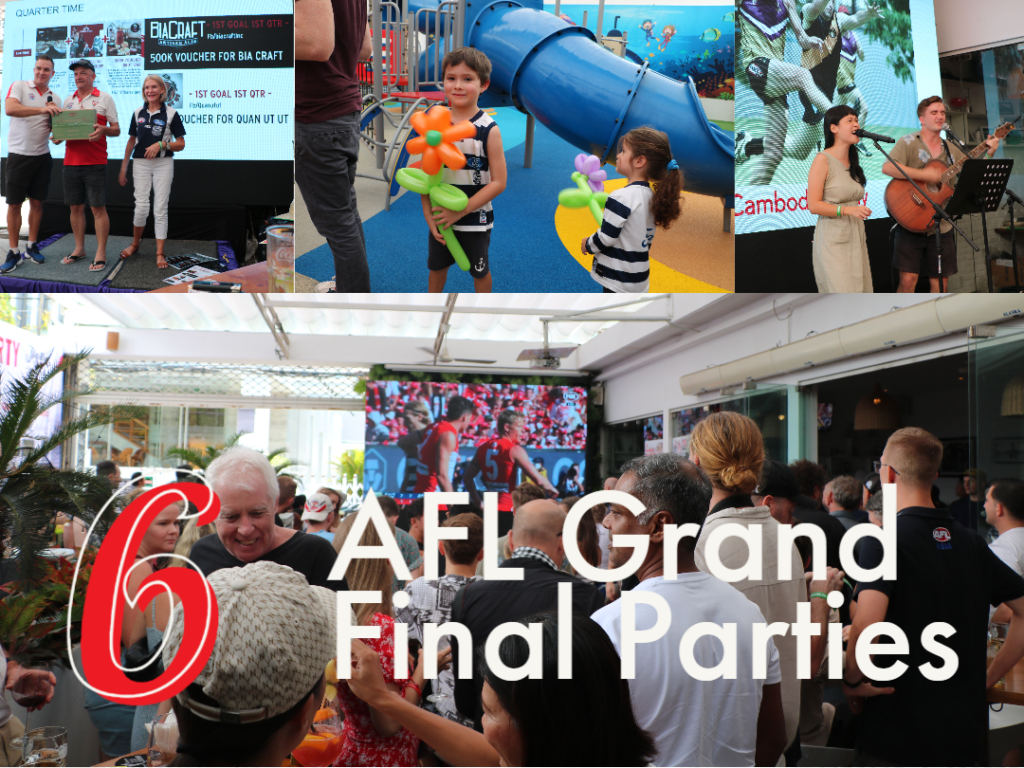 5 – Community Support
We love to contribute to the communities we live in – always have and always will! Many of us, as expats feel an extra special need to help out some of the needy segments of the community here in Vietnam and in 2022 this was again a big part of our clubs focus. Several member led initiatives included: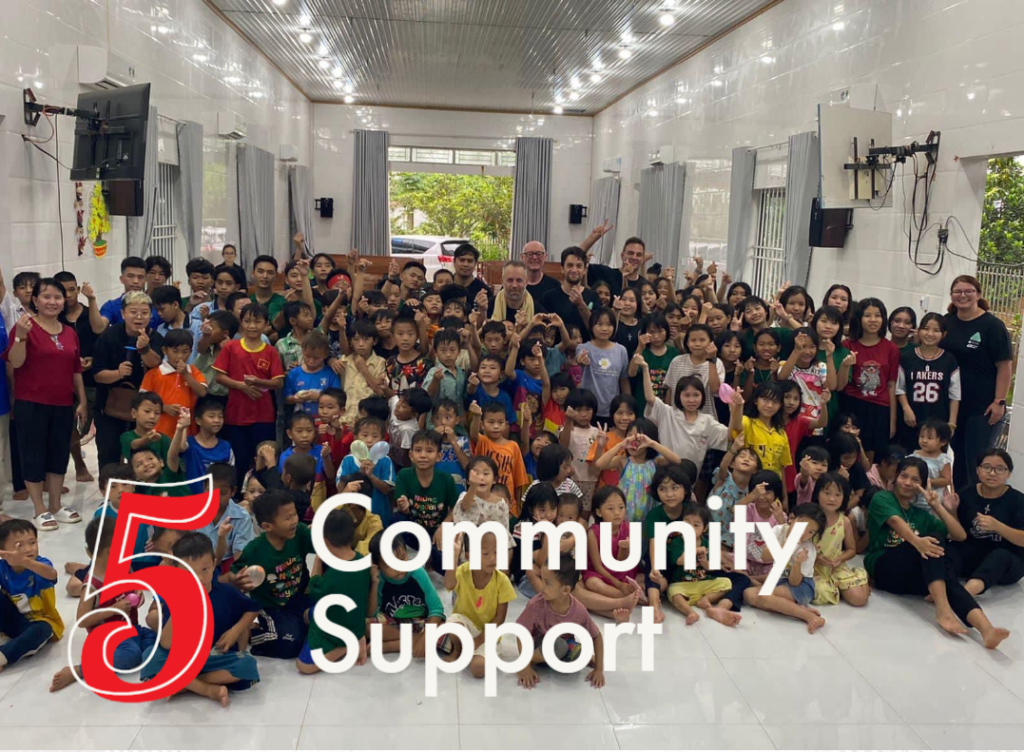 4 – International Footy at Home
Of course in 2022 International footy returned to Vietnam!!! We hosted Singapore and Cambodia in Saigon a few weeks apart and saw 4 incredible games. Thanks to both countries for their touring efforts and we can't wait to return the favour!
You can read more about the Singapore games here and the Cambodian games here…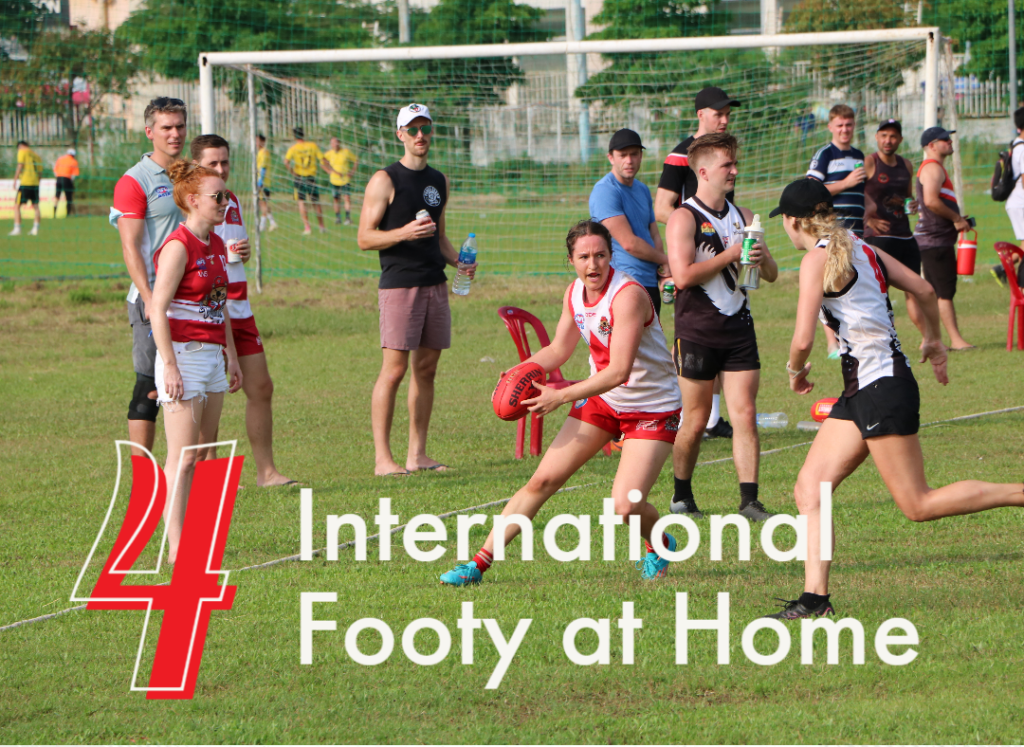 3 – ANZAC Day Returns
In 2020 we had to pull the pin on our biggest home game of the year. With the Singapore Wombats due to tour we were still able to host a domestic game which turned into a classic! 2021 the whole weekend was scrapped but in 2022 we got back in the groove and saw more fantastic action. Domestic games into a fantastic women's Gaelic game between the Saigon Gaels and Na Fianna, Women's AFL game and then a Men's game that would rival some of our previous international games. Read the full game day write up here…
Watch this space for 2023 INTERNATIONAL guest announcements as our ANZAC Friendship Match returns to it's rightful place as one of the best weekends of footy in Asia!!!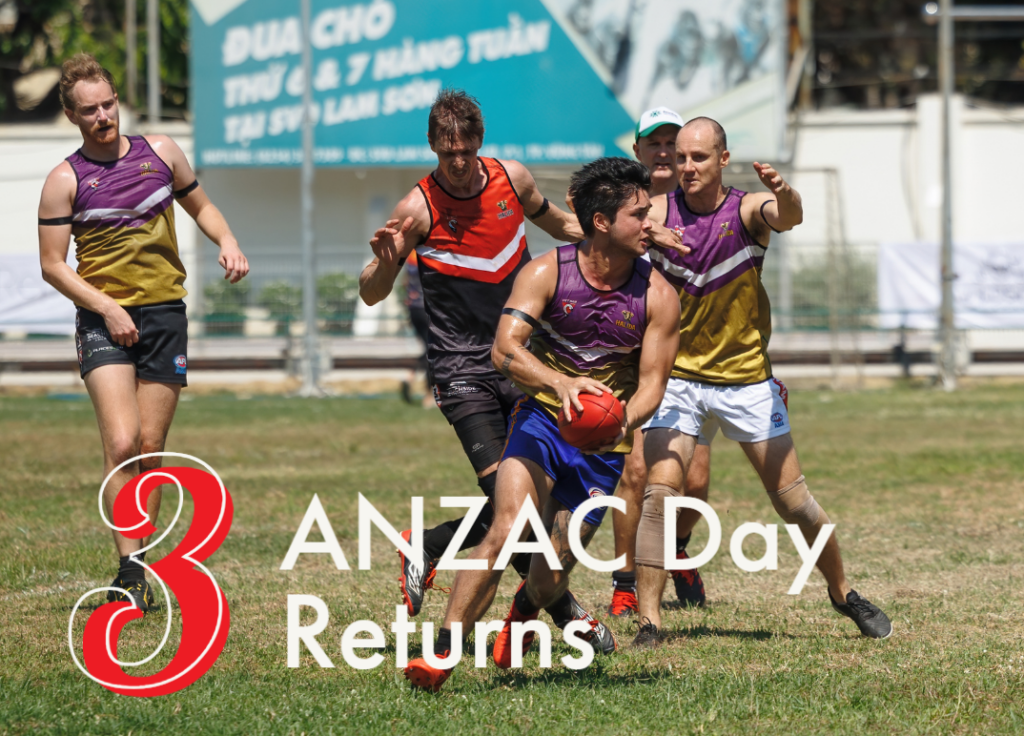 2 – Vietkick Back in Hanoi and Saigon
Long term, the growth of AFL depends on getting youngsters into the game. Both Hanoi and Saigon had seen fruitful junior programs in the past but in 2022 we were able to harness support from AFL Asia, the AFL itself and the Australian embassy and launch highly successful programs in Hanoi and Saigon. Read about the Hanoi program launch here… and the wrap of Saigon's triumphant return Vietkick season here…
2023 promises to be bigger and better so again, watch this space carefully!!!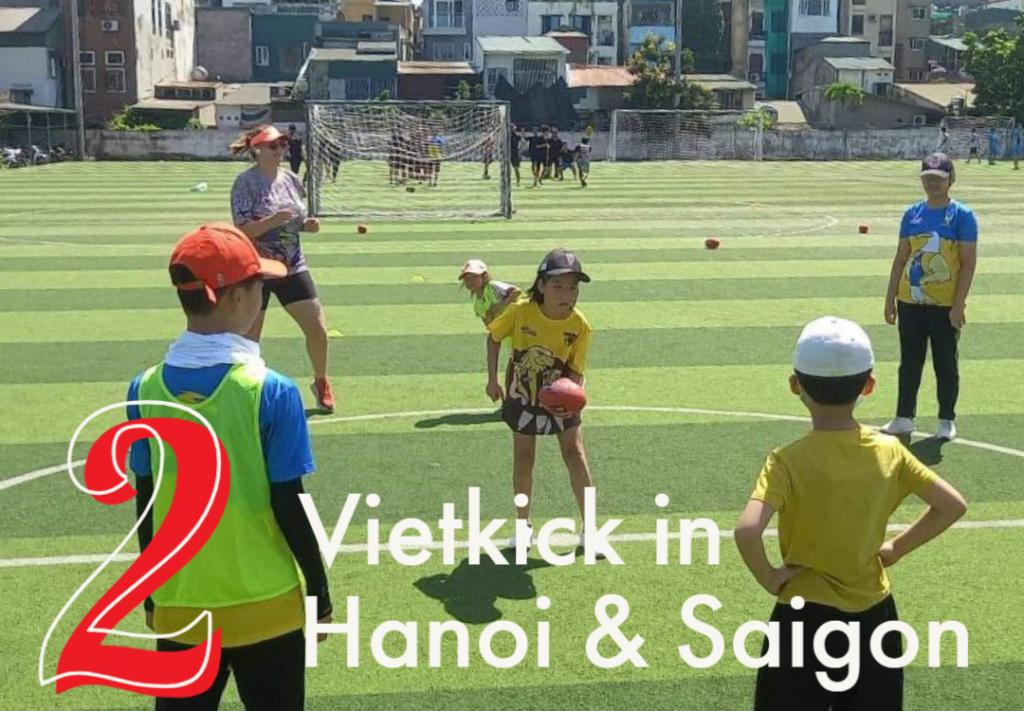 1 – Asian Champs in Bangkok
This was it, the final piece to fall into place and what a way to slot in. We took 3 squads, 70+ players our biggest and best ever Asian Champs squad to Thailand – if you somehow missed it you can read about the day here… We were right in the mix in Division 1 and 3 Men and the Women's tournaments without landing any silverware, but the day and club effort are not just a bounce back for our club but a new high bench mark. We head into 2023 knowing what it takes to taste success across the board and hungry to do so. If you can, join us!!!